If He's Not Calling, Is He Thinking About Me?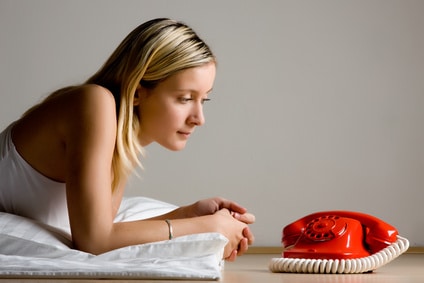 Last week I read a tweet to the effect of, "If he's thinking about you, he's calling you." Meaning of course, that if our phones are not constantly lighting up, blinking, flashing and ringing that this guy is DEFINITELY NOT THINKING ABOUT YOU, DOESN'T CARE ABOUT YOU AT ALL AND YOU SHOULD PROBABLY RUN STRAIGHT TO THE HAAGEN DAAZ and read He's Not Just That Into You for the 20th time, dumbass. I've met great guys online, but find myself obsessing over how long he takes to text me back or wondering why he didn't call when he said he would. I've lost sleep over it, and totally stressed myself out.
Um, what? Can I call bullshit? BULLSHIT.In the grand scheme of things I understand what this 140 character blurb's intention was. To empower women! To remind them that they deserve better!  They/We/Us deserves someone who wants to talk all.the.time, text all.the.time-yet we want this without having to WANT it, or shudder-come across as "needy." Our worst fear has become being called a Stage 5 Clinger. It's like my favorite Jennifer Aniston line in The Break Up-"I want you to WANT to do the dishes." Who the hell WANTS to do this dishes? Not this girl.
I sent one of my best friends the above tweet and her response was brilliant. "That's not true dude. We think about them all the time and aren't calling them. I'm thinking about HIM right now but I'm not calling/texting/sending him a messenger pigeon. Why does he have to and why does that mean he isn't thinking about me?"
Every relationship is different, every relationship stage and for that matter, every guy. I've dated guys who are texting/calling MONSTERS and at the beginning it's fun but over a while…what do we need to say…especially when I know I'll be SEEING him later on that day? And then…you start to expect it, right? I feel like all these one line quotes-"If he likes you, it only takes 30 seconds to shoot a text" can be ridiculously dangerous. (In the beginning of a dating relationship, I understand this a little more. But as things progress…shouldn't your relationship?)
In all honesty-I struggle with this. I'm a girl, and especially around certain times of the month, I tend to throw all remnants of rationale out the window and forget.  I forget that it's NOT ALL ABOUT ME. OR US. I forget that his job is ridiculously stressful, and his boss makes him crazy so the fact that he isn't texting/calling between 8-5 is not a reflection upon how he feels about me. OR if he's thinking about me.  And you know what? Even if he's not thinking about me at all times…I'm ok with that.  He works hard. He's a social butterfly, he's a loving son, cousin and uncle. He's a surfer and mountain biker and tries to squeeze as much into the rest of his day as possible and you know what else?
He's a great guy and I'm not going to turn into some crazed lunatic drama queen just because he isn't calling or texting 24/7. Have some confidence. And if he's not giving you what you need, what your heart needs-phone calls, or otherwise…maybe he's not the one for you.
He calls me to make plans or when there is something important to talk about. He tries to text me/bbm me during the work day if it allows. He remembers the important things and when he's with me, he's 100% PRESENT. When we're together, his phone, I've noticed, is never in use. He tells me how he feels and most importantly, he shows me.  I know where I stand-I just need to remember that. One thing I do believe is that if a guy wants to be with you, he will.  But can't he show that in different ways…in his own way? And if I need more non face to face communication-aren't we all adults?! Can't I talk to him about this…if it begins to bother me? I'm sure some of you will think I have a raging case of denial, but I've spent too much of my dating time worrying about insignificant things like text messages and negating the things that actually count.
When I unfortunately do get that yucky feeling because it's 4pm on a Tuesday and I haven't heard from him yet, maybe I'll re-read this post.  I'll remember that I wanted a guy with a full life, who is there when it counts, and I'll be thankful for him. When it comes to dating, women can sometimes be conditioned to expect the worst of men, and it's horribly unfair. I'll expect the best-because it's all he's shown me anyway. Maybe on these days, I'll shoot him a short text-"Hope you're having a good day!" Without expecting anything back. Perhaps it will make him smile. Relationships are a two way street, after-all. Sometimes I feel like this is so forgotten. And then I'll go live my life, letting go of these silly rules and expectations-I need a free hand to grab my PUMPKIN SPICE LATTE, anyway.

Um. Sidenote. I don't deal with the whole "he hasn't called/texted for 3-4 days" game. If a guy hasn't reached out to you in that amount of time…you're too cute for that, you're too amazing for games. MOVE ON. ALSO-if he never responds to your calls or texts…MOVE ON. And sign up for We Love Dates, of course!
I was inspired to write this post after reading another tweet…time by Patti Stanger of Millionaire Matchmaker fame-it really made sense to me-"He who calls more has the most interest…and the least control."