Interesting Online Dating Infographic Facts
By: Rosie Valentine |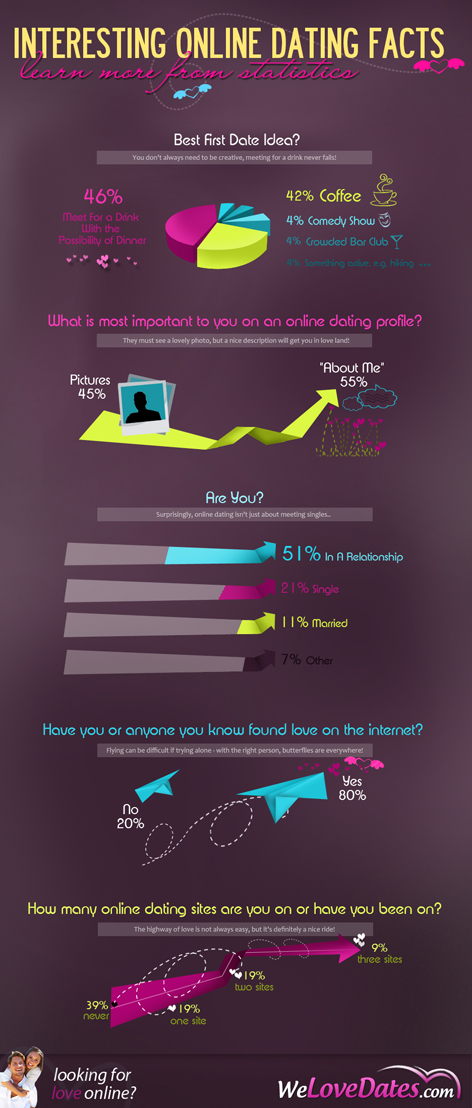 Click image for full-size version
Embed on your site
<a href="https://www.welovedates.com/blog/2010/09/interesting-online-dating-facts-infographic/" ><img src="https://www.welovedates.com/images/online-dating-infographic.jpg" border="0″ alt="Online Dating Infographic" /></a>Infographic by <a href="https://www.welovedates.com/" >WeLoveDates Online Dating</a>
The online dating survey results are in…
Thanks to everyone who took part in our online dating survey – we received a huge response, which helped contribute to some very interesting results!
My thoughts…because you care, right? RIGHT!
1. Liquid courage is ALWAYS good. Just don't get sloppy.
2. We aren't as superficial as we thought! Seriously, I've seen pictures of THE hottest guys but the nonsense they wrote on their profile turned me off. Online daters are definitely looking for more than a pretty face, it seems.
3. A lot of relationships on the internet. I wonder out of those how many started online? Hmm…ideas for the next survey!
4. Well, I think I answered my own question, kinda. EIGHTY PERCENT of us have found love or know someone who has online! I was super surprised by that one, and pleased, of course. 🙂
5. I completely agree that it's tricky to be on more than two dating sites at a time. It can become a second job and I'd be afraid to get my wires crossed-seriously, I can barely remember my own name sometimes. Dating should be fun, not WORK. Find a site that works for you and don't give up. Love is in the air, people.
What do YOU think about the results? Thank you for playing along! If you'd like to share our infographic, here's the link 🙂