Calling Someone You Met Online Dating
By: Rosie Valentine |
One thing online daters seem to have an issue with is making the move from the cyber world to the real world. It's easy enough to email and wink and chat online, but not so easy when it comes to setting up a face-to-face meeting. I usually advise daters to email their match to set up a coffee date time and place, and let their initial meeting be the first time they hear someone else's voice. But there are some daters who really feel strongly that making a phone call before they meet is more comfortable for them. For those folks, here are a few words of advice.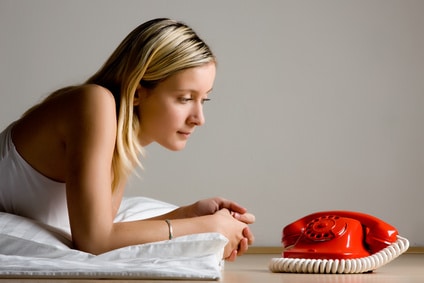 One extremely bad habit online daters can get into is getting comfortable talking with their potential match on the phone. This is a mistake. First of all, the whole purpose of online dating is not to have a phone or text buddy, it is to actually meet face-to-face and start a relationship. If you develop a routine of talking to your match regularly, it could mean that by the time you meet the potential spark will be gone.
Part of the fun of online dating is meeting someone in person for the first time. In the online world it's all two dimensional. You have their emails and you can read their profile, but there's nothing like hearing someone's voice for the first time, or hearing the humour come through in the stories they tell. So keep your initial phone conversation short and to the point. After you meet, of course, you can chat away!
Keep Safety in Mind
Let's face it, until you know someone, you don't know them. So it's important to keep safety in mind when giving a date your phone number. If you can, give them your cell phone (less traceable, but they can still find you if they wanted to) or borrow a phone from a friend. It's hard to find pay phones anymore, but there are a few left, and this would be another good option.
You can also use your phone's blocking system to block out your number. Call them and block your number. You may feel deep down that it's rude to do this, but you have to push this thought away. Be safe first. If the guy or girl turns out to be someone great, you will both laugh about blocking your number later. If not, they can't continually call or find you.
Saving the Nitty Gritty Conversation for Your Face-to-Face Time
By "nitty gritty" I mean the part of conversation that will really help you to get to know someone. Instead of asking about your date's hopes and dreams, his childhood experience, her biggest life goal or regret, save all this talk until you meet. Keep the conversation fairly casual. Ultimately the phone call before you meet should only be used as a way for you to feel more comfortable in meeting someone for the first time.