Dress to Impress your Winter Date
By: Lottie Williams |
Let's be honest, winter is not necessarily the most giving season when it comes to dressing to impress. The perfect marriage of practical and pretty can be a tricky skill to hone, especially on a budget, but we've put together some great tips that should help you revitalise your wardrobe, ready for a stylish winter season.
Hats off to those girls that manage to go on nights out in the middle of January, wearing nothing but a few square inches of shiny synthetics and somehow coming out of it without hypothermia. But unless you're blessed with particularly resilient physiology, avoiding getting sick should be priority number one. Even if you meet your dream hunk or hunkette, your follow up date won't be too much fun if you have a temperature, runny nose and your coquettish laugh comes out as a wheezy, phlegmy mess. But never fear – staying warm doesn't mean looking like a shapeless or dumpy sleeping bag. With the right choice of garments and strategic layering, you'll look your hottest, even at sub-zero temperatures.
Step one is a killer coat. Despite winter being the indoor season, there are lots of activities, especially on dates, that will take place outside – Christmas markets, fireworks, ice skating, even popping out for a cigarette – so this is an instance where you definitely want the wrapping to be as beautiful as the present. Obviously be realistic, if it's -10C outside, wear house insulation if that'll do the trick, but if the temperatures are within reason, you have more options to play with. Puffer coats and jackets are definitely the comfiest choices, but unless you find one that really suits your figure, more often than not they look boxy and unflattering. If you do choose this style, then try to find a jacket that has a waist belt, so it at least cinches you in at the middle and creates an hourglass silhouette, regardless of what's underneath.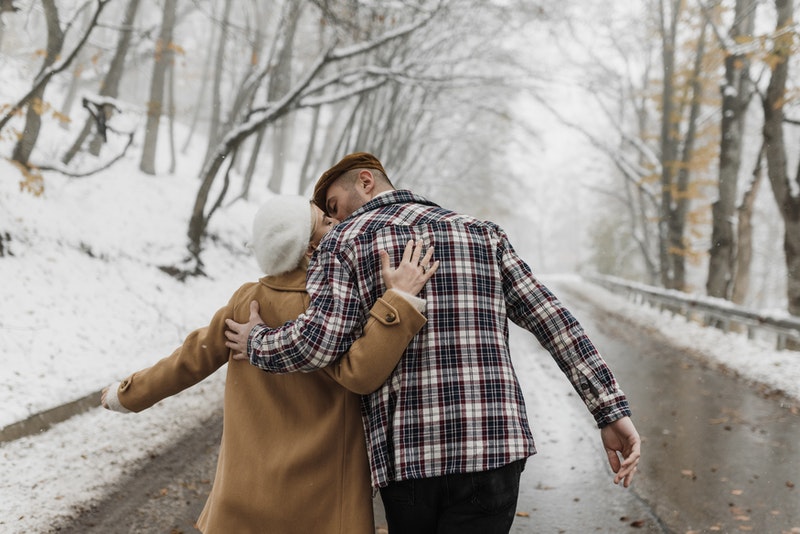 If you're opting for a more slimline coat, which does automatically give a more elegant look, then remember the most important rule: synthetics do not keep you warm! A winter coat is something you are going to keep for years and wear on a near daily basis, so this isn't the type of garment to be frugal about. Opt for wool or at least a wool blend – wool will keep you super warm, without sacrificing aesthetics. Also, since you'll be playing around with different outfits, it's a good idea to pick a coat with a neutral colour: black, beige, white or grey. Something like red or blue would be striking and very festive, but bold colours like that might clash with other garments.
Depending on the occasion, you could get away with a cool trouser and blouse combo or a jumpsuit, but many social occasions do warrant a cocktail dress. Wearing a dress in winter can instantly give you goosebumps just thinking about it, but you can layer up without losing the sexy shape. Thermal tights are your new best friends. The standard stuff you find in Boots simply won't cut it – those tights are meant for the warm indoors, not for wind and snow. You can get wool and cashmere blends that will keep you toasty and comfortable and tights are a great way to add that splash of colour to your outfit. Tabio, Wolford or Luxury Legs are all great choices for quality made hosiery.
If you're wearing high boots, then go for leggings and warm socks. There's no shortage of sources for leggings, but since temperature control is key, then your best bet is to check out shops like Goretex or other outdoor sports brands like Patagonia or The North Face – they design clothes intended for K2, so you know you'll be nice and toasty, plus they can double up as a useful exercise garment in between your fun rendezvous. If you're not after anything that extreme or want a pair that won't give your bank account a heart attack, Uniqlo is the perfect high street brand that has a great selection of thermal wear that's stylish, comfy and affordable.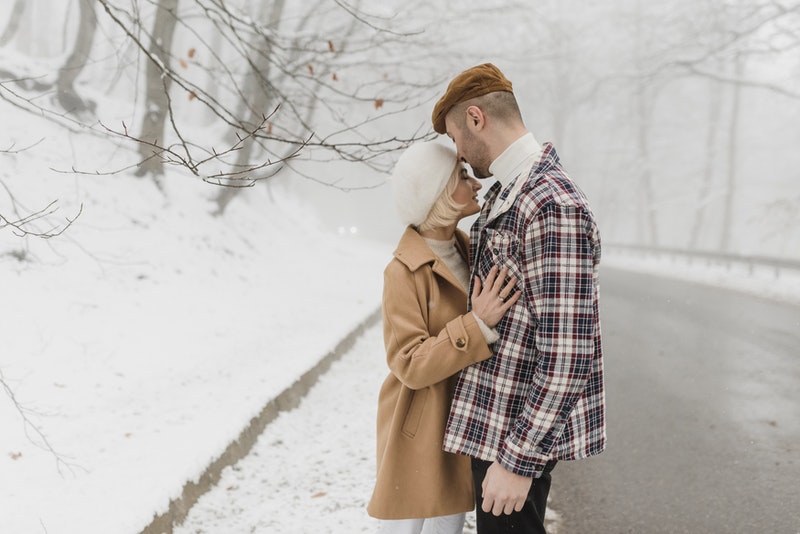 Let's be honest, we eat more in winter. We're cold, miserable and bored, and then the festive season rolls around and it's parties, dinners and glorious feasts all the way to our New Year resolution to join a gym. If you plan on indulging – and this is strongly encouraged! – then make sure your clothes don't make you regret it. A big carby dinner? Yes yes yes. Low rise jeans and fitted waists? No no NO! You want to be comfortable, with plenty of room for dessert (wink wink). Is there anything worse than that agonising red bullet hole of a mark left on your stomach from your jeans trying to murder your intestines?
Shifting uncomfortably as the roast potatoes, wine, brussel sprout side effects and skinny jeans battle it out for who will kill you first? Say it with me: loose and stretchy. You want to wear jeans? Sure! But opt for high waisted – this seems counterintuitive, but trust that it's far more comfortable than the low rise kind, that your bloated belly will inevitably flip over. And make sure said high waisted jeans are super elastic! Better yet, invest in jeggings – they look the same, but are super stretchy and don't have any nasty zippers or buttons to ruin your evening.
Want to wear a sexy dress? By all means! But sexy doesn't mean skin tight. Jumper dresses come in all sorts of stylish cuts and styles and if you're not feeling that fuzzy, an alluring neckline is all a dress needs to instantly make you look chic and desirable. Choose a neckline and dress colour that flatter your face shape and complexion – as long as you hit those two marks, the rest of the dress can be nice and loose and free-flowing. Not only ideal for indulging during the festivities, but also handy during the aftermath while you're still shedding those extra mince-pie pounds. Though if you don't feel like it, more power to you! Invest that gym membership into more hot necklines and bikinis that are ready for YOUR body, not the other way around.