10 London Date Ideas for Foodies
By: Rosie Valentine |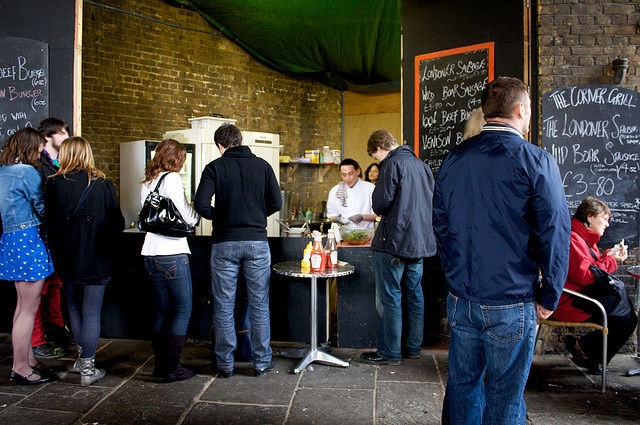 Food has always been a universal language that brings people together. There's a real excitement that comes from sharing the experience of tasting great dishes. A food-themed date is an excellent way to expand your knowledge about different cultures and traditions as well as giving you and your date plenty to talk about. Here are ten top date ideas for gastronomic adventures in London.
1) Borough Market, London Bridge
Borough Market is one of London's best and most well-known food markets. Traders sell everything from Thai coconut pancakes to French pastries, paella and pulled pork. The food is cooked right in-front of your eyes so you know it's fresh and can even ask for a sample before you buy. So come on a date with an empty stomach and spend a day tasting.

2) Go for a "Mad Hatter's Tea Party" at The Sanderson, Oxford Circus
The Sanderson have decided to put a unique twist on traditional afternoon tea and give it an Alice in Wonderland theme. Go to a Mad Hatter's Tea Party and you can expect things such as a melting mango cheesecake, a Victoria sponge clock, marshmallow mushrooms and even a dancing ballerina music box to hold the sugar.

3) Go on a Food Tour with Walk.Eat.Talk.Eat
There's no better way to sample a selection of London's best dishes than to go on a food tour. Walk.Eat.Talk.Eat offers a variety of fun, informative and delicious food tours – from a Camden market tour, to an East End tour to a Farringdon tour that pairs up food with different gins.

4) Eat at a Michelin Starred Restaurant – Heston Blumenthal's Dinner at Manderin Oriental, Knightsbridge
Recently being crowned the 5th best restaurant in the world and also receiving its second Michelin Star, this is the place that gets all the foodies in London talking. It's a great place to bring a date if you fancy treating yourself and dining in luxury. The idea behind the food is historic dishes from the 14th to 19th centuries. One of the most highly praised dishes is the 13th-15th century "Meat Fruit". It looks exactly like a mandarin orange, but when you slice it open, you'll discover a chicken liver parfait in the middle. The dishes are creative and playful and will surprise you as well as tantalise your taste buds.

5) The Chocolate Workshop with The Cocoa Box – Thistle Hotel, Barbican
If you're a chocolate lover – this is the perfect date idea for you. Go on a two hour chocolate workshop and you'll see the process of how a cocoa bean becomes chocolate and you'll also learn the right way to taste chocolate. On top of this, you'll make your own treats to take home with you. Chocolate heaven!

6) Film and Fizz at One Aldwych, Temple
Champagne, a movie and delicious food – has there ever been a better date combination? One Aldwych offer a special "FIlm and Fizz" screenings for £47.50 a person, where you watch a film at 6:30pm whilst sipping a glass of champagne, and then go for a meal at the fabulous Axis restaurant. Axis serves divine dishes such as honey-glazed Domme duck with roasted carrots and glazed chicory followed by banana tart with peanut butter ice cream, rum raisin purée and caramel popcorn. If you fancy an afternoon screening, go on a Sunday for a three course brunch at 1pm followed by an afternoon film.

7) Go for a Cooking Class at Jenius Social – Islington
Jenius Social is a foodie revolution – a company that hosts cookery classes, supper clubs, private dining and cool bespoke events. There's a full timetable of different masterclasses and events such as a "Taste of Italy" cooking class, a Mexican street food class, authentic Thai cooking, marvellous macaroons, butchery, best of British, tapas and much more.

8) Mama Wang's Kitchen Noodle Pulling Class – Central Street Cooking School, Old Street
For something a bit different – why not get yours hands around some noodles, and take part in Mama Wang's 2 hour noodle pulling class? It'll make you laugh as well as helping you to master the art of making your own Biang Biang noodles. These are wide noodles, that originate from North-West China and are commonly served with lamb. You'll also learn basic knife skills, how to marinate meat, Chinese flavour combinations and how to use a wok.

9) Cheese and Wine Tasting Tour for Tour at Cheese – Leadenhall
If you love cheese, prepare to be amazed. Head to Cheese (could there be a better shop name?) in Leadenhall and go on one of the Cheese and Wine tours. You'll be introduced to the full range of cheeses and then you'll be invited to choose a platter of seven to share, as well as two glasses of white wine and two glasses of read. If you feel like splashing out, choose the deluxe or ultimate package where you'll sample champagne too.

10) Exotic Food at Archipelago – Goodge Street
Often referred to as the most exotic restaurant in London – this is the place to come for an unconventional menu. Dishes include crickets, crocodile, smoked python, ants, caramel meal worms and chocolate covered locusts. The menu also has a mysterious item called "A Visit from the Doctor" for £8.50 – dare to try it?
From the wacky and exotic to fine dining and hands-on tutorials, there are plenty of fun date options for foodies in London. So arrive with an empty stomach and get ready to see if it's true that food is the way to someone's heart…
Image via Russell James Smith on Flickr.