Mustache Stirrers, Magic, and Marriage
By: Jess Downey |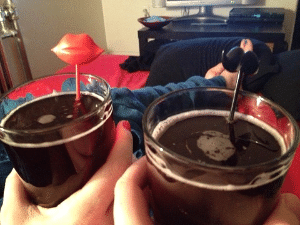 Since it's wedding season and I am newly engaged, I felt it fitting to share my own proposal story. My fiancé, who I fondly call Mr. T in my personal blog, and I literally decided to get married over a conversation about moustache stirrers.
Here's how it all went down.
It was a sunny Saturday in Brooklyn and we were sitting on my couch after a day of touring the city. On our way home we stopped to get some mixers for cocktails (Jack from Brooklyn to be exact) and Mr. T thought it would be fun to use my lips and mustache stirrers. He mentioned how he thought they would also be a good idea for an upcoming bachelor party he was planning. So he looked to the interwebs to see if there was a place to purchase some.
Mr. T found a website with a whole bunch of mustache things and that led to us to jokingly talk about how fun it would be to have that kind of stuff at a wedding. Then somehow we ended up talking about our wedding.  The whole marriage thing wasn't strange for us; we already started talking about the important things and thought that could potentially happen.
The next morning we woke up and started planning more things. We looked all over Pinterest and started planning dates. The more we talked, the more we realized how much we really wanted to do this. So we decided to tell our families and our closest friends, but that plan didn't really work because we couldn't stop telling people. That's the thing about weddings and marriage – it's exciting. But Mr. T still wanted to plan a real proposal so we hadn't really made it official.
That is, until one evening before he went out of town for a conference. We went to dinner with one of his best friends and then headed to his (our) local for a drink after.  One of the best parts about this place is the fact that the bartender also does magic. And, this place and all the magic stuff is kind of a thing for us. One of our early dates was there — with magic and karaoke. We also spent many Saturday afternoons and nights there since we first started dating during football season. It's also the first place I met his best friend and where we first said I love you. Yep, there's some stuff there.
The place wasn't that busy so they asked the bartender to do some magic. He started with a card trick and then followed with a trick with a cup and a little red ball. He made the ball disappear and reappear. Then, instead of the red ball, he made two limes appear under the cup. I still don't know how all that happens and it still amazes me.
Then he made a plum appear under the cup. He turned the plum a little and there was the ring. Mr. T took the ring, got down on one knee, and asked me to marry him. At least, I assume that's what he did. Honestly, everything was a blur after I saw the ring and realized what was happening. I assume he asked and I said yes. He forgot which hand to put the ring on and ended up just giving it to me. But it totally adds a bit of humor to the whole thing which is very us.
We'll be married on September 27, 2014 in Ohio.