Date Night Fashion Dos and Don'ts
By: Elizabeth Marie |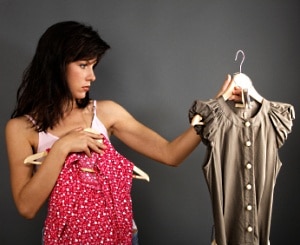 Going on a first date can be daunting enough, without the added trauma of deciding what to wear. Eliminate first date anxieties with these quick and easy tips to achieve sartorial elegance.
When it comes to relationships, whether personal or professional, first impressions really do count. By taking pride in your appearance you are showing your date that you are confident, have self-respect and are in control of your life – a definite turn on.
Remember to dress for the occasion. If you are going to a swanky, upmarket restaurant then opt for a smart dress with high heels, whereas if he is taking you canoeing (unlikely, but it could happen), then maybe choose more laidback, casual attire. If in doubt, go for the smart casual option – a fool-proof, safe bet which shows that you have made the effort without going overboard.
Wear what you feel comfortable in. Don't wear something you would never normally wear. In order to really enjoy a date, you need to feel comfortable and confident as this will enable you to relax which in turn will ensure that the date goes more smoothly. Do not test-run new clothes. Instead, keep it simple and uncomplicated so your confidence is not compromised.
It is also important to be upfront about who you are from the start and not create a false impression of yourself as this does not bode well for a long and happy relationship. This doesn't mean you can rock up wearing trackie bums but you should feel comfortable in what you're wearing, both physically and emotionally.
Don't wear anything which shows lots of flesh. Avoid strapless, low cut and cleavage enhancing tops as you want him to call again (well, maybe you don't!) but you want to give off the impression that you are a respectable lady. This will not only guarantee that you exude style and sophistication but will also ensure that his eyes are firmly focused on your's rather than your assets. If he is worth seeing again, he won't mind laying the groundwork in order to see what's under those clothes.
If you are meeting up during the day or going for a walk, then a relaxed, floaty dress like this one from ASOS is a great option. It will ensure you ooze femininity, creating a fresh, pretty look. Dress it with ankle boots or high-top trainers depending on your own personal style. If you feel comfortable and at ease in what you're wearing, you will be able to relax more, enjoy yourself and this will be noticeable to your date.
Do wear something which is personal to you. This will show your individuality and will show off your own style as well as adding warmth to your outfit. But do remember the old adage 'less is more.' Avoid loud, garish patterns or anything too flamboyant. Remember you want your style shine but not too brightly. Simple, understated and natural will ensure you ooze elegance and refinement and if, after the first few dates everything is going well, then you can bust out the more edgy ensembles.
Less is more is a motto that can also be applied to makeup too. When it comes to the old maquillage, don't overdo it. Less is definitely more. Men often prefer the natural look rather than a clown face. You also don't want your date to think you are vain. Instead wear the same makeup you would wear on a daily basis, dressing it up with some eyeshadow or lipstick if it's an evening date. Don't give him a reason to think that you are high maintenance. Think natural with a touch of glamour. Make him aware that you are chilled, fun, able to hang out with his mates whilst still retaining a feminine and pretty air about you.
Last but not least, always wear matching lingerie – this is a definite plus in men's eyes. Although this is presumptuous, it is better to be safe than sorry. If he does turn out to be the man of your dreams and you end up spending a night together filled with passion, you will want to be prepared. Black lace is a sexy and fool-proof bet. This stunning set from the Pleasure State collection at Madame Liberty will ensure you look utterly desirable and will guarantee there will be second date.