How To Be a Better Online Dater
By: Elizabeth Marie |
Online dating is more than just uploading a photo, creating a profile and crossing your fingers that someone special will find you. Our latest video reveals some tips and trick on how to get the most out of your online dating experience…and by "the most" we obviously mean a hot date. Transcription follows.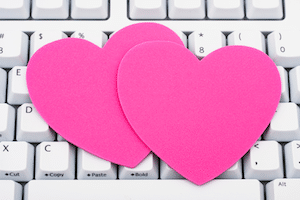 [youtube]http://youtu.be/wrf3hOwJb9M[/youtube]
Transcription:
Hey, guys. What's up? This is Liz with We Love Dates, and today I thought I would take it back to basics, considering we are an online dating site, and talk about a couple ways to be an even better online dater. You should always be looking out for ways to get the most out of your money or just your online dating experience in total. So here are a couple ways to kind of freshen up your attitude towards online dating.
The first, I would get rid of the mindset that you expect every date to be the one or this person you've been waiting for, the Prince Charming or woman of your dreams, because while that can totally, totally happen, most of the time it doesn't. So you come home totally bummed out and disappointed over these dates that maybe weren't terrible, but just weren't amazing.
So instead of having that kind of pressure on each and every date, try to find something positive in each one. Maybe you make a good business connection. Or maybe the guy was just super hilarious, even if there was no chemistry. Or maybe you've just got to practice your online dating or your first dating skills.
I look at every bad date as an opportunity for me to talk to somebody I don't like, strengthen my conversation skills, any of those kinds of things. So that helps take the pressure off online dating, which can kind of be a cloud. You come home from an online date that you were so excited about, because online or on the phone the person sounded perfect. But it wasn't there, and it's like whomp, whomp. So ditch the pressure.
Number two, when you're on a date, remember that it's not just about you. Don't only grill the other person. It's not an interview. When I hear that online dating first dates are like interviews, I get it, but no. There should be fun and joking around. Don't take each date so seriously. You don't need to know the answer to all of your questions within the first two hours of getting to know somebody. There are some things that just kind of unfold organically. So have fun with it.
Number three, maintain your life offline. Online dating is a lot of fun, and especially at the beginning it can be so fun and exciting to come home and check your emails and all this attention and all these new people. Just remember that what makes you so attractive to somebody online is your life offline, your hobbies, your goals, your passions.
Plus you don't want to online dating burn out, which happens to a lot of people, because online dating is tough and it takes a lot of time. But the rewards are obviously well worth it. Just make sure you maintain some kind of balance so you don't start regretting your decision to online dating or looking at it as another thing that's on your to-do list and dragging you down.