Why OkCupid's 'Crazy Blind Date' App Is A Bad Idea
By: Jenn |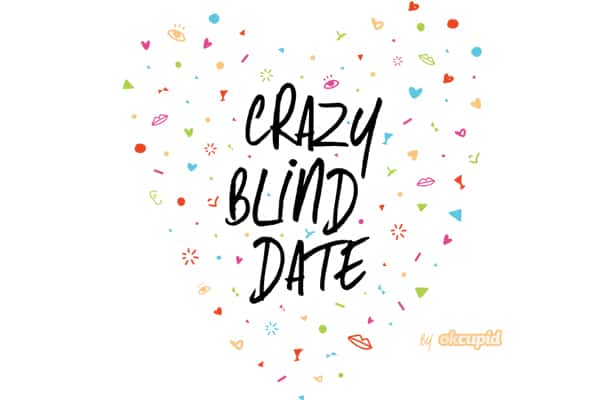 If any of you have a profile on OkCupid, or follow a lot of dating bloggers & twitterers, you're probably familiar with the new app that they launched called Crazy Blind Date. They rolled it out by pronouncing one day this week "Blind Date Day" and blurring out the profile pictures of all users, encouraging them to take a chance and message someone without being able to see their picture.
The app follows the same principles – meet up with someone at a location of your choosing, knowing only their age, gender and sexual orientation, and see what happens. My personal prediction? This won't last long, and here's why.
People are shallow. Even the least shallow among us who value intelligence, creativity, passion or humor above appearances still care about appearances. If you're looking for a romantic or sexual match, a small amount of physical attraction is necessary.
It's not safe. An online dating profile not only provides you with pictures of the person you're communicating with but it also provides you a general sense of who that person is and where they might fall on a scale of 1 to Serial Killer. Without the necessary information to have a gut instinct about a person, meeting someone on Crazy Blind Date is no different than grabbing a stranger on the subway and taking your chances.
It's fun until it's not. How many of us have gone on a date with someone we met online and thought we had something in common with, only to discover that our shared interests weren't strong enough to carry on a conversation? I imagine a date from Crazy Blind Date will be worse than that. At first it seems like a fun new idea that will result in a good story or two, but I predict it will quickly turn into a "How much longer until I can leave?" situation.
The revenue model is risky. The app is free, and the matchmaking service is free; OkCupid plans to make its money by asking users to buy their date "kudos". (One kudos costs $0.99 and ten kudos will cost you $2.99). If you had a great time and liked your date, you pay the app to give the date kudos; the more kudos someone has, the higher they rank in the system. You can still message the other person though, eliminating the incentive to pay any amount of money. (And also, cell phones! Texting! Endless avenues for communicating outside the app!) Unless OkCupid plans to run this app as a fun side venture that isn't designed to create sustainable and recurring revenues but rather direct more users to their main site, then I predict this app won't last long.
Have you heard of Crazy Blind Date? Would you be willing to try it out?