5 Ways to Spice Things Up This Holiday Season
By: Simone Paget |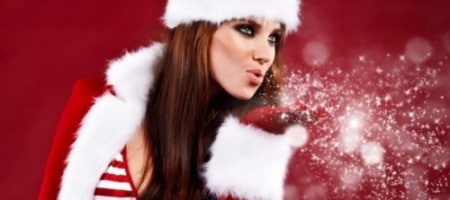 Wood burning fire places. Delicious holiday beverages. Sparkling lights. The holiday season is the perfect time to kick things up a notch in the sex and romance department, and create some sexy holiday memories! Here's a few suggestions on how to keep things steamy this holiday season:
1. Celebrate your own "12 Days of Christmas" : Start by each choosing six sexy things you would like to do with each other this season (ie. spend a night alone giving each other sensual massages, role play, wear sexy holiday themed lingerie in the bedroom, have sex in a public place etc) Put these sexy suggestions in a safe place. Draw a different sexy surprise each night and have fun celebrating your own "12 days of Christmas"
2. Sign up for a class together. The New Year is the perfect time to expand your mind and body by learning something new. And no, we're not talking about that spinning class at the gym that you've been meaning to check out forever. Sexy classes taught by sex educators and sexologists are becoming really popular ie. classes on sensual massage, oral pleasure, tantric sex and even erotic fiction writing. The opportunity to learn some sexy new tricks as a couple is the gift that keeps on giving!
3. Write each other steamy notes. Why wait for that erotic fiction writing class to break out your inner E.L James?! It can be challenging to find time to connect as a couple during the busy holiday season. Bridge the distance and write your own version of 50 Shades of Grey by leaving sexy notes for each in each other's purse/briefcase, car and around the house. These sweet nothings intended to turn each other on will create a nice momentum – so that when you do get some time together it will be explosive!
4. Slip away from the festivities. There's something really hot about doing something you're not supposed to. Just because there are tons on people around because of the holidays, doesn't mean that you can't slip away from the action for a little secret rendezvous in the bathroom, guest room…or wherever turns you on!
5. Plan a special night together. Between office parties, getting together with friends and spending time with family, the holidays can get so busy. During this chaotic time of year it can be difficult to have any free time to connect as a couple – so, make some! Plan to spend at least one night alone as a couple. Whether that night alone means some champagne and sexy time by the tree, or simply  a quiet night in watching a movie and relaxing together, prioritizing some "alone time" to reconnect as a couple will help keep the sexy spark alive  during the holidays and beyond!
Do you have any sexy holiday tips?