5 Festive Holiday Date Ideas in Los Angeles
By: Elizabeth Marie |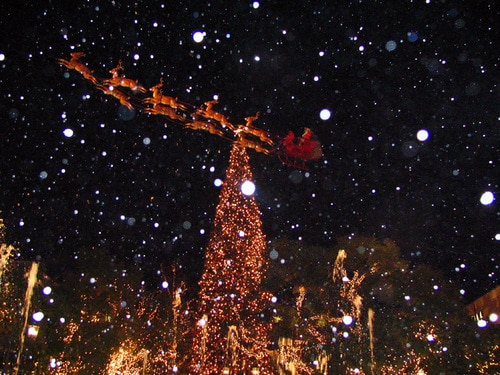 The holidays are the most romantic time of the year, even in perpetually sunny Los Angeles! Just because L.A doesn't scream "winter wonderland" doesn't mean that there aren't plenty of holiday-esque date options. Trust me, we've got the market cornered on fake snow over here! From holiday lights, to swarovski crystal accented snow (seriously), to celebrity tree lighting ceremonies, here are five festive holiday date ideas in Los Angeles.
1. The Grove-Truth be told, you can find me at the Grove just about any day, any time of the year. During the Holiday Season though, it's a must-stop for everyone, and it's the perfect place for a date! Have dinner at The Fat Cow (obsessed), and then take a stroll, hand in hand…IN THE SNOW. Real snow? Heck no, this is L.A! But every night at 7 and 8pm, snowflakes magically float down from above. It's fun to pretend-gotta love L.A.
2. Lakers or Clippers Game
Even if you aren't a huge basketball fan, going to an L.A sports event during the holidays is always a good time. There is tons of energy in the building, lot's of holiday cheer in the air and there won't be any awkward silences since you'll always have something to talk about.
3. Grinchmas at Universal Studios Hollywood/City Walk
Universal Studios Hollywood is often avoided by locals since it's such a massive tourist trap, but the holiday season is the best time to put aside our L.A cynicism and play tourist in our own town. There is a celebrity tree lighting ceremony every night until New Years, a whoville celebration, and of course…more fake snow!
4. Sparkle 90210 Rodeo Drive
Six evenings in December, Rodeo Drive will be transformed into a winter wonderland, complete with swarovski crystals, of course. Jump into a horse drawn carriage, snuggle up with your date with a hot coffee and enjoy holiday music, performers and carolers. Stores will be open late on these nights too, just in case you see something you must have.
5. The Beach
With all this fake snow talk, it's easy to forget that this is Southern California and 80 degree weather is the norm. Why not take advantage and put your own Holiday spin on it? Who says you need fake snow or scarves and gloves to enjoy the season? Grab a bottle of wine or some apple cider, a blanket and your iPod and make your own holiday traditions together-the L.A way. December sunsets are some of the most gorgeous you'll see all year!