Starting Out with Over 50 Dating
By: Elizabeth Marie |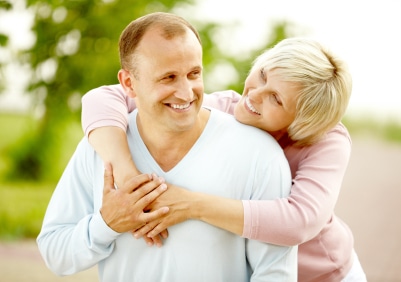 image source
While dating can be nerve-racking for anyone, it is especially likely to worry folks over the age of 50. However, dating for seniors doesn't really have to be complicated.
Everybody should just think about a few things before they get back into the dating scene.
Think About Why You're Dating
The motivations for mature daters are usually different than for younger individuals in their 20s and 30s. Most folks who are getting into the mature dating scene have already experienced marriage and family life.
Some seniors may be looking for a long-term partner, but many may be just as interested in enjoying a more casual arrangement. It's always a wise decision to put some thought into what your reasons are for dating.
In order to prevent misunderstandings later on, talk to your potential partner to make sure you're both looking for the same kind of relationship.
Recently Older Dating interviewed a number of dating experts for their thoughts and advice for people looking to start dating in their 50s. Monique Honaman (Author, Speaker, Relationship Coach), had this great advice "Just do it! It can be daunting, but can also be incredibly rewarding! It's worth the investment of your time and energy! Stay positive and have fun with it."
Don't Let Yourself Be Pressured
When you start the dating process in your later years, there may be some people that have objections. This situation is prevalent among seniors with adult children who have difficulty accepting the idea that their parents wish to date.
Never let their discouraging comments stop you from having a good time. Your age shouldn't mean you have to be alone forever. While senior dating might be initially startling for your family, they'll get used to it.
Think About What You're Looking For in a Partner
Younger people tend to focus on relatively unimportant things like income or looks. The majority of people involved in over 50 dating have a little perspective and are less likely to put too much emphasis on these things.
Of course, everyone who's just starting to date again should think about what they want in a partner. The attributes that were essential to you when you first tied the knot might be different at this point in your life.
It's helpful to be open to dating new sorts of people and enjoying new experiences.

Take Care of Yourself
Most seniors are friendly, but some people in over 50 dating can be unscrupulous.
If your relationship started on the Internet, insist that your first meeting occur in a public place.
Be sure to take things slowly and don't rush the pace of your relationships.
Look out for peculiar behaviors, and always trust your intuition.
If you don't feel comfortable, take another look at your relationship.
Look for Partners in Appropriate Places
While Bars can be a good place to meet members of the opposite sex for younger people, they're probably not the best choice for mature dating. This doesn't mean that searching for dates at the nursing home is your only option, though.
Your local church function could be an excellent place to meet someone special.
Look for organizations and classes themed around an activity you enjoy. These groups will help you have fun and find someone new.
Don't forget to check out the online dating scene. The Internet provides you with a whole new universe of senior dating possibilities. You could meet someone in your own backyard!
Whether you have marriage in mind or just want to have a good time, over 50 dating sites can prove to be a great experience. And, if you think about your preferences before you start, the whole process becomes much easier.
Know who you are and what you want, and you're sure to meet the perfect date.
Save
Save