Festival Dating: Seize the Moment!
By: Elizabeth Marie |
If you've ever wanted to hookup with someone at a festival like Burning Man or Coachella, this one is for you-the male and female perspective on festival dating.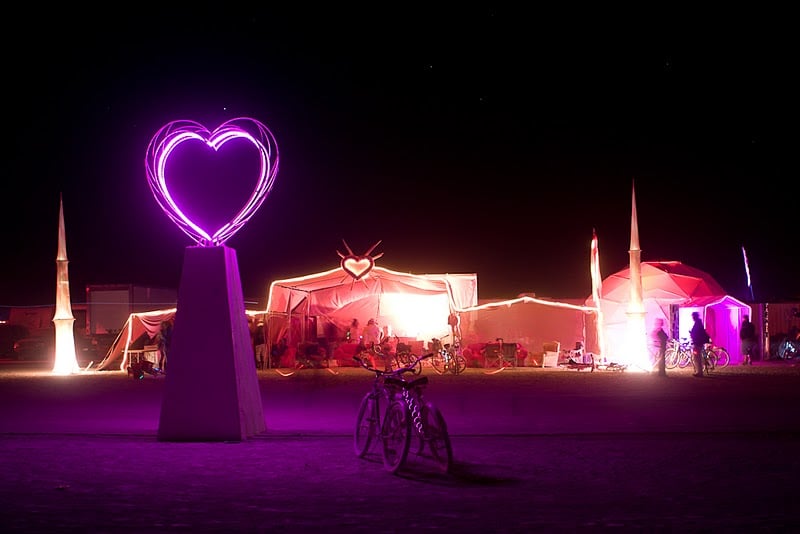 A Guy's Perspective on Festival Dating by Christian of The First 10 Minutes
If you're single, try going into a festival with a greater intention to land a new lover for AFTER the festival days.  Yes plenty of opportunities will present themselves to make out during the days of camping, wandering, tipsiness, and dancing; BUT he who makes the intention of something greater can be handsomely rewarded with a longer lasting love, because everyone seems to let their guard down during festival times, and in the mist of all the chaos there's something extra cool about standing out by not being the guy who is just out to get laid.
Once upon a time I met an actress at Burning Man who mesmerized me beyond belief and I chose to take it seriously.  I didn't rush to get in her pants because I knew I wanted to be with her for a longer period outside of the festival. I introduced her to everyone in my camp and social circle to show her I was a good safe catch. What makes this woman more significant is how I met her.  I was riding bikes with another lady who I had been interested in, but I broke it off with her when I crossed paths with this actress who caught my eye and I listened to my gut. I chose to listen to that little whisper in the back of my head, my intuition, rather than to that convenient steady blood-flow in my pants that had a sure thing because I was seriously committed to the long-term possibility of a relationship as opposed to a short-term hook-up.
When I returned hours later to where I met this goddess, she was immensely flattered as I revealed my cards that I fancied her, cutting through game playing.  Games go out the window at festivals because everyone thinks about the now.  No time to play hard to get because often you'll never find someone again in such expansive festivals.  By recognizing that I must seize the moment, with class and intention, I started a phenomenal relationship with a woman who is still a prominent figure in my life.
A Woman's Perspective on Festival Dating by Elissa of The First 10 Minutes
The best thing about festivals is that IT'S NOT MY REAL LIFE! As a woman I worry about my reputation and who I date is an extension of that; but at festivals nothing goes permanently on my record unless it's something I want to brag about. It's a lot like Vegas! But better…
The thing is, in Vegas you don't usually date, you just hook up; however, at festivals I can actually take time, get to know someone, and, since I always go to ridiculously awesome festivals, I get to do it in a relaxing environment that puts me at ease.
When I'm in an open environment and loving the festival experience, I find myself at liberty to play with the types of men I date. The last festival I went to I spent time hanging out with a scientist. I'm not into the nerdy type, but at festivals I have no reason not to give it a chance, and whenever I surrender to the possibility of new experiences I always learn something new! This scientist had such an incredible fascination with aerodynamics that we examined every kite, balloon and flying object in sight. No, I didn't end up learning about physics, but I did develop an appreciation for the details in life and uniqueness of seemingly ordinary things.
In the end I realized that I wasn't attracted to this scientist…but the best part about festivals is that I can have amazing encounters with new people, learn something new, and when the experience settles I let the wind pick me up and blow me in another direction to someone new. No hard feelings, right? …because IT'S NOT MY REAL LIFE!