5 Ways to Handle Your Friend's New Relationship
By: Jenn |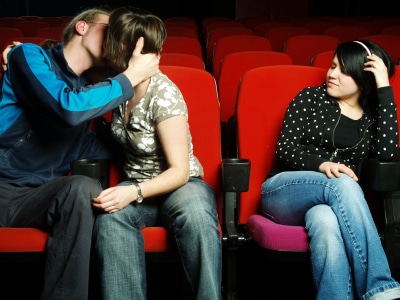 One of my favorite parts of being single is being spontaneous and enjoying life with my other single friends. Not that I don't love my coupled friends, but it's nice to have people in your same state of unattached-ness to hang out with.
Eventually, though, those single friends start coupling up and your former single allies must balance their time between you and their new love interest. So how do you show your support for their happiness while also coping with a changing friendship?
1. Give them space. New relationships take up a lot of time as the couple gets to know each other more. That early honeymoon phase won't last forever, but understand when their focus is more inward as they explore their new relationship.
2. Plan group activities. This is a great way to still see your friend, plus get to know their new significant other, while avoiding the awkward third wheel scenario. It's going to be easier to see your friend if you adapt your activities to their new priority, so bear with them through the adjustment period.
3. Blend social circles. There's nothing more frustrating than getting shot down for weekend plans because your friend has to hang out with her boyfriend's friends. Blending the friends increases your chances of seeing the person you miss, and you get to meet some new people along the way!
4. Schedule some one-on-one time. Plan a girls pedicure or a guys trip to the driving range for some face time with your friend, sans beau. A couple hours in off-peak times (anything but weekend nights!) is a great way to get some quality time in. If your friend is the opposite sex, tread lightly: you don't want to make their new partner jealous. Let them get their relationship on solid footing before requesting that kind of access.
5. Speak up! If your friend's relationship has gone from new to stable to old married folks and you still haven't seen them regularly, speak up! Let them know you're missing them and would love to see them and try to plan something fun. Commit to calling them more often and continue to invite them out – eventually they will (hopefully) get the picture!