What We Can Learn from 1980's Dating Videos
By: Simone Paget |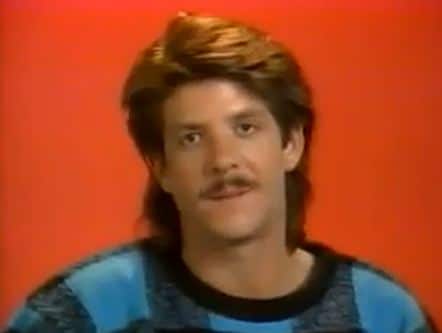 Whenever I'm in a bad mood (or I just need a good laugh), I like to watch this 1980's dating video montage on YouTube. Although I've definitely dated my share of duds over the years, this video is a good reminder that "hey, it could have been worse!" It's pretty much impossible for me to watch this video without breaking into fits of giggles.

Since Elen DeGeneres featured this video montage on her show a few years ago, I'm sure many of the guys on the video have said to themselves "Oh my god, what was I thinking?!" Although video dating is thing of the past (thank god!) it's easy to look back on your previous attempts at online dating and cringe. When it comes to crafting a really great online profile, here are a few things we can learn from these 1980's daters:
DON'T wear dark glasses in your photo: I get it. You're a big fan of Corey Heart's song "Sunglasses at Night" and are a "wild man"/"wild woman" which means you feel compelled to wear sunglasses at all times, or maybe you're just very sensitive to daylight. Whatever your story is, when it comes to how you present yourself in the online dating arena, leave those shades at home. I for one, would never message anyone if I couldn't see their eyes in their photo. It just seems creepy to me – like the person has something to hide. Same goes for photos where the person's eyes are unfocused or looking in another direction.
DO take a photo where you are looking at the camera and seem friendly and relaxed. Remember, this is your first impression so, make sure you present yourself as someone who has social skills and isn't a total weirdo.
DON'T resort to rhyming or corny puns in your profile: Maybe you really are looking for "sugar and spice and all things nice"  and think you'll impress that special lady with your "totally rad" poetry skills. Prognosis: not likely.
DO keep things simple and straightforward: By this we don't mean mentioning that you run a "Damsels in Distress Hotline" in your spare time.
DON'T overload your profile with "negatives":  Okay, so you're not looking for "an overgrown monster who's always thinking about food" (um, nice!) or "Don Juanitas" or Smokers, like the guys in this video. However, there's no bigger turn off than seeing a online dating profile that's basically a laundry list of  "NO's." It just screams "Negativity" and makes me wonder whether the person has already given up on the dating process.
DO focus what you are into and looking for: Whether you're really into sailing, hiking or pizza, keeping things positive and open ended will get you a lot further in the long run.
And lastly,
If you feel compelled to wear a Viking costume, just don't.