How To Write An Amazing Online Dating Profile
By: Elizabeth Marie |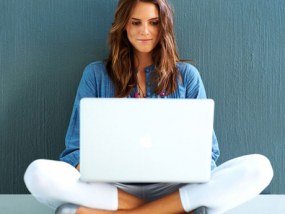 Have you ever sat in front of your computer, staring at the screen and trying to create the perfect online dating profile, but have absolutely no idea what to say or where to start? I know I have, sometimes I'm guilty of writing a sentence and then deleting it…over and over again!
Type in "online dating profile" and your search engine will bring up article after article with hints, tips, word generators and everything in between. Hey, it's always nice to have choice, but sometimes the advice they offer can seem even more daunting than the blank profile form staring back at you.
Every day loads of people across the world seek help with the first step on their dating journey because, let's face it, few people like writing about themselves and no one really believes they're good at it. Because being great at bigging yourself up would make you kind of arrogant, wouldn't it?
Well. First of all we're here to tell you that it's not. A dating profile doesn't mean a list of qualities.It doesn't mean bragging about your job or your lovely home. It's just putting down on paper who you are and what you're about. So, how can you make that 'who and what' sound as attractive as possible?
That's a question we face every day here at PenMyProfile.com because we do just that – make people sound as attractive as possible in their dating profiles. We can edit something you've already written, or start from scratch with a full interview and a bespoke draft profile just for you. So, with that kind of pressure on our shoulders everyday our expert team of writers are pretty amazing at profile writing!
If you're reading this blog, you've probably read the number of articles on Google that advise you to spell check, write in full English and not talking about your ex. This is classic dating 101. So, armed with these extra tricks of the trade from us, why not steel yourself and get that first draft underway?
1. Getting started. It's the hardest part, so why not enlist your friends' help? Ask them to list your three best qualities and use that as your kick-off. If they say you're loyal, talk about
how and why. If they say you're fun-loving, write about how you inject that into your everyday life.
2. Be honest. It's better to hear from one perfect match than ten who tick none of your boxes. Quality not quantity should be your watchword when trying to find someone compatible, so don't be afraid to 'fess up about your love of archaeology. This is where not feeling arrogant comes in. If you've just written about who you are and what your life is like, then you should attract people that 'get that'. Yes, some people might be put off if you're interests aren't the same as theirs, but chances are you weren't compatible anyway. That said, your online dating profile isn't the place to admit to slightly more crazy pastimes – use your judgement as to what is best left for a face-to-face meeting!
3. Paint a picture. While sometimes it seems that getting a date is the ultimate aim of online dating, try and think of this as just the first step in your journey. You and your partner will
have to grow together and share your lives. So, paint a picture of what you hope your life will be like in years to come. Offering a potential match a glimpse of how your lives together might pan out is a great way of engaging a reader and also ensuring it's a love that lasts. Think 'What will I be up to in one year? How about five years? And eventually?' and spell that out in your profile.
We believe when it comes to affairs of the heart, it pays to be picky, be that whom you date, how you date and even how you sell yourself. So, don't forget that if you are really stuck for
words, don't think you're doing yourself justice or just need some guidance, you can enlist services like us – PenMyProfile.com – to do the selling for you.
Do your research, ask your friends, but the most important thing is to take that first step. Pen, paper, go!
Thanks so much for the post!
Ready to put this post into action? Start online dating, or curvy datingnow!