New Year's Resolutions-Matters Of The Heart Edition
By: Elizabeth Marie |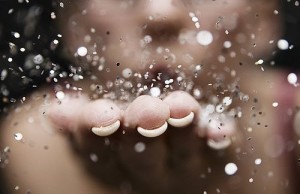 Break out the bubbly! Christmas might be over, but the holidays certainly aren't…it's almost New Year's Eve!  As I  look ahead to a new year,  I always try to evaluate what I can do to make next year better.  More fun, more sexy, more exciting.  I don't like to use the word "resolution", but at the end of the day, yep…I'm talking about new year's resolutions.  Specifically,  I've been figuring out my new years resolutions when it comes to matters of the heart-the most important kind!
Step Out Of My Comfort Zone
I want to let my walls down in this next year.  I  don't trust easily and tend to take a little while to warm up to people…wow, I sure sound like tons of fun, right?  One of my resolutions is to open up my heart a little more, and not be so guarded.  I don't want to hide behind fear or a veil of self preservation-in order to be loved fully, I have to allow myself the ability to love even fuller.
Don't Get Complacent
If you've been online dating for awhile, you know the drill…you know what witty things to say in your profile, you don't get nervous before first dates anymore, and you know how to play the game.  My resolution is to stop just going through the motions and start experiencing every moment of my relationships.  I want to be present-always- not just when something extra dramatic or ridiculous  happens.
Keep It Hot
In the new year, I'm making a pledge to step things up a notch when it comes to keeping it hot in my relationships.  What the hell does that mean?  Well, it kind of goes right along with no complacency-basically, I want to take charge-both in the bedroom and out, and not just go along with the status quo.  And that's all I will say about that! 🙂
Take One Chance A Week…Or More
No matter how big or small, I am making a commitment to replace "no" with a resounding "YES"…Taking a chance doesn't necessarily mean doing something crazy…it could be as seemingly insignificant as cutting bangs in my hair.  Regardless of what it is, I want to adopt a more go with the flow attitude-I want to switch it up, shaking things down, and be a little bit wild 🙂
What about you??