4 Real-Talk Ways Being a Single Parent Affects Your Sex Life
By: Amy Marie |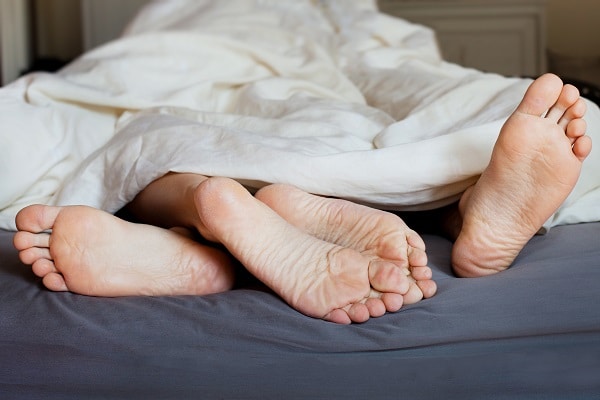 According to an article in the Huffington Post, single parents apparently date and have sex as much as a single person without children. Personally, I'm not sure how accurate that is, despite doing a survey due to the fact there are so many glaring differences and hardships between dating as a single person, and dating as a single parent.
I have had three periods of being single in my life and sexually active, two were without a child, and one with. And unsurprisingly the period that has lasted the longest is the one as a single parent. It's not just because I haven't found anyone good enough to let into my child's life yet, it's because dating as a single mother is ten times more complicated and confusing than dating as a single person.
1. For starters, as a single person it is so much easier to meet someone in the first place. You have a freer schedule, you can go out in the evening dancing, or even have a hobby that isn't limited to baking cupcakes for your child's school or watching Netflix, a real hobby that takes you out of the house. You also have a place of work, with people you have time to socialise with outside of the work environment. As a single parent you're limited to usually doing activities that revolve around your child's schedule. And if I'm being perfectly blunt, although we're now living in a society that makes it more acceptable for fathers to take a hands on approach, 98% of the parents you'll come across will be mothers. Which isn't much use if you're a heterosexual female like myself.
You may have that rare occasion where you are able to head out on the town, for a birthday or a hen party, but you won't be out enough to build a relationship with a guy in a club like you used to, when asked if you're "out next week" these days you're more likely to answer "sorry but I'll be at home with a bottle of wine and asleep on the sofa by 10". As a single person I was out weekly and I got to know people before I accepted dates. If you go out as a single parent there is a high chance you'll simply end up with a one night stand, and even then you'll have to go home and face the babysitter.
Of course, I am just generalising based on my own personal experience. You may be lucky enough (or unlucky if you feel like me and dread the idea of the day long Sunday hangover) to be kid free every weekend and able to continue your pre-baby partying ways.
2. Then once you secure someone who is willing to attempt to work around your schedule with your child, you then have to put it all into practice. Children, especially the young ones that aren't of school age yet take up a lot of time. All day you're entertaining them, rushing around to various appointments and playdates. Some parents even manage to fit in work. Then you have your own friendships to keep going, and taking little one to visit various grandparents and other family members. Some days I'm asleep on the sofa before I even get my daughter to bed, so there really is no chance I would be able to get myself scrubbed up for a date on those particular days.
3. When I dated as a single person I rolled in from work on date night the back of five, straight into the shower and ready for 7 or 7:30. I also functioned on little sleep back then because once I got to bed, I usually managed a lie in so late nights were no problem. Dinner, movie, dancing.. I could come home at any time of the night or not at all if it came to that. Now if I do manage to secure a date, and I do manage to not call and cancel it last minute, the latest I can be out is 11pm on a Saturday and 9:30 on a weekday as my mother still works so she wants to go home to bed. So unless he is flexible enough to only see me on a Saturday from 7pm until 11pm, it's a no go area. Most of the time I have to fit a date in while my daughter is at nursery school, and then I only have a couple of hours max.
4. Finally, actually having the sex. Single person, no problem. The first period of being single I was at university, and everyone was having sex at university. Then the second time I lived with two of my female friends and again, sex.. not a problem. There was no judgement, in fact my friends were the kind who would applaud me. I felt good, I looked good, and sex was an important part of a relationship. Now I'm sad to admit, it's not. For starters, again finding time would be a huge issue. Then my daughter's bedroom is right next door and my bed rests against the wall with her sleeping on the other side. I would not be okay with having sex in my bed with her in the next room.
I'm not sure who these people are who are managing to date and have sex as much as they did as a single person, but good on them! I honestly just really wish that was the case for me…something to work on!