How To Spoil Your Girlfriend At Christmas Without Spending a Fortune
By: Katy Horwood |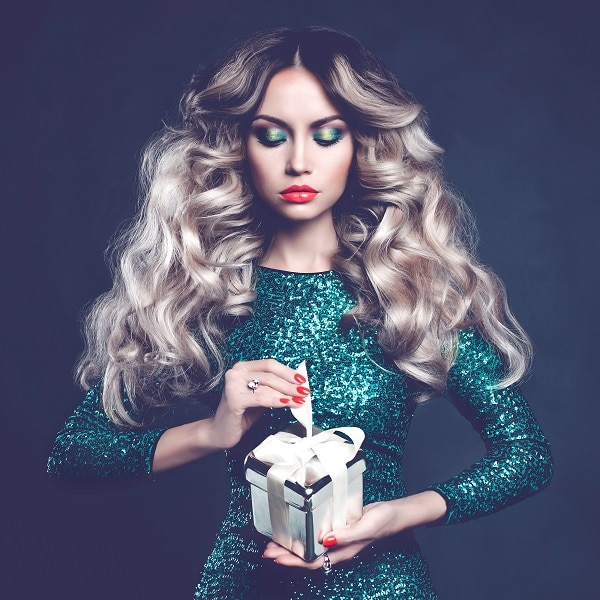 Christmas is a season of joy and goodwill. Unless of course, you are in a new relationship and need to invest in that all important Christmas present for your girlfriend, in which case it's a season of utter confusion and total stress. 'But it's only a present, What's the big deal!' No, my friend, it is not only a present, it is a symbol or exactly how much you are into the relationship, a token gesture of your intentions and future commitment towards your partner. No pressure though.
It's probably easy to clarify what not to buy for your girlfriend than what to buy. And don't be fooled by the famous 'Oh just get me anything!' line, We all say it and can be amazingly convincing, but keep your wits about you – that's simply a line thrown in to put you off the scent. What she really means is 'You that had better invest every waking moment of your life in her present or there will be hell to pay!'
As I say, no pressure.
The good news is that perfect Christmas present isn't about value, it's about thought – and how much you give to it. You'd probably struggle to find a girl in the world who'd turn her nose up at a pair of diamond earrings and an all expenses paid holiday in Barbados, however, if that isn't in your budget – and let's presume it isn't – than your best bet is investing some time into thinking of a gift that is personal to your girlfriend and not nipping down to Boots at 5pm on christmas eve for a gift set of bubble bath and hand cream. We're cunning creatures us gals, and can easily detect the exact time a present was purchased – and who's it's been wrapped by.
So firstly lets establish what kind of girl you're buying for.
A fashionista who likes to keep up with the trends for example? I'm sure you consider yourself to be equally as savvy with this years autumn/winter trends, but whereas you'd be chuffed with a nice scarf or a pair of leather gloves when it comes to 'trends' read: colours, fabrics, styles, sizes (!) you'd be amazed at how specific your girlfriend can be, not least of all if she's up to speed with all the latest catwalk fashions.
So instead of potentially falling at the first yuletide hurdle how about you think outside the box a little. What about a years subscription to Vogue or a set of customised wooden hangers? Trust me, a lady who loves her glad rags will be thrilled with either, and by not reaching for the first proverbial festive scarf you're showing that you have, not only have thought about her personally, but that you are highly imaginative to boot (presuming she hasn't read this piece, in which case I'm highly imaginative).
While we are on the subject of personalising gifts, I'm all for it. Her initials subtly embroider on the corner of Egyptian silk pillows – luxurious and not as expensive as you'd think (perfect for the house proud) are quality items that will keep forever and having them personalised is a very clear indicator that they are certainly not a last minute though but something you have invested time and care over.
When it comes to household items we tend to feel like spending money on something decorative like, say a cushion or a throw is a bit of an indulgence, which is exactly where you step in! If your girlfriend is the house proud type why not treat her to something totally luxurious and indulgent that she'd never usually buy herself. A piece of vintage furniture or a beautiful wine decanter … (with a beautiful bottle of wine to put in it!) Or dare I say it, the dreaded candle. I can't be the *only* girl alive who actually does love a candle!?
But candles don't last! Indeed they don't … so why not really up your game and buy her 'a promise' – a candle and bunch of flowers every month for a year. *Swoon* now you really are talking romance and imagination.
When it comes to gifts for Christmas imagination is the key, it's exactly that which shows you care – a bit of thought and consideration. The perfect gift doesn't even have to be an object, least of all an expensive one. Why not treat your partner to an experience? This could be anything from a skydive – should you be dating the adventurous type, to a guitar class, for somebody with an interest in music. Book a couple of tickets to see her favourite comedian or a 3 month membership to her local yoga class (be wary of gym memberships which could send out the wrong message!!)
Often these things are very affordable and can be booked will in advance, which gets you double brownie points as not only have you considered her interests but tickets together to see a band in June shows you're intentions are long term … and your girlfriend is for life, or at least the foreseeable future, and not just for Christmas!
Should you be feeling a little more flush add dinner/a weekend away/cocktails at a fantastic bar to any of the above list, and remember to 'give' the tickets, or at least the promise of them in a card. We're all big kids at heart and having something to 'un-wrap' on the day is important, even if it is just an envelope!
Essentially when it comes to giving gifts the rule of thumb is to keep it personal.
The more generic the gift the less impact it will have, I'd be far more offended by a bottle of perfume (which I don't even wear) regardless of the price, than I would a notepad that cost half the price. Why? I write, the gift has been considered and is personal to me.
If your girlfriend loves art – how about a years pass to the Tate? Or she's a fitness bunny – a fab pair of headphones for her iPod for when she's pounding the treadmill. If she's a animal lover, how about a personalised dog collar – for her dog not her, obvs, but hey … there's that too. If you're in a new relationship, basking in the joys of endless passion and regular sex, make that your thing.
Tread careful when it comes to buying anything too overtly sexual as a Christmas present though, I was once bought a vibrating love ball for Christmas, and whilst at any other time of the year it was a gift I'd been thrilled with, as a Christmas present, I'd have to admit, it was a little underwhelming – not least of all because it was a cheap one and vibration on it was rubbish. Anyway as we were, you've got a great sex life? Excellent, underwear all the way! Just make sure it's tasteful and something she'd choose herself, by which I mean keep PVC and 'sexy elf' costumes to a minimum (and no, it being Christmas does not make it Ok) Think luxury, class and quality … a beautiful black lace lingerie set or a silk dressing gown. Sexy, considered and utterly delicious.
If you're really struggling for ideas you could always ask your girlfriend what she'd like, Ok not quite as romantic as a surprise weekend in Paris or a personalised laptop case (it's personalised – trust me, anything personalised is romantic) but at least you'll know you've got it right, and she'll be happy with her present on the big day.
The bottom line, when it comes to gifts, is not to over-think them. Christmas is stressful enough, gift buying for your partner should be a pleasure, not another thing to add to your obligatory 'must do before the 25th list'.
Focus on what it is that makes your girlfriend interesting, fun and unique and use that as a starting point to treat her to a gift she'll love – or get diamond earrings. Honestly, why do men have to make everything so complicated?