15 Winter Date Ideas on a Budget
By: Alicia Drewnicki |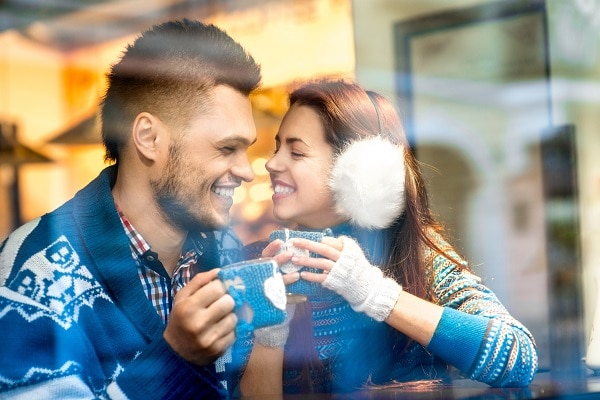 They say money can't buy you happiness. Ok, maybe it helps from time to time, but it's who you're with that's the most important thing. If you're on a tight budget, it doesn't mean you can't have a wonderful time, you just have to use your imagination and plan ahead. For those who need some winter date inspiration, here are 15 top ideas for dating on a budget:
1) Do a themed night at home depending on your favourite country/type of food
Is there one country that you both love because it brings back particularly fond memories? Perhaps you went on your first holiday together to Paris? If you can't afford to splurge on a trip abroad, why not recreate a Parisian cafe in your own home? With a song by Charles Aznavour playing in the background and steak frites followed by crème brûlée – this kind of evening will be the height of romance! As a surprise, why not treat your loved one to breakfast in bed (croissants of course) in the morning?
2) Hot chocolate and star gazing
Just because it's cold outside, it doesn't mean you have to stay in the whole time. Grab two drinking flasks and fill them with hot chocolate, then dress up warm, take a blanket and find the best star gazing vantage point in your city. Winter time offers clearer star visibility because the cold air can't
hold on to moisture as much as warm air. So sit back, enjoy a mesmerising night together and maybe you could pick two stars to name after yourselves.
3) A spa night at home
Everyone loves to pamper themselves (guys too, even though they won't admit it!) Plan your own spa night at home. Buy a relaxing foot soak and rest your tired feet in bowls of bubbly water, have a relaxing bath together or treat your other half to a nice back massage. Forget the television, laptop, tablet and smart phones for one evening. Switch all the electronics off and just focus on the two of you. Maybe finish off with a nice glass of prosecco and some of your favourite chocolates.
4) Go for a drive to see the Christmas lights
It doesn't matter if you're 5 or 55, seeing houses lit up with twinkling lights at Christmas time will never lose its magic. Get your comfiest clothes on (onesies…) and go for an evening drive around the local neighbourhood to try and find the best Christmas displays. Make sure the sound system in your car is playing Christmas carols to get you in the mood for the festive season.
5) Spend an evening looking at all your old mementos
It's easy to put things away in a box and forget about them. We're so preoccupied with making future plans that we forget to reflect on the past. Spend an evening going through old letters, photos, videos and gifts from when you first got together. It will bring back special memories you might have forgotten and makes the perfect nostalgic evening.
6) Take out a camera and do a photoshoot
With frozen lakes, morning dew and icicles, winter can be a really beautiful time of year. Wrap up warm, take a camera out with you and have some fun! Take photos at your favourite parks and places in your city. These will be lovely reminders at a later date and a great way to spend a day together in the fresh air.
7) Be a tourist in your own town and scout out the free things to do
We're all guilty of staying in our own neighbourhoods and going to the places close to home rather than exploring our city like a tourist would. Venture away from home comforts, do some research and see what free attractions there are on offer. From museums to art galleries to dance performances or maybe walking around a winter market? You'll be surprised how many free things there are to do and you'll see your city in a different light.
8) Cook dinner at home and go out for a special dessert
We all love to eat out but if fine dining isn't an option – here's a great idea for you. Spend an evening cooking at home together; have a starter and main, and then go out and treat yourself to a decadent dessert. It'll save money and will be something you really look forward to. A sweet end to a perfect date!
9) Coffee date
A night out bar-hopping can be expensive, so why not plan a coffee date? Find a snuggly coffee house with a nice sofas and enjoy a cappuccino or one of the festive flavours on offer such as ginger spiced latte.
10) Go to see a dress rehearsal at a theatre
If you're a theatre buff, this will be right up your street. You'll need to do some homework first as you may have to join a theatre club, but theatres do offer tickets to members for dress rehearsals of top productions. It could save you a fortune and it's so much more fun seeing some of the bloopers when the actors are more relaxed. You may even meet some of the cast after the performance.
11) Comedy night
There's no better way to bond with a date than through laughter. Whatever city you're in, you'll always find some great local comedy nights. So enjoy a free night of entertainment at a local pub or theatre near you.
12) Ice Skating
Winter and ice skating go together like sugar and spice. Most major cities have a year-round ice rink, but in the winter you'll find open-air ice rinks popping up all over the place. It's very romantic to skate around holding hands and it doesn't cost a fortune.
13) Go to a show and support a local band
If you're both music fans but can't afford to go and see the top bands, why not go and support one of your local up and coming bands? Open mic nights are really fun and there's a chance you could be discovering the stars of the future. If you want something you can sing along to you could even go and see a covers band play.
14) Make a indoor picnic basket and watch a film
Think of all of your favourite foods and make a delicious indoor picnic for two. Sit in a room with candles and choose one of your favourite films each. Then you can spend an evening enjoying each other's company with no interruptions.
15) Visit the Christmas markets
Christmas markets are the ideal start to the festive season and you'll find them in cities all around the world. The sparkling lights, the smell of gingerbread and cinnamon, the music, the cuisine – you can spend a whole evening just walking around admiring the view. Enjoy a cup of glühwein and remember to wrap up warm.
If you're strapped for cash, don't let this stop you planning a fabulous date. Now you have 15 ideas to choose from so you'll never be stuck for things to do. Happy dating!