Best Photo Ops For Couples in Southern California
By: Almie Rose |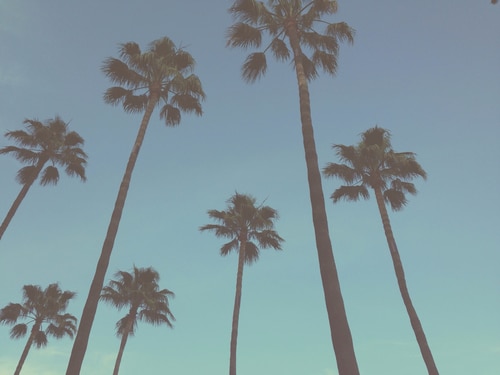 Look, sometimes, you just gotta take a selfie or snap a pic of you and your significant other in beautiful Southern California. Ain't no shame in that game. Sometimes, the photo is a happy accident — everything just fell into place — but sometimes, you wanna go hunting for a prime photo spot in Los Angeles. Why? Because it's fun! And I'm here to help with that.
Here are some places for the best photo ops for couples in Southern California.
Any overlook along Mulholland Dr.
From the 405 to the 101
Los Angeles, CA 90189
Obviously, be safe about this — don't just pull your car over anywhere — the point here isn't to cause a massive vehicle accident. One such overlook where you can pull over is the Nancy Hoover Pohl Overlook in Studio City (8401 Mulholland Dr, Los Angeles, CA 90046). To describe Mulholland Dr. as "picturesque" is an understatement. Those windy roads up in those mountains make for some spectacular views. If you get the timing just right, you can snap a pic of the entire city beneath you. Or try the Universal City Overlook (7701 Mulholland Dr, Los Angeles, CA 90046). One Yelper describes it as "the BOMB" so how could you go wrong?
Splash Mountain
Disneyland
Anaheim, CA 92825
We're all familiar with Splash Mountain, right? A soothing river ride past singing animals before that famous drop? Yeah. Think a Disneyland ride can't be romantic? Think again! Many couples have actually proposed while on the famous mountain drop, leading to some great photo ops. Here's one such proposal: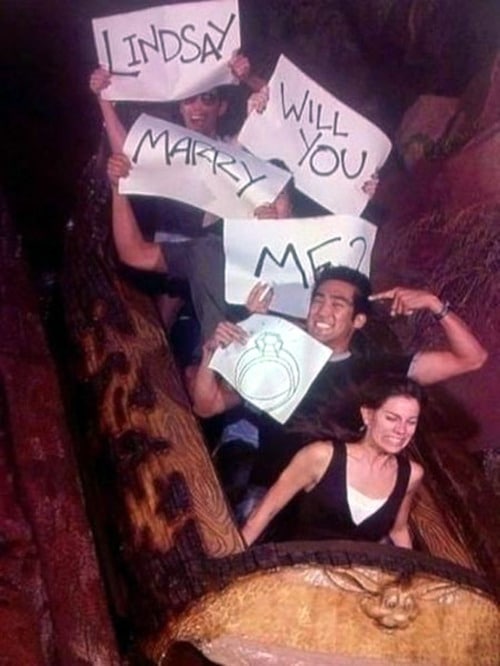 I wish I knew what her reaction was! But there are all kinds of cute couple-y photos you can take on Splash Mountain, if you've got the creativity, and the timing. Go for it! (Other Disneyland/California Adventure rides that take photos? Space Mountain, The Twilight Zone Tower of Terror, Radiator Springs Racers, and Buzz Lightyear Astroblasters. But personally, I think Splash Mountain is the best.)
The Hollywood Sign
 3204 Canyon Lake Dr
Hollywood, CA 90068
(323) 258-4338
Don't expect to get too close to this historical Los Angeles landmark. You're not gonna be straddling any of the letters, at least not without breaking a few laws. There's cameras all around the sign, and cops will show up immediately! But you can get pretty darn close, if you've got the inclination. It's also a beautiful hike along the way, perfect for photo ops before you even reach the sign. Yelpers say that even non-hikers won't have a huge problem getting there. Hooray for Hollywood!
Barnsdall Park
4800 Hollywood Blvd
Los Angeles, CA 90027
(323) 660-4254
This is one of my favorite parks in the city. It's not spectacular or anything, but it's usually quiet, and it's my favorite place to go to at sunset. That's when you can see the The Hollywood sign and Griffith Observatory bathed in golden light. Yelpers call this place "a hidden gem", and I agree. Also features architecture by Frank Lloyd Wright, so there's a little something of everything. If you bring your dog, please be respectful and keep it on a leash — people have been complaining that the park is becoming overrun by dogs.
Griffith Park
4730 Crystal Springs Dr
Los Angeles, CA 90027
(323) 913-4688
There is so much to do in Griffith Park! It's been referred to as a "green oasis" in LA. I think that's a perfect description. If you're a hiker, this is the place for you. If you're someone who likes to just lie on a blanket and read, this is also the place for you. There's also an abandoned Zoo (The Old Zoo, Griffith Park Dr, Los Angeles, CA 90189) a concert venue (The Greek Theatre, 2700 N. Vermont Ave, Los Angeles, CA 90027) and an observatory (Griffith Observatory, 2800 E Observatory Rd, Los Angeles, CA 90027). So there's plenty of opportunities for great pics. Stop by The Trails (2333 Fern Dell Dr, Los Angeles, CA 90027), a delicious vegetarian spot for an avocado sandwich. Super yummy!
Santa Monica Pier
100 Santa Monica Pier
Santa Monica, CA 90401
(310) 458-8900
Ahhh, the beach. One couldn't mention photo spots in SoCal without mentioning a beach! And the Santa Monica Pier has a dizzying array of things to do. You could ride the ferris wheel, play carnival games, eat at a delicious restaurant, or just frolic in the sand. I recommend a selfie on the ferris wheel, for prime views — just don't drop your camera! Sure, the place is a little touristy, but it's all in good fun. Perhaps this one particular Yelp review sums it up best: "Beautiful atmosphere, and always something interesting going on here."
The Getty Center
1200 Getty Center Dr
Los Angeles, CA 90049
(310) 440-7300
I put this on here for one reason: the Gardens. The Gardens at The Getty Center are just too cool. They're laid out in spirals, making you feel a bit like Alice in Wonderland — perfect for exploring. The Gardens are definitely a prime spot for some good photographs. Also a perk? It's free! (Although parking is $15, so I guess it evens out.) But it's worth a visit, for sure. Treat yourselves! And speaking of gardens…
Los Angeles County Arboretum and Botanic Garden
301 N Baldwin Ave
Arcadia, CA 91007
(626) 821-3222
If you like peacocks, this is the spot for you. And if you don't? That's okay, there's plenty of other natural beauty for you to surround yourself with. (Though who doesn't like peacocks, seriously?) This place has also been described as an "oasis" by Yelpers everywhere. They also note the "huge" gardens and "cheap" tickets. They also call this place "boring", but hey, it's a garden — what exactly does one expect from a garden, thrills galore? What it is is a great location for some beautiful photos. Fun fact: the Queen Anne Cottage in the gardens was used in the opening sequence of the TV show Fantasy Island.
Echo Park Lake
751 Echo Park Ave
Los Angeles, CA 90026
Looking to get near water, but don't feel like driving to the beach? Echo Park Lake may be just the spot for you! You can wander around or even go paddle boating. The one downside? Yelpers note that parking can be "a little crazy", so come prepared (street parking only.) But it's another beautiful sunset spot in Los Angeles and worthy of your photo consideration. Take your pic on the boat in the middle of the lake, for that perfect The Notebook romantic feel. You know, if The Notebook took place in LA and was filled with hipsters.
La Brea Tar Pits
Wilshire Blvd
Los Angeles, CA
Okay, hear me out: a tar pit sounds like an unlikely place for romantic photo ops, but you gotta look at it in a different light. Think of it as a magical wonderland where magnificent beasts are frozen in time. Now take a selfie. There you go! Truly, this is a really cool area to explore. My friend once climbed atop a fake bear for a photo. I don't know if you're really supposed to do that, but it was pretty sweet. And speaking of the tar pits, since you're already there, why not check out…
Urban Light at LACMA
5905 Wilshire Blvd
Los Angeles, CA 90036
You may have passed by this before and not given it a second thought, but it's pretty neat. Called "Urban Light", it's a collection of street lamps grouped together on Wilshire, and something about it is, yes, magical. Yelpers call it "one of the most iconic spots in LA" which means that it can be, yes, "crowded." But personally, I think it's worth a trip, especially if you get all dressed up and pose among the lights.
Natural History Museum
900 Exposition Blvd
Los Angeles, CA 90007
(213) 763-3466
Maybe you'd like to take your selfie in front of dinosaur bones — I say, go for it. This is definitely the place. Yelpers can't get enough of the Natural History Museum, and with the exception of one man who had an issue with the butterfly exhibit (I won't say what, it isn't appropriate), it's almost unanimous that this is a great place for photo ops and fun. You'll feel like a 12-year-old on a school trip. Oh, and hey, since we're on the subject of museums, why not check out…
Madame Tussauds Hollywood
6933 Hollywood Blvd
Hollywood, CA 90028
(323) 798-1670
Do you want your friends to think you and your loved one are a very A-list item? Go here and take photos with wax celebrities, who look astonishingly real. Hint: when taking photos of wax sculptures, turn off the flash, as the flash will show them to be what they are — waxy. This is maybe the cheesiest item on the list, but it also might be the most fun. My favorite thing to do is get drunk and go to wax museums, and I feel no personal shame or guilt about this. Sure, you could go to the Hollywood Wax Museum instead (6767 Hollywood Blvd, Los Angeles, CA 90028) but that's like choosing Lunchables over a three-star Michelin restaurant. Yes, I take my wax museums seriously.
So! These are my picks for the best photo ops in Southern California. What are yours? I'm asking natives, locals, and visitors — what's your most photo-worthy spot in the Los Angeles area? Do tell!
Image via WeHeartIt.