Ladies' Guide To Making Yourself Feel Glam Over 50
By: Alicia Drewnicki |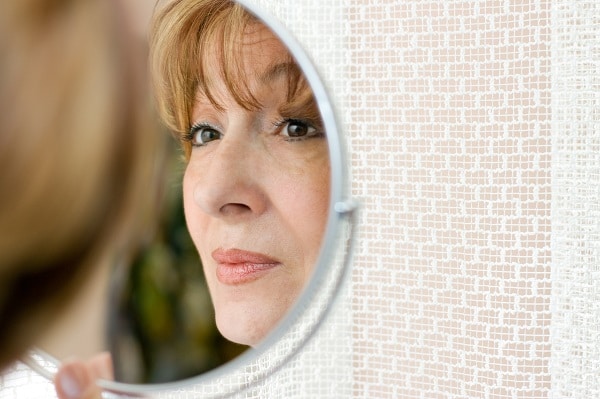 Glamourous goddesses over 50, it's time to embrace your beauty and show the world how gorgeous you truly are. From style tips to makeup tricks and having the right attitude, WeLoveDates is here to give you the boost of self-confidence you need. Here's a guide to feeling glam over 50.

1) HOW TO FEEL CONFIDENT
Top Tip 1: The first thing that comes to mind is to smile – there's nothing more beautiful than a woman who enjoys life and looks happy. If you feel confident inside, you'll radiate this and glow.
Top Tip 2: Look at your mature idols for inspiration. A lot of women look better over 50 than they did in their 20s, just look at Joan Collins for example – the epitome of femininity and sartorial elegance. She's developed style, confidence, she's been married five times and has perfected the art of looking good. She always wears clothes of a similar shape as she's recognised what colours, styles and patterns suit her body shape. Ok – she wears a wig, but it's a fabulous wig and if this makes you feel more confident – go for it.
Top Tip 3: Don't apologise for things or blame things on your age – as the old saying goes, 'age is just a number' so if you feel young inside, this will shine on the outside.
Top Tip 4: Remember to sit up straight rather than slouching and walk with your shoulders back. A good posture can also make you look far more youthful and energetic.
Top Tip 5: Make a list of all your positive traits; this can be compliments you've had from friends, things you like about your body or things that make you feel good about yourself. Read this list and believe in yourself.
2) BEAUTY REGIME TIPS
Makeup
As you get older, your skin gets thinner and wrinkles appear, so it's important that you apply makeup with thought and care. Less is more, so don't cake your face in makeup as it can make you look older when the foundation sinks into your lines.
Use a primer to get a smooth base for your makeup and opt for a light foundation or a tinted moisturiser. When it comes to blusher, a cream blush is a great option to get a natural, dewy look. User a highlighting powder over the top of your cheekbones to give your skin a glow and a lift.
When you apply concealer, make sure you conceal the under eye area well.
Use an eye primer and natural colours on your eyelids. Instead of a liquid eyeliner, use a pencil and lightly smudge the line afterwards – don't worry about getting the perfect line.
For lips – if your lips are thinning, you could find a lip-plumping gloss or alternatively use a lip colour that is a couple of shades darker than your lips and put some iridescent gloss on top. To get great lashes, don't forget to curl them before you apply mascara and if they're thinning, try a nightly eyelash growth serum.
Skincare
If you love the sunshine, always wear sunscreen and keep your face out of the sun. Cleanse tone and moisturise twice a day and apply eye cream under your eyes every morning and night. It's worth spending money on a skin routine that will suit your skin type.
Hairstyle
Don't feel forced to cut your hair short just because a lot of women over 50 do. Always do what you feel comfortable with and ask a hair stylist about a style that will suit you. If your hair is thinning, layers can thicken it up and having a fringe can take years off your appearance and hide forehead lines.
Hair Colour
There's no right or wrong answer when it comes to greys. Some women embrace their grey hair and look fabulous – for example Helen Mirren. Other women feel more confident hiding their greys as they see them as signs of ageing. Highlights can be a great way to add an extra dimension to your hair. If you opt for an all-over colour, just be aware that the roots will be more obvious than highlights and it will be more high maintenance. Similarly, if you're choosing between dark or blonde hair, remember that lighter hair is easier to mask the greys than a darker colour, which can also make your skin look sallow.
Wigs
If you've got naturally thin hair (and let's face it, a woman's hair is her glory), there are some fabulous wigs on the market and they don't cost a fortune. They can be put on in minutes and no one will be able to tell the difference. You can even buy one from a specialist wig shop and get them to trim it to suit your face shape. Or, you can buy a chignon to give yourself a stylish, classy look – think Audrey Hepburn.
Eyebrows
Go to a salon and get your eyebrows professionally threaded. Don't be tempted to pluck out grey brows – instead just go over the top of them with eyebrow powder and a slanted brush. A nice eyebrow shape will make your face look younger and completely change your appearance.
General Pampering
From waxing, to manicures, pedicures and facials – never underestimate the power of a bit of pampering. Not only will it boost your self-confidence and make you feel better about yourself, it will also impress any potential suitors and show how you take pride in your appearance.
3) FASHION TIPS
It can be very tricky to find the balance between not looking old fashioned but also not looking like mutton dressed as lamb. Just because you're over 50, it doesn't mean you need to be boring with your fashion.
Look in the mirror and decide what your best bits are – for example, if you've got long, slender legs, you will look fabulous in a trouser suit. Similarly, if you have a tiny waist, wear a dark pencil skirt with a waist belt and a light coloured top. The key rule is to flaunt what you've got and recognise your plus points.
You're aiming for elegant and glamourous rather than tight and revealing, and you're dressing to suit your body shape. Avoid fabrics that cling too tightly or sleeveless tops – as you get older your arms start to sag, so having sleeves is a good way to disguise this.
Be brave and wear clothes that reflect your personality. Don't worry about fashion trends and 'what's in' – instead wear what suits your body and makes you feel good. Accessories are the perfect way to finish an outfit off, so invest it lovely scarves, necklaces and costume jewellery.
4) ONLINE DATING
These days online dating has become the norm, so if you've never done it before – fear not, you're in good company. If you're worried about whether your profile bio sounds ok, why not show it to a friend first and get their opinion? Or, if you're struggling to write it, ask a friend how they would describe you.
You could also read the WeLoveDates guide to writing your online dating profile. 
Don't feel that you have to stick to a 'type' – online dating is all about opening your eyes to an array of people you had perhaps never considered dating before. If you thought you had a 'type' – they might be completely the opposite to who you should really be looking for.
If you're worried about where to meet someone – always stick to a public place rather than going to their house. A daytime meet up for a coffee is a good way to test the waters and see if this is someone you'd be interested in meeting again.
The key is to take things slow and focus on getting to know your date rather than rushing into a relationship. Don't be nervous – you're both in the same boat and remember, dating shouldn't be daunting, it's actually a lot of fun!
Why not sign up to WeLoveDates mature dating and see who is out there?
5) DATING YOUNGER MEN
This is a tricky one – it's always a great ego-boost for a woman to have attention from a younger man. It makes you feel sexy, youthful and attractive. Women get better with age – older women don't have the emotional insecurities that younger women have, they're more worldly-wise, their children have probably left home, they've achieved their career goals and it's time for them to relax and have a good time. All these things are very appealing to a younger man, but just be careful. You may find yourself falling for a younger guy, only to find out he was just after a casual fling rather than a relationship. Similarly, be careful when it comes to money – just because you're older, it doesn't mean you should be the one treating him to everything.
Have fun and enjoy yourself – but always look at the situation as an outsider too, and if you find yourself starting to fall for him, be honest and upfront, and hopefully he will be the same with you.
To Sum It Up…
You don't need to have a face lift or fork out loads on the latest fashion trends to look glamorous. Instead, have a good beauty regime, dress to suit your body shape and believe you are beautiful and desirable.
For more mature dating advice, why not check out our other mature dating blog posts?