8 Mature Dating Dilemmas and How to Deal With Them
By: Alicia Drewnicki |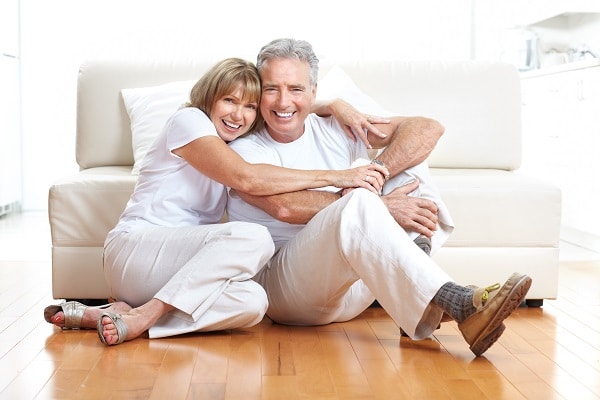 As a newly-single mature dater, it's normal to be nervous about getting back on the dating scene. Where do you meet people? How do you cope with 'baggage'? How do you boost your self-confidence? You need to understand that you're not the only one in this situation, and all those big obstacles in your head can be easily overcome.
Here are 8 mature dating dilemmas and how to deal with them:
1) You or your date have controlling/demanding elderly parents
This is a tricky one – you've spent most of your life being looked after by your parents and now they're elderly and making you feel guilty. You find yourself taking them to and from doctor/hospital appointments, shopping or taking things to their home. They refuse outside help (assuming it's your duty) and they expect you to be at their beck and call 24/7. You're single and on the lookout for love, but every time you say you're going out, one or both of your elderly parents feigns illness or demands you spend time with them.
Solution: You've got to start thinking about yourself, yes it's a fact of life that your parents have now become reliant on you, but there needs to be some balance and boundaries. Explain to them that you can't do it all on your own and you'll make yourself ill. Find some outside help that they approve of and share the duties with other family members; don't take it all on yourself. Your parents have already enjoyed themselves, so it's time for you to enjoy yourself now. You don't have to explain all about your dating life, just that you need space and it's too much work for you to take on, on your own. If it's your partner that has a controlling parent, instead of protesting, offer to help them find extra support. Look on the bright side – they might even enjoy having somebody different to talk to and will look forward to seeing them every day.
2) Your children resent your new partner
When a marriage breaks down, children are always going to feel stuck in the middle. Often they will take sides or maybe they'll do all they can to try and bring their parents back together. If you've broken up with your husband/wife and want to move on, you should be aware that your children may resent your new partner. If your children are small, it may be easier than if they are teenagers who are already under enough stress coping with exams, hormones, boyfriends, girlfriends and trying to fit in with peers. Everything is going to over-amplified – especially the appearance of a new father/mother figure on the scene who is trying to take their parent's love and affection away from them. They will be jealous, angry and may try to split you up.
Solution: Don't introduce your date unless you are serious about them. Perhaps let your children get to know them as a 'new friend' to begin with – it's all about doing things gradually. Rather than leaving your children with a child minder – why not plan fun days out so they can get to know your new partner. If things really aren't working out and you can see that your new partner isn't making the effort/doesn't like your children – you know what the right decision is. Your new partner should never be more important than your kids.
If your new partner is making a lot of effort, but is just receiving hostility back from the kids, it's a good idea to sit them down (when your partner isn't there) and explain to them how much he/she means to you and of course you still love them and this person will never be a replacement.
3) Your children are protesting about you spending their inheritance
Your children have left home, you've found a lovely new partner and you've got plans to spend your retirement enjoying yourself and jetting around the world while you still can. One problem – the children. They keep saying: "what do you want to do that for?/can we borrow some money?" They've talked about buying a bigger house, building an extension, sending their kids to private school and making you feel bad about money "you should be spending on your grandchildren." You start to feel guilty and questioning whether you really should be living this lavish lifestyle, when this money could be going into your children's pockets.
Solution: Think about yourself. You've worked hard all your life and deserve to treat yourself. Whether you have one or ten holidays a year, it's entirely up to you. You shouldn't feel guilty – you provided for your kids when they were growing up, you went without so that they could have everything and now it's time for them to provide for their own children and not rely on you. So go on – enjoy yourself, book that cruise and grab the panama hat! Plan trips to places you've always wanted to go to. Yes, you can still treat your children and grandchildren, but there's no reason for you to be sitting at home and giving all your money away. If you've met someone and they're not as well-off as you but they're fantastic company – just go for it!
4) You don't feel attractive
You've been married for years and you're the first to admit you've 'let yourself go'. You partner has even left you for a younger model. You don't remember the last time you dressed up or pampered yourself and instead, 'the comfort factor' has taken over. Now you're single, you find yourself stuck in a rut – you don't feel sexy, you don't look sexy – so how are you going to expect to meet someone sexy dressed in that stained t-shirt and jogging bottoms?
Solution: It's time to bin the 'old favourites' and have a makeover. Have your hair restyled, go to the gym, get a whole new wardrobe – you could even get a personal shopper to give you some advice. An image revamp can do wonders. It'll make you feel attractive again and you'll ooze confidence when people you know start commenting on how good you look.
Just because you're single again – don't see it as a negative. Every time you go out, you never know who you might meet. Your soulmate could be just around the corner…
5) You're not sure how to 'date' again
It's easy for younger people, as they go out with their single friends all the time, but as a more mature dater, the majority of your friends are in relationships and have families. You've not got a clue how to 'date' – the last time was nearly 30 years ago, so you're understandably nervous.
Solution: It's always a good idea to join clubs (e.g. evening classes) as then you'll find people who have a lot in common with you. This could be anything from art classes, wine tasting, photography, language or gym classes. Even dancing classes can make the most ordinary man look very sexy.
If you've never been on a dating site – now's your chance. These days dating online is the norm – and don't assume it's just for youngsters. There are plenty of mature people looking for love.
Once you've been brave enough to ask someone on a date – why not check out WeLoveDate's mature dating advice section for plenty of dating tips?
6) You're not officially 'divorced'
This is delicate topic – you've split up from your partner but your not officially divorced. Yes, you've split up and you may be living under the same roof but you're not 'together' – what do you do?
Solution: Honesty is always the best policy – never go on a date and leave out key details. You'll always be found out in the end. It's not advisable to take your date back to your house if you're still co-habiting with the ex. The situation will be very awkward.
If things aren't fully over – never 'overlap' and start dating a new partner while you're still seeing your ex. Things will get messy and complicated very quickly and you'll have two angry partners rather than one – big mistake.
7) You don't know if someone has ulterior motives – i.e money.
You're back on the dating scene and you've got yourself a 'catch'. All your friends are jealous of this fine, young specimen and they're wondering what he/she sees in you. Could it be the sports car or the big house? At first you thought it was true love, but now with all your friends' lighthearted 'banter' – you've stepped back and you're starting to question the situation.
Solution: Take off the rose-tinted spectacles and let's have a reality check here. Has he/she asked to borrow money off you? Or maybe they are in a hurry to move in/get married? Do they always demand you go to expensive places or suggest extravagant holidays/shopping trips? The clues are there. If the love is genuine, you'll be able to tell. Why not make a few non-fancy date suggestions and see how they react? If the look of disgust is on their face, you'll know that money is on their mind. You could also ask them to chip in and pay for something – again, if they refuse, you'll know you may be dealing with a gold digger! Watch out!
8) You don't know what you're looking for
Ok, you're single now and there are plenty of resources for you to meet potential partners – dating sites, meetup groups, clubs, pubs and much more. What if the problem isn't about where to meet someone and instead it's that you don't know what you're looking for? Should your new partner be like your ex or should you go for the polar opposite? Serge the waiter on holiday seems attractive – but is this really a good move?
Solution: If you go for a carbon copy of your ex, you will be forever comparing the two. This doesn't mean you should go for someone completely the opposite, instead think about the person who is right for YOU. What interests do you want your future partner to share? What qualities do you most admire in someone that you date? Get a blank piece of paper and start making a list of the qualities that you look for in an ideal partner. This will not only help you to focus on what you want, but it will also be easier when filling out dating profiles and preferences too.
In summary: Don't panic and stay positive – there's someone out there for you, someone who you will feel comfortable with and who will be your friend as well as your partner. Don't stress out about the dating dilemmas on your mind. Remember, all problems can be solved, you just need to step back and decide what's best for you, after all, it is your life and your happiness is the most important thing.
Find mature dating near you!