13 Of the Most Romantic Things To Do In Los Angeles
By: Almie Rose |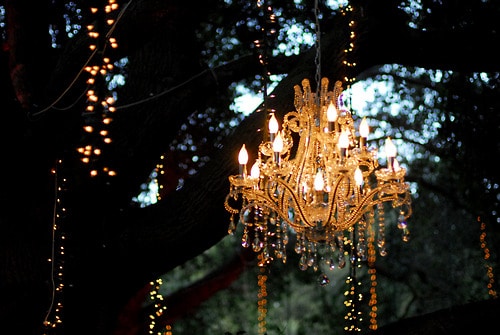 For some people Los Angeles is a city of many things, but romance isn't one of them, and I think that's a damn shame. We ranked Los Angeles the 22nd most romantic city in the world, but this romantic Los Angeleno thinks it should be higher and maybe I can convince you with these romantic things to do in Los Angeles. Because it's not all about working out and being famous in the town. There's some beauty to it, too, and some fun and lovely things to do with a date that will put you right in the romantic mood. So check out my ideas for the most romantic things to do in Los Angeles, can let me know what you think.
 1. Dinner at Gladstone's
Gladstones
17300 Pacific Coast Hwy.
Pacific Palisades, CA 90272
(310) 454-3474
Gladstone's (the one on the Pacific Coast Highway, the original, the one right on the beach, not the one in LAX obviously) is the perfect spot for a dreamy date. You've got the waves crashing around you, a beautiful view, and if you're outside, seagulls who try to eat your food. So minus the seagulls, it's pretty much ideal. Their Bloody Marys are the absolute best. Get tipsy on those, eat some fresh, fabulous seafood, and then amble on down to the beach and write each other's names in the sand. And then after dinner…
2. Drinks at Moonshadows
Moonshadows Malibu
20356 Pacific Coast Hwy
Malibu, CA 90265
(310) 456-3010
I once wandered in here with some friends the night of someone's wedding. As we sipped our delicious drinks, the bride and groom danced together to "The Promise" by When In Rome. It was beautifully, cheesily romantic. This was also the night my friends and I met Phyllis Diller. So a good night for everybody! And yes, this is the place where Mel Gibson left before he was infamously pulled over and spewed forth a tirade, but don't let that dampen the romance for you. I sure as hell am not going to let Mel Gibson ruin Moonshadows for me.
Sick of the beach? Why not head to…
3. Disneyland
1313 Disneyland Dr
Anaheim, CA 92802
(714) 781-4636
I know, I know, but hear me out: Disneyland can be incredibly romantic. Go when the crowds are low (September and February are your best bets) and make it a day about just the two of you exploring and having a great time. Watch the fireworks and snuggle. Get lunch at Blue Bayou restaurant — that's the restaurant in the Pirates of the Caribbean ride. You'll feel like you're eating outside, at night, surrounded by fireflies. Call (714) 781-3463 for reservations. And the food is actually quite good. After that, swoop over to the neighboring…
4. California Adventure Park
1313 S Harbor Blvd
Anaheim, CA 92802
(714) 781-4565
Why would you come here? Because it has that one very special thing Disneyland doesn't — alcohol. (Unless you manage to get your way into the super private Club 33 which has a decade long waiting list.) And not only do they have booze, but I think they have one of the best bars in all of Southern California:
5. Carthay Circle Restaurant
Disney's California Adventure
1313 S Disneyland Dr
Anaheim, CA 92802
(714) 781-3463
This restaurant has some of the best food you'll eat anywhere, let alone at an amusement park. But what I love most is their bar. They make incredible drinks. Their Manhattan is a must, and it's made with a perfectly spherical ice cube that they make from a special machine right in front of you. That's the Disney magic for ya.
Okay, let's get out of Anaheim and head over to Topanga, for a truly special place:
6. Inn of the Seventh Ray
128 Old Topanga Canyon Rd
Topanga, CA 90290
(310) 455-1311
Time and again this place has been voted one of LA's most romantic restaurants and it's easy to see why — you dine outside, by a creek, amidst trees and twinky lights. You feel like you're in an enchanted fairy forest. I would totally have my wedding here. (They do weddings!) But it's not just a romantic dinner spot, offering up treats like hamachi sashimi and prime beef tartare — they do Sunday brunch, too!
Looking for more romantic restaurants? Try…
7. The Little Door
8164 West 3rd Street
Los Angeles, CA 90048
(323) 951-1210
Yelp users describe this place as "romantic" and "intimate" with an "adorable" patio and "amazing" food. The restaurant refers to itself as a " hidden paradise" with a "colorful crowd, romantic courtyard, and elegant displays of rustic Mediterranean cuisine." They also have "specialty cakes", if you want that romance to go. And, according to their website, they won "Best Romantic Restaurant of LA". How could you lose?
 8. Madera Kitchen & Bar
1835 N Cahuenga Blvd
Los Angeles, CA 90028
(213) 261-3687
I think this might be the most romantic restaurant in Hollywood. At the very least, it's my favorite and my pick for best date place. For prime romance, sit on the patio, at dusk, underneath the open wood beamed ceiling, with lights in jars hanging from the beams. Or grab a drink by the outdoor fireplace, complete with outdoor chandelier. They have happy hour, in which their utterly perfect handcrafted cocktails are discounted. If you go for dinner, you can't go wrong with anything — it's all so good.
Since, you're in Hollywood, why not catch a show? There's no venue more romantic than the…
 9. Hollywood Bowl
2301 N Highland Ave
Hollywood, CA 90068
(323) 850-2000
To me, the Hollywood Bowl is all about decadence. I like to bring a picnic basket of really good stuff, like pricey cheeses and prosciutto, and buy an (absurdly marked up) bottle of white wine, and eat and drink while some incredible show plays before me. It's a good date place, especially if you're sitting high up on the benches, as you'll have to scootch close together. Which can make enjoying your meats and cheeses kind of cumbersome, but it's worth it. My friends and I once brought two entire pizzas here, and sitting all squished together with two giant pizza boxes, we felt like throwing them, Walter White style, but we didn't. And even though it was just a Billy Joel show with my friends, it was somehow still romantic. Going to the Hollywood Bowl is like having a romance with music.
Spending too much money? Why not do something free and romantic like…
 10. Check out the view at Stone Canyon Overlook
Stone Canyon Overlook
13931 Mulholland Drive
Beverly Hills, CA 90210
There are many spots like this along Mulholland Dr. but this is my favorite, for sentimental reasons. Still, it's got a spectacular view. You'll find this little overlook right on Mulholland, and it provides gorgeous views of the Valley to one side and the Stone Canyon reservoir on the other. At night, the stars come out and it's the perfect place to make out. (At least that's all I've ever used this place for!)
Speaking of stars, why not…
11. Go Stargazing at the Griffith Observatory
Griffith Observatory
2800 E Observatory Rd
Los Angeles, CA 90027
(213) 473-0800
This is the perfect spot to have a little picnic and watch the sun go down. And, it's also free! Wander around the grounds, peek through the gigantic telescopes, or check out the exhibits. Just one thing to keep in mind as with most things in Los Angeles — parking is a bummer, in that you'll probably have to hike from your car to the observatory. Just hold hands the entire time — that should keep it romantic! And think of all the selfies you'll take with the glittering Hollywood hills as your backdrop.
12. Take a walk by the Chandelier Tree
2811 W Silverlake Dr
Los Angeles, CA 90039
The Chandelier Tree is a giant sycamore tree strung with chandeliers in someone's front yard in Silver Lake. At night it's breathtaking. There's a meter if you want to donate a few quarters to keep the chandeliers lit, as the owners are proud and happy of their bizarrely beautiful tree and want all to see it. It's also near Edendale (2838 Rowena Ave, Los Angeles, CA 90039 (323) 666-2000), an elegant gastropub with an excellent wine and beer selection and a delicious menu (note: the menu itself is not edible or delicious, so don't try to eat it.) Go to Edendale around sunset for a drink and some food, and then wander by The Chandelier House, for a truly dreamy evening.
Enjoy pretty scenery? Why not go to…
13. Descanso Gardens
1418 Descanso Dr
La Canada Flintridge, CA 91011
(818) 949-4200
Described by Yelp users as a "calming place" that's "great" for a date, Descanso Gardens is a place where time feels like it stands still. If you and your date are the meandering, wandering types, this is the place for you. And during October, they get into the Halloween spirit with "Rise of the Jack O Lanterns" in which hundreds of creatively carved Jack-O-Lanterns are displayed. It's $9 to visit the Gardens ($6 for students and seniors, $4 for children), and parking is free! How joyous!
So the next time you think Los Angeles is all superficiality, grab a date, and this list, and explore the romantic side of Los Angeles. Leave the cynicism at home and you may have a magical evening! Xoxo!
Are you single in Los Angeles? Find a date on WeLoveDates LA!