Date Ideas For Fitness Freaks in Los Angeles
By: Almie Rose |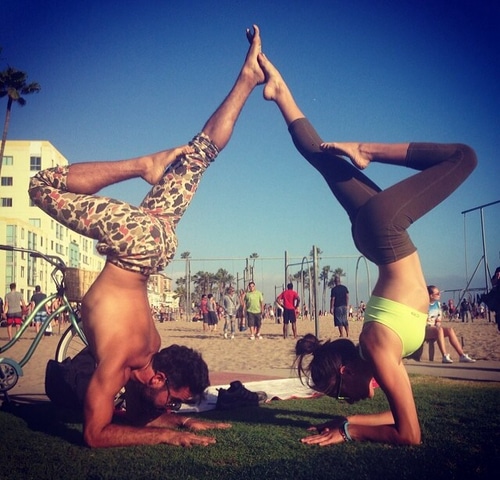 You can't throw a sandwich in Los Angeles without hitting an outrageously toned body — not that you should, that's a terrible waste of a sandwich. Do you ever wonder how everyone in LA gets so fit? Well, we have some ideas. We found some of the best (and strangest) ways in Los Angeles to get your own toned LA bod. You can go alone, hoping to meet your special someone there, or you can go with your significant other and sweat it out together. Either way, here are some date ideas for fitness freaks in Los Angeles. Feel the burn!
Runyon Canyon Park
2001 N Fuller Ave
Los Angeles, CA 90046 (323) 666-5046
 This one's an oldie but a goodie. Any body who's anybody jogs, hikes, or walks their dog in Runyon Canyon. It's got gorgeous views of the whole city and some challenging routes for those looking for a kickass workout. There are three trails: easy, medium, and hard, but to be honest, they all feel hard to me. Try them out yourself and see what you think. This is a great place to meet people, too, so you don't have to feel weird about going alone. But it's probably better with a buddy, if anything, for someone to take that quintessential, "I MADE IT TO THE TOP!" photo for your Instagram account.
Secret Pole Dance Studio
11409 Jefferson Blvd
Culver City, CA 90230
(310) 963-3492
Yup, pole dancing is a workout. It shreds your core, in a good way (or so I've heard). You can have your birthday party at this pole dancing studio, or sign up for a class — each student gets their own pole. And parking is good, which is hard to find in LA. So if you're looking for a unique way to get fit and feel sexy, Secret Pole Dance Studio may be just the place for you.
Santa Monica Stairs
4th St & Adelaide Dr
Santa Monica, CA 90402
 Free is always good, right? Well if you're looking for a free and brutal workout, take the stairs. The Santa Monica Stairs. There are two sets of stairs — wooden and concrete — of about 150 steps each. And the views are gorgeous, almost as attractive as the people passing you on the stairs. After your workout, you and your date can can hit the beach, if you've got the energy. This is the place where you would want to bring a date, as you're really not going to socialize with anyone else. People keep to themselves, iPod buds firmly in ears, as they huff and puff their way up and down the staircases.
Daybreaker
http://dybrkr.com/
Instead of starting you day with a morning jog, why not start your day with a healthy rave? That's the idea behind Daybreaker. Here's a description of their events from their Facebook page: "Over a late-night falafel in Williamsburg a few months back, we mused over an idea. An idea about dancing before the day broke with people we love. About cultivating a community that values camaraderie, self-expression, wellness, immediacy… and mischief. About going to work with our brows slightly dewed from moving our bodies with reckless abandon, sans alcohol but with so much spirit, surrounded by the most amazing people we know." Sound good to you? Check out their site. They host their events in multiple cities around the world! So this is one you can get it on, even if you can't attend their unique LA fitness program. But my LA friends tell me, it's unlike anything they've ever experienced.
Black Dog Yoga
4454 Van Nuys Blvd Ste 206 2nd floor
Sherman Oaks, CA 91403
(818) 380-0331
We're going valley side for this one! Right in the heart of Sherman Oaks, for some of the best yoga in all of LA. My friend Chelsea gushes over them, citing instructor and "local yoga celeb Jahmelia Lindsay" as a big plus. It looks like a soothing space, with walls painted comforting deep reds and blues. And best of all, they're offering 30 days unlimited yoga for 30 dollars for new students. That's a deal that's hard to beat!
Slimmons Studio
9306 Civic Center Drive
Beverly Hills, California 90210
310-275-4663 or 310- A SLIM ME
This is Richard Simmons's studio, baby! This is where it all started, and you can take fitness classes here! Curious about what you'll be doing? Here's a description, from their website: "After all the cardio we again stretch our upper and lower body. Oh but we are not done yet. We pick up weights and do our toning for our chest, back, our arms and shoulders. Toning is followed by pushups and sit ups. And when you leave Slimmons you feel happier, younger and filled with so much energy you won't know how to use it all." The names of classes range from "Sweat" to "Sweat Plus!" to "Richard Simmons Sweat!!!" in which Mr. Richard Simmons himself leads the class, schedule permitting. I can't think of a more fun way to spend a fitness date than with your lover and Richard Simmons.
The Rooftop Pool at The Standard Downtown LA
550 S Flower St
Los Angeles, CA 90069
(213) 892-8080
This is the ultimate glam fitness date. Why don't you and your sig other hit the most luxurious rooftop pool in all of Los Angeles? You can decide for yourselves if your workout is going to include laps or merely lounging. At night, the pool is heated and there's a DJ to provide excellent tunes. And the pool stays open until 1:30 AM! The view of downtown Los Angeles is incredible. This makes for one romantic fitness date. Of course, if you're like me, you may feel the need to hit these other fitness spots before you make it to the pool. That's okay. It will be there when you're ready.
27200 Winding Way
Malibu, CA 90265
(310) 589-3200
Maybe you'd rather go for a romantic hike. Escondido Falls in Malibu is your spot. As you hike past the waterfalls, you'll feel like an extra from Lost. Many LA locals site this spot as being a "fun" hike, which sounds like an oxymoron to me, but hey, there are people out there who truly love to hike. There are three sections that range in difficulty from easy to medium to hard. And you can even mountain climb. There's a lot to do at Escondido Falls.
Hoopnotica
1800-A Abbott Kinney
Venice, CA 90291
(310) 821-5600
Did you know that hula hooping can be an intense workout? Hoopnotica has some facts on their website about the benefits to hula hooping your way to a better bod: "The American Council on Exercise proved in a 2011 study that Waist Hooping burns over 400 calories per hour, and as many as 600 when the arms and legs are engaged." That's absolutely insane! Why not try it out? At least it won't be boring, and it will serve as a good ice-breaker between you and your date, watching each other trying to hoop while giggling. You'll feel like a little kid again, and you'll get all the awkwardness right out. Sounds good to me!
Cirque School
5640 1/2 Hollywood Blvd
Los Angeles, CA 90028
(424) 226-2477
Ever dreamed about being a Cirque du Soleil performer? You can make that dream a reality (or as close to it as possible) at Cirque School in Hollywood. They have classes like "Acro Fit 101", "Intermediate Trapeze Tricks", "Aerial 101", and "Beg. Contortion/Adv.Flexiblity." In case you're thinking you're unable to do it, they say it's for "anybody with any body", so there you go, it's possible! Why not give it a shot? To quote their website, "Whether you're here to challenge your body and get out of the gym, to smooth out your performance and create an act, or simply to try something new, Cirque School has a program for you."
Palisades Park
Ocean Ave and Washington Ave
Santa Monica, CA 90401
 Do you find yourself running from commitment? May as well have some lovely scenery to do it in! Palisades Park offers oceanside views and some pretty choice people watching, if that's your thing. And if you get too tired/hungry/thirsty, there's food trucks galore! It can be plenty romantic too, to run with your honey while the ocean breeze caresses your gentle faces. How lovely does that sound? Strap on those running shoes and get to it!
Paddle Board Yoga at Phins Water Sports Club
14045 Panay Way
Marina Del Rey, CA 90292
(310) 822-7600
Want to do yoga on a paddle board? You can apparently do that here. They offer water yoga classes ("SUP Yoga"). It looks like one hell of a challenging workout, trying to keep your balance atop a floating board. Or you could just go paddle boarding. Or rowing. Basically, if water sports are your thing, this is the place to be. You can get a super intense workout in learning how to row a boat, AND it's something that requires teamwork, so make this a group date! Their motto is "make the ocean your health club" so if you're feeling a little bit like Aquaman (or Aquawoman), this is the place for you to check out.
So there you go! From the standard to the unique, here are some ways you can your fellow fitness freak can get your fitness on in Los Angeles. Looking for a date in LA? Start here!
Photo via WeHeartIt.