Round Two With Mature Dating Expert Lisa Copeland
By: Elizabeth Marie |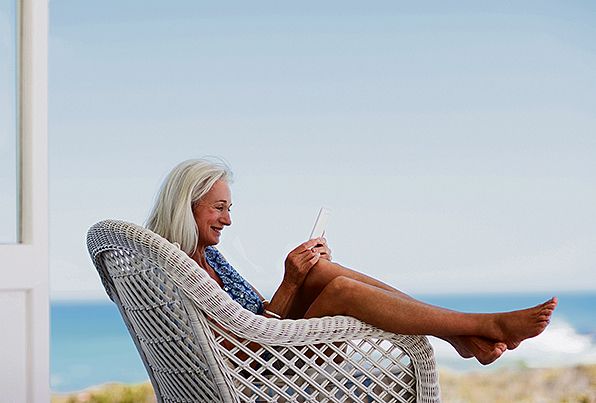 Women over fifty, this one is for you!
Lisa Copeland is our go-to mature online dating expert and the author behind the book "The Winning Dating Formula For Women Over 50: 7 Steps To Attracting Quality Men", available on Amazon.  In addition to offering one on one dating coaching, Lisa is a Huffington Post columnist and public speaker, passionate about teaching mature women how to find a quality man and guiding the way as they navigate through the mature online dating waters. We've interviewed her before and since she had so much insight to share on all things mature dating, we came back for round two and Lisa graciously obliged! Below Lisa answers more of our mature dating questions and sheds light on things like how to keep a mature man interested, online dating faux pas senior daters are commonly guilty of and what sex after fifty is really like.
Let's get started!
1. How important is physical attraction when mature dating?
Most men and women are still looking for that physical attraction and what they're missing the boat on is everyone's looks will eventually fade. What they need to do is to really think about what their needs will be in the future, whether it's companion, whether it's someone that will be there when they get sick. I know it sounds kind of maudlin, but it's very different from dating in your 20s when you're actually building a life. At this point in time, you're actually companions or you're supporting each other in having fun, and being there for each other.
2. What should you do if your family isn't supportive of you reentering the dating scene?
I feel like you have to follow your heart. It's really hard sometimes for children to see you dating someone. They like the idea, but it doesn't necessarily mean that they like the person. And also they can sometimes see it as competition to their father, even with adult, grown children in their 20s, 30s, and 40s. You really have to follow your own heart and gut instinct, and you have to do what's best for you. Thank people for their concern, but that you know what's best for you at this time in your life. And don't give into people that discourage you because you really want people around you that encourage you and support you, and you have to hold that boundary fairly firm.
3. What is the number one most important quality most mature women look for in a partner?
What most people look for are their looks. What most women should be looking for is what I mentioned earlier, and that is someone that they can have a long-term relationship with, with the issues that come up as we all age. Also women should decide what type of relationship they want. That's a huge thing too. That will make a difference for what they're looking for in a partner, because some women just want companionship, but some want marriage or a live-in partner, and there are different things for that.
4. Sex after 50, does it keep getting better?
It can keep getting better. There are dysfunctional issues that can occur as men and women age, and it means changing your mindset about what good sex means to you. Whereas when you're younger, it's intercourse. When you're older, it's more about the touching and the foreplay type things. But it's accepting that wherever someone is, you can still have great sex. It doesn't have to be only one way.
5. Are there any online dating faux pas that mature women commonly make?
Yes, they post very bad pictures of themselves that are not attractive to men, and they make a lot of demands in their profiles about what a man has to have, what a man has to do. And then the third thing they do is they post boring profiles that don't draw a man in. Don't use too many I's. Do a story. I teach clients to create a very short story that a man can imagine himself in. And by the way, your profile should only be about a maximum of three short paragraphs.
6. How can a mature woman prevent a man from losing interest in her? This is a common question we get asked. 
The key, first of all, is to understand who men are as they age, because these men, they really do just want to please you. And what makes them lose interest is when they're constantly criticized and when they're not appreciated by a woman. So learning the language that men speak is the greatest gift you can give yourself. I've seen clients have amazing results with men as a result of knowing how to speak to a man so he actually hears. Men do not hear the same language that we use with our girlfriends. It's totally different. And when you use the language they can hear, you can be on the same page, versus on different pages.
7. How should a woman respond when or if a man stops calling or asking for more dates?
There's not a lot a women can do if a man stops responding. The best thing she can do is get back on a dating site and continue dating until she has become exclusive with a man. She can write a man and say, 'I had a great time with you.' And he may write back, but if he is not pursuing you and asking you for more dates, that means he's not really that interested.
Thanks, Lisa! You can purchase her book here on Amazon.
Are you a mature online dater? 
What is the best thing about being single over fifty?
Image via weheartit