8 Brisbane Date Ideas for Foodies
By: Alicia Drewnicki |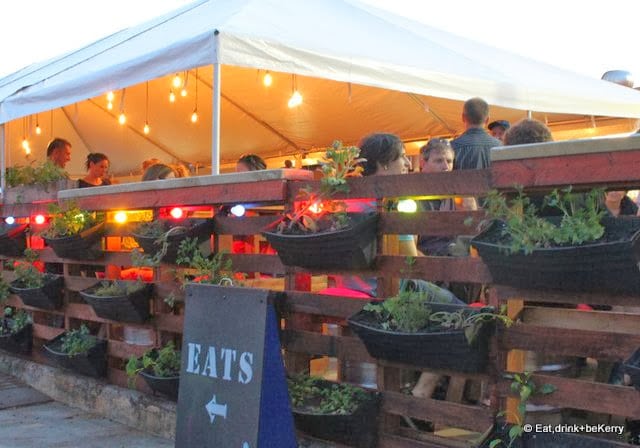 The old saying goes: 'the way to someone's heart is through their stomach', so if you're in Brisbane and stuck for date ideas – why not have a food-themed date?
Here are 8 of our top ideas for Brisbane foodies:
1) Chocolate Walking Tour with Foodi (Brisbane Visitors Information Centre, Queen Street Mall, Brisbane QLD 4000)
People often discuss the aphrodisiac qualities of chocolate, so a chocolate themed tour certainly has the right ingredients tour for a romantic date. If you've got a sweet tooth, get ready to taste your way around 8 of Brisbane's finest chocolate boutiques. You'll learn about the history of chocolates, how they are made and also practical tips on how to tell the difference between good and bad chocolate. Your tour will last for 2.5 hours and you'll even got hot chocolate too – this is about as sweet as dates can get!
2) Aboriginal Cuisine at Tukka Restaurant (145 Boundary St, Brisbane QLD 4101)
If you find yourself always going to the same restaurant – it's time to break away from the norm. Why not opt for some high quality native Australian food? From Marburg emu fillet to a vanilla cured Cairns crocodile – Tukka restaurant takes traditional game and puts a gourmet spin on it. If you've got a big appetite – you should share the native platter. You'll get a selection of native game meats, fruits, nuts, berries, spices and dips. To ensure you pick the right alcoholic accompaniments, each course even has suggested wine and beer choices to match the flavours of the dishes.
3) Liquid Nitrogen Delights at Alchemy Restaurant (175 Eagle St, Brisbane QLD 4000)
Caviar, champagne or perhaps you fancy a 270 day grain fed black Angus sirloin steak? If you want top quality luxurious cuisine, then Alchemy is the place to come. It has a tantalising selection of flavoursome dishes that'll be sure to whet your appetite. For the ultimate package of gastronomic goodness, why not option for the $125 degustation menu with offerings such as South Australian Kingfish, Grimaud NSW duck breast and crumbled rocky road for dessert? The restaurant is famous for its use of Liquid Nitrogen, so be sure to try the Liquid Nitrogen sweet gastronomic nibbles to end your evening.
4) Gourmet Food Tour with Food Tour T (Various locations)
Food Tour T describe their activities as a 'must do' for foodies. There are several different tours your can go on such as the 'sensational flavours tour', which lets you sample a variety of different flavours from sweet to spicy and everything in between, at eight different venues. There's also the gourmet garden tour where you'll visit the gourmet CBD markets and go behind the scenes in a fine dining restaurant. If you're a foodie who wants VIP access, this is the tour for you.
5) Romantic Italian Meal at Beccofinos (10 Vernon Terrace, Newstead QLD 4006)
You can't get more romantic than a candle lit dinner for two, so if the right ambience is important to you, head to the suburbs of Brisbane to visit Becconfino's in Teneriffe. You'll feel like you've been transported to Italy when you try the authentic thin Neapolitan style pizzas. There are plenty more dishes to tempt you such as 'pappardelle al ragu d'Anatra' which is flat ribbon pasta with a duck and tomato ragu. There are also 'secondi' options such as pan seared veal, fresh fish of the day and crumbled boned pork cutlets. Make sure you save room for dessert as there are plenty of options to tempt you. From sweet pizza with dark chocolate and vanilla bean ice cream to gingerbread pudding with caramel ice cream. This ticks the boxes for both a romantic setting and top quality food.
6) Have a Cooking Class at The Golden Pig Food & Wine School (38 Ross St
Newstead QLD 4006)
If you love food and wine, and fancy learning some new skills – why not take part in a Golden Pig cooking class? There are so many different classes on offer – from French bistro cooking, to Spanish Tapas or even a Moroccan summer delights class. If you love to taste the exotic, there's bound to be a class here to cater for your needs. So get hands-on and plan a date where you create the masterpiece in front of you!
7) Taste Your Way Around Eat Street Markets (Remora Rd, Eagle Farm QLD 4009)
If you've got a date planned on a Friday or Saturday, you need to head to Eat Street. The founders of Eat Street markets said they wanted to 'recreate the hustle and bustle of the fabulous food markets of Asia'. It will be a multi-sensory experience as you smell the food being cooked in front you and hear the street musicians providing the soundtrack to your unique date. From fish and chips to Mexican tacos, pies, oysters, dumplings and New York hot dogs – this market will take you around the world in seconds.
8) Dine in Luxury at Esquire (145 Eagle St‬, Brisbane, Queensland, Australia)
Esquire is often described as the best restaurant in Queensland and it's the only three hat restaurant in Brisbane. It has innovative menu choices that are created by the Executive Chef Ryan Squires. Dishes include milly hill lamb rump with olive & lemon rind, wagyu 9+ rump cap with perilla & wasabi and whole side of murray cod with fine herbs & olive oil. With its romantic riverfront location and award-winning dishes, this will be a sure-fire way to impress your date.
From chocolate tasting to tapas making, there are plenty of inventive and exciting date options for Brisbane foodies – enjoy!