10 Signs You've Been a Bachelor For Too Long
By: Kevin Murray |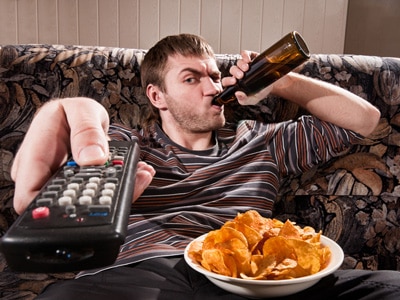 When you've spent more time single than in a relationship, you start reverting back to caveman like forum. What's stopping you? There's no female presence discouraging you from being a simple minded tool. Ummm, but that's the best part – you can be as selfish as the day is long. You make your own schedule and answer to no one. Just broing out 24/7 at a relentless pace. When you have that kind of freedom, behaviors and routines develop over time. Many of those behaviors and routines are signs you've been single for waaaay too long.
The Contact List on Your Phone.
The contact list on your phone is the holy grail of good memories and awesomely bad decisions. Sure, 95% of those the women are married with kids, likely to never talk to you again — but you can't delete them. They're friendly reminders of when your flirt game was more lethal than Daryl Dixon with a crossbow.
Red Solo Cups.
Smooth, perfect size and makes you feel like there's always a party going on in your bachelor pad. Improbtu game of beer pong? Cups all ready fully stocked. Not to mention they're, the balls for protein shakes after the gym. You want to wash out that dry crustation left over in the cup after making a smoothy? I don't. Aint nobody got time for that.
Summer Attire.
When it gets warm you need three things, a bathing suit, that pair of army cargo shorts you wear four days a week and a 90's basketball jersey. Nothing says I can't let go of my childhood like rocking a John Starks Knicks jersey on the dunes of Cape Cod. In fact, your left thumb probably is still raw from too many games of NBA Jam back in 94'.
[youtube]http://youtu.be/pCTfxOrX4k8?t=6s[/youtube]
Boomshakalaka!
Attempts at Eating Healthy.
Tough one here. You got to stay in shape cause you're a free agent beefcake on the market, but eating healthy takes planning and lots of effort. Booo. No point in taking time to create a meal for a party of one. That's why they made a salads in a bag. Drop a can of tuna on that son bitch, some dressing and you're done.
Interior Decorating.
Want to put a Tom Brady Fathead in the living room? No problem. Oh, while we're at it let's make a shrine to all your favorite 90's wrestling stars too. #YOLO
@ThomasHEdwards def put this up on in my man town the other day #WrestleMania pic.twitter.com/y8d1jqfa49

— Kevin Murray (@eFlirt_Kevin) April 7, 2014
All Your Married Friends Vicariously Live Through You.
People think peer pressure is lining up to kick a game winning field goal with no time left in the Super Bowl. Try telling all your married friends that you're in a relationship. You'll never seen so many eyes glare back in disappointment. These guys thrive on your stories of debauchery — a little piece of them lives on through you. They don't want to trade stories about refinancing and baby food – they want the sticky details of what happened in the back seat of your car last weekend.
"Oh, I Got the Perfect Girl For You!"
Really, do ya? You talking about the one friend you have that's still single because no dudes want to touch her? Ya, hook me up with that chick. Hope she likes red solo cups.
Interrogation Over the Holidays.
Every holiday it never fails, all the relatives come to you – "don't you want to get married?" "Do you feel like you're missing out?" "Don't you want a house and kids?" Ya Nana, why don't you rub it in some more. Actually, at this moment, no. You know why? Cause I after I leave here I'm gonna inhale the leftovers from that Apple pie you baked and there's no wife and kids to delay my bloated ass from passing out on the couch.
Your Give a Shit is Gone.
I can't really pinpoint when the moment happens, but there comes this day when you just flat out stop giving a shit. Eventually your 5 year plan only includes getting on the Patriots season ticket waiting list and not getting fat. That's it. The effort to go out on dates with women seems like too much work. A better date is PornHub, takeout and a few Bud Lights. No motivation to meet some chick from an online dating site at some bar, where you'll fund her $9 drinks.
Uninterrupted Netflix Binges.
The core of every bachelor is controlling the remote in the house. Pretty sure my dad use to have an anxiety attach anytime my sister or I would take the remote while he was out of the room. Humbling to now  watch him bow down to my mother and pretend he enjoys American Idol. He can say he likes it, deep down I know he'd rather be watching UFC fights. Having to give up remote control definitely balances a man out – not me. I watched so many episodes of Breaking Bad in a row "yo" and  "bitch" became the core of my vocabulary – can't stop, won't stop.