8 Perth Date Ideas for Thrillseekers
By: Alicia Drewnicki |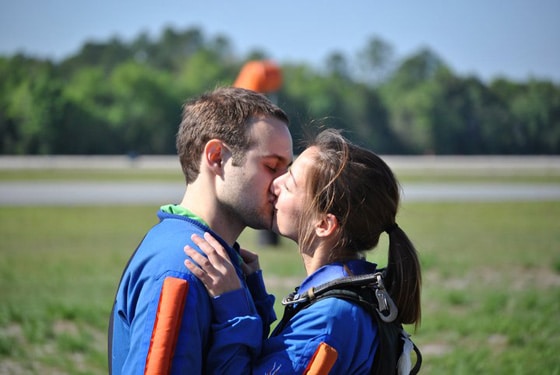 If you crave adventure and love living life on the wild side, then here are 8 super fun and exhilarating Perth date ideas – don't forget to hold on to your hats!
1) Ride the Rollercoasters at Adventure World (179 Progress Drive, Bibra Lake, 6965)
Nothing shouts out 'thrillseeker' like going on a rollercoaster! At Adventure World, there are over 30 different rides to choose from. If you're brave why not check out Abyss – a $12M Roller Coaster which goes from -1 to 4.5 G-Forces and has a greater lift off than you'd experience during the launch of a space shuttle! Keep an eye on the website for updates on season opening times which are dependent on weather, but you can buy your early bird passes in advance.
2) River Ride Horseback Riding with 1300 Trail Rides (Lot 504, Telephone Road, Neergabby, Perth, 6503)
Get ready to shout yee-ha as you steer your horse through the Moore River. This incredible ride happens throughout all seasons, even winter and you'll enjoy 90 minutes of scenic countryside views and trotting through the wilderness. The 'river ride' certainly puts a unique spin on your standard horse riding date!
3) Have a sky-high date with "Skydive the Beach and Beyond" (Various locations)
'Skydive the Beach and Beyond' is a skydiving company offering tandem skydiving experiences from up to 14,000 feet. Freefall with panoramic views of Perth and share an experience with your date that neither of you will ever forget. You can even buy photographs and DVDs of your experiences at the end of the skydive.
4) Hire a Bike at About Bike Hire (Point Fraser Reserve, City Of Perth Carpark, or Riverside Drive, East Perth, Western Australia 6004)
If you feel like being spontaneous and seeing where the date takes you – why not hire two bikes from 'About Bike Hire' and get ready to roll! You can hire tandem bikes, touring bikes, hardtail mountain bikes or road racing bikes, so whether it's sightseeing or racing you fancy, there's a bike that's ideal for the job.
5) Go Kart Racing at Kart World Belmont (8 Cowcher Place, Belmont, WA)
So much fun! No wonder this was voted a no.1 thrill attraction in the Perth area! Head to Kart Wold indoor kart and entertainment centre for a track to suit every level of skill and experience. From complete beginners to skilled drivers, there are 5 levels of kart to choose from. So get ready for the adrenaline rush to begin.
6) Swan River Jet Boat Ride (No 3 Jetty, Barrack Square)
Hear the boat roar as you whoosh through the water with 360 degree turns. This tour is a great way to see Perth at a fast pace to the sound of rock music! 25 minutes of non-stop fun on the water.
7) WASP Paintball and Laser (414 Karoborup Rd N, Carabooda WA 6033)
Prepare for the battle of a lifetime! WASP Paintball and Laser will make you feel like you've entered the set of Jurassic Park.You'll find bridges, tunnels, mini villages, a castle and even a World War 2 battle field.
8) Go Kayaking with Rivergods (3/10 Whyalla Street, Willetton, WA 6155)
Take a splash and have some fun with Rivergods. There are so many different experience you can take part in; from sea kayaking whilst being surrounded by sea lions and dolphins, to canoeing in Perth's southern suburbs.
So that's it – 8 great date ideas for thrillseekers. These options are guaranteed to get your heart racing so start planning a date that's perfect for a pair of adrenaline junkies!