8 Romantic Date Ideas In Melbourne
By: Alicia Drewnicki |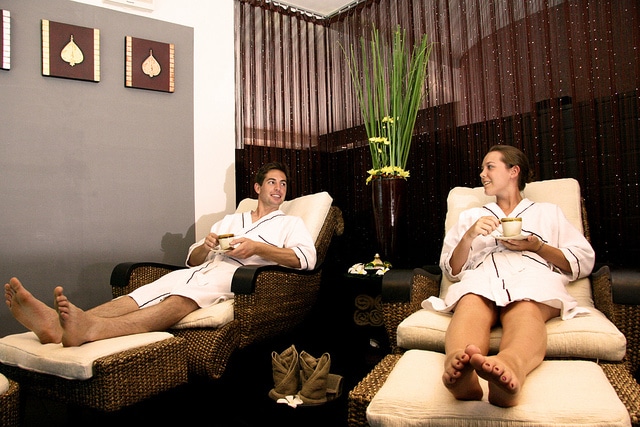 Feeling romantic in Melbourne? Check out the most romantic date ideas the city has to offer!
1) Spa Treatments at Endota Day Spa (Lower Ground Floor, 69 – 71 Flinders Lane, VIC 3000)
Endota Day Spa offers something unique for lovebirds – a double room for couples' day spa treatments so you can enjoy being pampered side by side. Get ready to sink into utter bliss as you enjoy delights on the treatment menu such as a honey exfoliation, a yoghurt cocoon, a hot oil wrap, a brightening facial, a full body massage and you can even treat yourself to a delicious spa lunch afterwards too.
2) Japanese Tapas and Cocktails at Little Red Pocket Cocktail Bar (422 Little Collins St, Melbourne, VIC 3000)
This bar ticks all the right boxes. It's intimate, stylish and does great food and cocktails. If that wasn't enough to convince you, it was also voted one of the Top 100 bars in the world. The bar has a particularly good reputation for its oysters, which are a well-known aphrodisiac! If oysters don't float your boat though, why not get a bento box, or a selection of tapas to share, such as pork gyoza, salmon carpaccio and avocado tempura.
3) Romantic Meal at Maha (21 Bond St, Melbourne, VIC 3000)
If you want to transport yourself to lands far away, then why not head to the Middle Eastern themed restaurant Maha? You'll experience an Arabian night with a sultry red backdrop and world class food. The cuisine is a unique fusion of Middle Eastern cuisine with a Mediterranean twist. Menu options include a 6 course sample menu for $120, which will take you to the heights of gastronomic luxury. The dishes are well-thought out and very complex such as: "hopkins river grain fed striploin, truffle fava, smoked garlic, pickled almond and crisp kale." The flavours will delight your tastebuds and your beau certainly won't forget this decadent date in a hurry.
4) Watch the Sunset at Princes Pier (Port Melbourne, VIC 3207)
Sometimes instead of following the crowds, it's good to go somewhere a little different. Take a romantic sunset stroll along Princes Pier and pause to admire a dramatic sunset from this unique vantage point. This famous disused pier is the perfect place to take a photo and enjoy the tranquility of a quiet sunset spot that played an important part in Melbourne's Maritime history.
5) Have a Picnic at National Rhododendron Gardens (The Georgian Rd, Olinda, VIC 3788)
If having a picnic wasn't romantic enough – imagine being surrounded by the colours of loads of beautiful flowers which blossom all year round. The National Rhododendron Gardens makes a perfect date spot – bring a picnic and enjoy the views of Yarra Valley whilst being surrounded by daffodils, azaleas, cherries and rhododendrons.
6) Go on a Hot Air Balloon Ride with 'Balloon Flights Over Melbourne
' (10 Bond Street, Abbotsford, VIC 3067
)
This may not tick the 'cheap date idea' box, but it certainly ticks the romantic box! Surprise your date with a hot air balloon ride. You've got so many different options to choose from including a one hour sunrise flight with a five-star champagne breakfast at Grand Hyatt hotel to follow.
7) Listen to Live Jazz at Bennetts Lane (25 Bennetts Lane, VIC 3000)
A jazz club makes the perfect date – the lighting is dim, the venue is cosy and you can snuggle up in a corner whilst listening to some of the best jazz in town. There is also a fully licensed bar so why not grab a glass of wine and let the music transport you into a world of romance?
8) Spirit of Melbourne Dinner Cruise (Southbank Promenade, Southbank ,VIC 3006)
Enjoy viewing the city from a new perspective whilst gliding upon the Yarra River and enjoying some exquisite food. Dishes include 'chargrilled chicken breast marinated in basil pesto atop a corn polenta wedge served with green peas and a porcini cream sauce'. With your ticket to this cruise, you'll enjoy a four course gourmet meal, matched with premium wines whilst admiring the beautiful city lights at night.
So now you've got a list of ideas to suit every budget, weather forecast and time of day. You'll never be stuck for inspiration for a romantic date in Melbourne, so get planning and happy dating!
image via Tara Angkor Hotel on Flickr.