10 Exciting Date Ideas in Sydney, Australia
By: Alicia Drewnicki |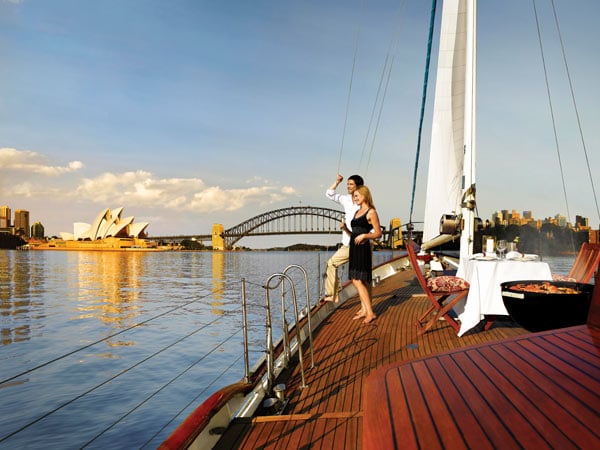 Australia's largest city has endless possibilities of new things to do. If a Sydney date is on the cards, here's some inspiration for some exciting activities you can take part in.
1) Kayak along Sydney Harbour, Chowder Bay
Explore Sydney harbour from a kayak and see the city from a whole new perspective. There are lots of different tours you can go on, so prepare to be amazed. You'll discover wildlife, secret beaches and if you get the timing right, you may even catch a perfect sunset.
2) Take a Sydney HeliTour, Sydney Airport
One way to take your breath away is to see Sydney from the sky. Book a helicopter tour and enjoy a scenic flight where you can admire the harbour and beaches from a variety of different vantage points.
3) Manly SEA LIFE Sanctuary
Now this is the type of date where you'll learn new things you never knew before as well as having a lot of fun. Go to Manly SEA Life Sanctuary and see sea turtles, giant rays, aquatic reptiles and some of the world's most venomous fish. There are interactive displays, touch pools and presentations and you'll also be helping support conservation projects by visiting.
4) Go Trapezing at Sydney Trapeze School, St Peters
If you want to catapult your way into romance – why not head to Sydney Trapeze School? You can learn all sorts of different skills from flying trapeze to aerial arts. It's a great way to get fit and to have a laugh at the same time!
5) Go to Strike Laser Tag, Entertainment Quarter
Prepare to battle as you have an action-packed date at Laser Tag Sydney. This is the type of date where you can act like a big kid and get to know your date in a fun-filled setting.
6) Skydive over the Beach
Thrill-seekers – this is for you. Take a short transfer to Wollongong and free-fall from 14,000 feet before releasing your parachute and gliding for up to eight minutes over the scenic Australian coastline. An experience not to be missed!
7) Rally Driving, Colo Heights
Feel the need for speed? Well get ready for a fast-paced date at a rally track. It's suitable for beginners and you'll get expert tuition before you're loose on the tracks. You can even ride a championship spec car, so feel the power and get ready to hang on tight!
8) Jet Boat Ride with Jet Blast, Darling Harbour or Circular Harbour
This is the way to go sightseeing on turbo-speed. Jump aboard the jet boat and get ready for 270 degrees spins, music, and a lot of laughter!
9) Mini Golf at Dural Putt Putt, Hills District
Enjoy 18 or 36 holes of mini golf as you enter a magical world of wizards, dragons, castles and UFOs. It's both a fun and competitive date that's set in idyllic landscape gardens. Afterwards, why not head to the coffee shop for a delicious coffee and a cake.
10) Hunter Valley Wine and Cheese Tasting Tour
If there are two ingredients to a great date – they are probably wine and cheese! Go to the beautiful countryside of Hunter Valley and have the opportunity to sample the finest local cheeses and choose from up to twenty different types of wine.
So there you have it, ten great date ideas in Sydney. Next time you're looking for something different to do, consult this list and you can't go wrong!