10 Adventurous Brisbane Date Ideas
By: Alicia Drewnicki |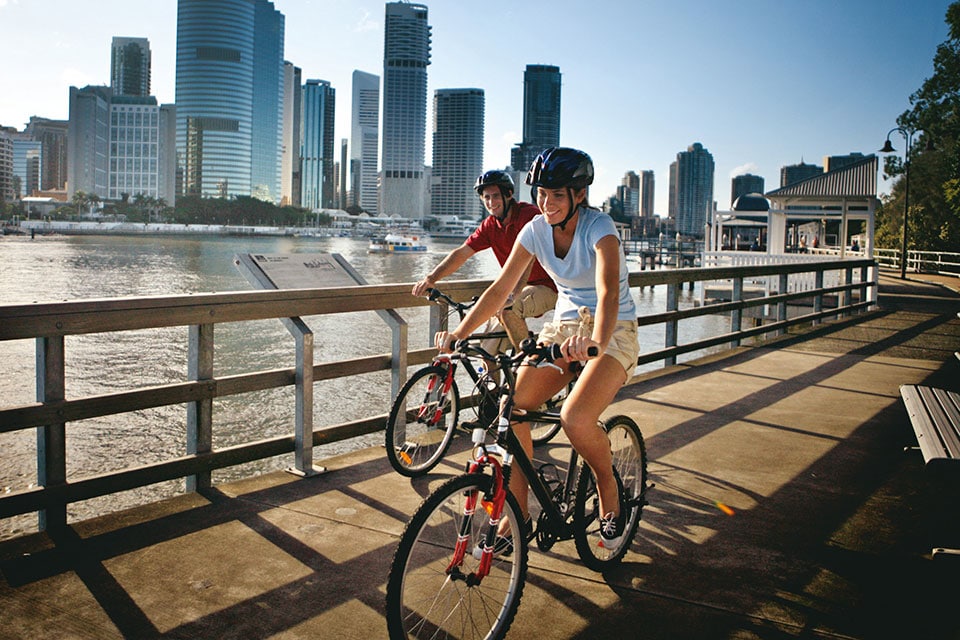 Sometimes meeting for a drink can feel repetitive, so why not break the norm and plan a more adventurous date next time? Here are ten ideas for the best fun-filled dates in Brisbane, Australia.
1) Hire A City Cycle and Enjoy a Bike Ride
Get out in the fresh air and enjoy the marvellous scenery that Brisbane has to offer. Meander along the path of the Brisbane river and spend time exploring South Bank. If you fancy a break, stop and refuel with a coffee and a delicious cake at the Espresso Garage cafe.
2) Night Kayaking at Riverlife Centre
If you want a date with a difference, then take part in one of Riverlife Centre's weekend specials such as "Friday Night Paddle & Prawns". You'll kayak along the Brisbane River with the backdrop of the city lights, and when you return you'll be treated to platters of prawns, bread rolls and drinks.
3) Sand Tobogganing at Moreton Island
Moreton Island is only 25km from the centre of Brisbane and it's a great place to visit for a little escape from city life. Home to the third largest sand dunes in the world, a really fun date idea to enjoy the thrill of gliding down the sand dunes on a sand board!
4) Bowling, Karaoke and Laser Tag at Strike Bowing Bar
You'll have endless fun at Strike Bowling Bars where you can do your best Kylie impression, have a laser tag battle, drink beers and see who is the bowling champion of the night! It'll be an action-packed evening you certain won't forget!
5) Climb to the Top of Story Bridge
For great city views and a sense of achievement – climb to the top of Brisbane's famous Story Bridge. You'll see city views and beautiful Moreton Bay, and you can choose to climb at dawn, daytime, twilight or night. If you want to take things to the next level, why not choose the option of the "Abseil Climb" and instead of taking the stairs down to the ground, go for the rope option instead!
6) Ice Skating at Acacia Ridge
Ice skating is a great way to bond with your date; whether you're good or bad, you'll either be gliding on the ice hand-in-hand or be falling into your dates arms! It's fun, it's inexpensive and it's a great way to have a fast-paced date!
7) Go for a Swim at Valley Pool
Get to know your date in the water as you go for a leisurely swim at Valley Pool. If you want to wind-down afterwards, why not book in for a relaxing massage?
8) Latin Dancing at Rio Rhythmics
Think you've got rhythm? Well, you need to head to Rio Rhythmics for a Latin dance masterclass! Fun for beginners and more experienced dancers alike, you'll learn authentic Latin dancing just like the Latin American locals know it! There's samba, salsa, tango, bolero or simply a "Latin starter." So take your pick and get ready to show off your finest moves!
9) Indoor Rock Climbing at Urban Climb
Ever fancied learning to climb? Well Urban Climb is the place for you! There are over 250 different climbing routes for every level of experience so you'll never feel out of your depth. Let your date be your climbing partner and maybe your connection will reach new heights!
10) Floating Yoga at Redcliffe Jetty Beach
If you're always looking for something new and different to do on a date, then floating yoga may be your answer! It's also known as stand-up paddle board fitness yoga and consists of practising yoga moves on a paddle board that acts as a perfect floating yoga mat. So have a workout and find serenity on this adventurous date with a scenic backdrop.
Next time you're planning a date and are tempted to say "let's meet for a coffee" – stop! There are so many fun, active dates you can go on in Brisbane, so take the time to plan something a bit different – you won't be disappointed!
For more date ideas in Brisbane, head over to our Brisbane Dating Guide!