10 Adventurous London Date Ideas
By: Alicia Drewnicki |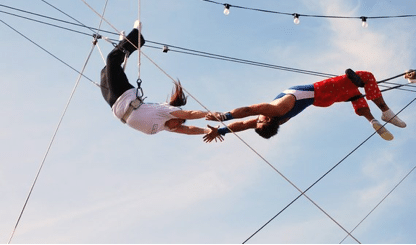 If you and your date are thrill-seekers at heart, then the idea of a first date at a pub probably won't be enough to get your adrenaline pumping! Here are ten exciting London date ideas to inspire you to plan an action-packed date.
1) Fencing – Central London Fencing Club, Pimlico
For a fast-paced date that'll bring out your competitive side – why not try fencing? Transform into a Musketeer in a two-hour taster session for only £35. You'll learn how to execute the light, quick moves that it takes to become a skilled fencer and battle it out to discover who's the champion on your date!
2) Indoor Ice Climbing – Vertical Chill, Covent Garden
If you want the perfect way to break the ice with you date, then why not learn to ice climb? Don't worry if you don't own a pick axe and crampons – all the equipment is available to hire and there's a qualified instructor to supervise you. The wall has routes suitable for complete novices or skilled climbers, so imagine you're exploring the Norwegian fjords and enjoy!
3) Table Tennis – Bounce, Holborn
If you like ping pong, pizza and beer then this may be your perfect date! Bounce is Europe's largest purpose built "Social Ping Pong Club" where you hire a table in a fun, lively atmosphere. If you're hungry after your game, there's an amazing open counter pizza restaurant and a bar with great cocktails, what more could you wish for?
4) High Speed Boat Tour – Thames RIB Experience, Victoria Embankment
For high speed and maximum excitement – you need to get on a boat! The Thames RIB experience boasts to have the biggest, fastest and loudest boats on the Thames! What better way to see the sights of London than on a roller-coaster on the water? You'll learn about London's history, see famous sights and all this to the theme music of James Bond – could it get any cooler?
5) Bowling – All Star Lanes, Holborn
Cocktails and bowling – what a combination! All Star Lanes is a chain of bowling venues around London that has an American feel and puts the fun into the experience. Do your best Fred Flintstone impression and aim for a strike! For a victory drink – why not ask for the notorious "Zombie" cocktail at the bar?
6) National Centre For Circus Arts – Circus Skills, Hoxton
Feeling flexible? Well why not get your legs around a trapeze? Circus Space is an impressive warehouse that's full of training rooms with circus equipment. You'll spend a day learning acrobatics, juggling, static trapeze, diabolo, and flying trapeze. So whether you want to act the clown, the juggler or the acrobat – the choice is yours!
7) Roller Disco – Renaissance Rooms, Vauxhall
Keep the pace of your date on turbo-speed with a date at the Roller Disco! Every Thursday to Saturday, this adult only skating party is the place to go clubbing on wheels! There is a disco ball, great music, so shout out "catch me if you can" and get ready for some serious fun!
8) Crazy Golf – Jurassic Encounter, New Malden
Surround yourself with animatronic dinosaurs and enjoy a wild evening at the Jurassic Encounter. It's an 18-hole mini golf course, with a tropical meets prehistoric theme, and as well as encountering dinosaurs, you'll see waterfalls and flood-lit caves.
9) Boxing Skills – Ford Fitness, Harrow
If you fancy letting off some steam and want to ensure your date idea is a knock-out, then here's your solution! Ford Fitness offers fun and interactive boxing classes where you'll learn skills from a variety of disciplines, including Muay Thai, kick-boxing, boxercise and amateur boxing! So even if you're punching above your weight, perhaps this unique activity will be the sure-fire way to ensure you become a hit by the end of your date!
10) Indoor Paintball or Laser Tag – Bunker 51, Greenwich
Unleash your inner beast and prepare to battle in an adrenaline fuelled atmosphere! Bunker 51 has a series of underground playing fields that are built on the site of a decommissioned cold war nuclear bunker! You have the choice of indoor Paintball or Laser Tag – both equally as fun, it just depends if you want to feel the hit! Look out for the monthly special zombie-themed events where the venue will be filled with the undead and it'll be your mission to save the world from impending disaster! This is something everyone should try once – a seriously fun and quirky date idea!
So there you have it – ten date ideas that are guaranteed to get your heart racing! So next time you're thinking of just meeting for a coffee, stop and launch yourself onto the trapeze or battle it out with some zombies instead!
Looking for more date ideas in London?