5 Great London Date Restaurants
By: Alicia Drewnicki |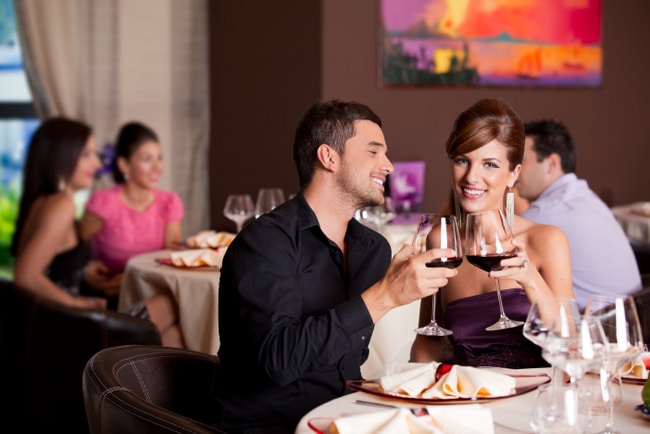 London really does have something for everyone, so if you're a foodie, you'll be spoilt for choice. There are plenty of restaurants in London where you can enjoy a romantic dinner for two – here are five choices that will tantalise your tastebuds!
1) Souk Medina, Covent Garden
Take your date into a magical world of belly dancing, winding staircases, low tables and ornate glass lamps. Hidden down the cobbled streets of Covent Garden lies this exotic North African restaurant that'll be the perfect place to impress your date.
With the cave like dining areas, dim lighting and luxurious scattered cushions – it sets the perfect scene for romance. The food is exquisite with traditional Moroccan dishes such as lamb tagine, spiced couscous and delicious moussaka. Finish your meal with a selection of sweet honey baklava washed down with some fresh mint tea – pure perfection!
2) Gaucho, Tower Bridge
If you love a juicy, tender steak – you need to come to Gaucho. It's the place to sample perfect Argentinean beef, where the attention to detail is second to none. Again, the lighting in the restaurant is dim and romantic and the soft cowhide chairs make your dining experience really comfortable.
If you don't know your fillet from your rib-eye, fear not, as the staff are there to help. The waiter will bring a huge wooden platter with every cut of steak you can have, and will recommend the best cut for you. Once you have chosen your meat – be sure to try some of the delicious sides, such as the humita saltena (roasted pumpkin and sweetcorn served in a corn husk) or the crispy chips served with deep fried thyme.
There are actually 12 Gaucho restaurants in London – so wherever you are, take your pick for the finest steaks in town.
3) Megan's Restaurant and Deli, Chelsea
For healthy, fresh dishes that are centred around meat, seafood and salad – Megan's is the perfect option. The restaurant is located on the fashionable King's Road and has a stunning indoor garden at the back of the restaurant with fairy lights and outdoor heaters.
This venue is a celebrity hotspot, so you could be brushing shoulders with Pippa Middleton or Daniel Radcliffe if you're lucky.
The food is served on large wooden platters and the selection of antipasto is perfect for sharing. The chargrilled meat, fish and chicken is perfectly cooked and there are great vegetarian options too.
4) OXO Tower Restaurant, South Bank
Sometimes you just need the full package – wonderful food, great ambience and spectacular views. The OXO Tower restaurant has it all. It's pricey but definitely worth it for those special occasions. The wine list has over 800 choices but don't worry, there are sommeliers on hand to help you find your favourite. The cuisine is modern British with an innovative twist and you can try dishes such as Crown Prince pumpkin tart, Wild duck breast or slow cooked pork belly. If you've got a sweet tooth – why not share an elderberry and elderflower meringue for pudding? Delicious!
5) Leong's Legends, Leicester Square
If you and your date love Chinese food and fancy a meal that won't break the bank but still has an intimate setting, then this is the place for you. As you enter the restaurant, if feels like you're stepping into a traditional Chinese teahouse.
There are wooden benches and low lights above each table which add to the ambience. Make sure you try the crispy aromatic duck, aubergine with mashed garlic and tao pan sauce and the wide selection of dumplings! You won't be disappointed.
London is such a multicultural city where you can taste your way from country to country without using your passport. Whether it's a Moroccan feast, an Argentinean steak or Chinese Dim Sum – be adventurous and try things you've never had before!