Here's Why We Need to Stop Hating on Valentine's Day
By: Simone Paget |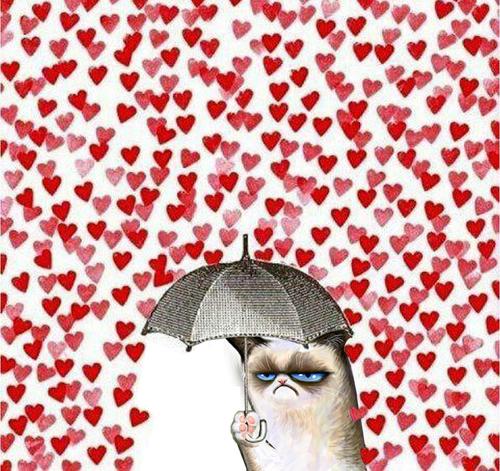 I've had some really great Valentine's Days (like, that time I gave an actual Valentine to my crush and we ended up falling for each other & becoming a couple) and also some really bad ones (I.e. that time I went for dinner with the guy I was dating and actually threw up in the middle of the meal.) You'd think as someone who spends most of their day writing about love and relationships that they'd be totally over Valentine's Day, but you know what? I'm not. I love Valentine's Day in all it's pink, puffy hearted glory. You know what does get me down though? All the negativity that inevitably surrounds Valentine's Day.
I totally get why people think Valentine's Day is kind of lame. It's a holiday basically designed to sell cards and chocolates, and  if you're single all that talk of love and romance can be a bummer. However, you know what feels worse? Hating on Valentine's Day. I speak from experience. Last year, I spent V-Day in bed, eating ice cream and watching the most un-romantic movie I could find on Netflix – The Hurt Locker. Trust me, cursing Valentine's Day while watching Guy Pierce get blown to smithereens isn't going to make you feel any better about being single on February 14th.
Because snarkiness is so last year, I've decided to embrace Valentine's Day and just run with it. In hopes that you will join me, here's a few really good reasons why we all need to stop hating on Valentine's Day.
1) If you're in a relationship or dating someone, it's a great excuse to show that person you care. You know what bums me out the most? People who are in relationships that still hate on Valentine's Day. It's such a cop-out. I truly believe that you should show the person you're with that you care about them everyday – not just on February 14th. However, does it really hurt to do something a little special on the 14th? It doesn't have to be anything elaborate or expensive – even some flowers, a really sweet card or cooking your loved one dinner can really brighten their day and let them know that you think they're special. Seriously, what's it going to hurt?! Seize the day and take this opportunity to how your partner some extra love. Do it in the name of all the single people out there who may be spending Friday night, home alone watching grim war movies!
2) It's a great time for dating and taking chances –  I know what you're probably thinking, "Isn't going on a date with someone you barely know on Valentine's Day the most awkward thing ever?" Not necessarily. In fact, we're in peak season for online dating which means there's lots of other singles out there who are probably looking for something fun and low-key to do on February 14th. If you're tired of staying at home bemoaning Valentine's Day, don't. Take a chance! Ask someone out! At the very least, go out with some friends (you never know who you'll meet!) Like attracts like – by staying positive, you attract other positive things into your life.
3) Valentine's Day is fun, gosh darn-it. Remember how much fun Valentine's Day was when you were a kid and you spent hours filling out Valentines for everyone you knew (even the people you didn't like that much)?! Why does it have to be any different as an adult? Whether you're single or dating someone, why not use this as an opportunity to let the people around you that you appreciate them? Maybe you want to go retro and give all of your closest friends tiny Valentine's cards right out of the box, or maybe Valentine's Day means sending Helen in accounting an email that says, "Thanks for always getting payroll done on time. You rock!" Either way, one of the easiest ways to make yourself feel good and grateful for all that you have is by showing other people some love.
So, your mission for this Valentine's Day (should you choose to accept it) is simple: Don't be shy. Show some love. Grab that pink tissue paper and glitter glue pen and go nuts.
What do you have planned for Valentine's Day?