5 Things New York City Has Taught Me About Dating
By: Jess Downey |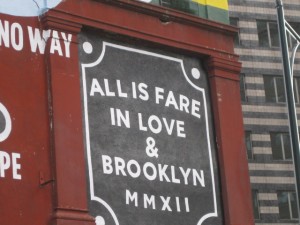 The other day, my fiancé and I were talking about what dating was like before we met. It might sound weird, but sharing all of our stories is one thing we enjoy. I'm pretty sure some of it's because I'm a dating writer, but I also think it's because dating is just down right entertaining.  We both agreed that we were really glad to have started our relationship in New York and we felt lucky to have had the opportunity to date in the Big Apple at all. It's an experience we'll both never forget. And, like any good experience, I've learned a lot from it. Here are 5 things New York City has taught me about dating.
Always eat before a drinks only date
I feel like most first dates, especially those from the internet, should just be a quick meet up kind of thing. For me, that usually meant having a couple of drinks at a cool bar. But, after drinking more than I should because the date lasted longer than I thought, I learned that you should always have a quick bite before you go out. I will also add, however, that sometimes it works in your favor. On the first date with my fiancé, we ended up grabbing a late night slice of pizza that stretched our date out a bit. Though, in all fairness, it could have gone either way since my "accidental drunkenness" prevented me from finishing the scotch he ordered for me. So, seriously, eat a sandwich beforehand.
You'll probably date a few of the same guys as your friends and that's OK
True story. When I first moved to NYC, I met a pal for drinks. I told her about a guy I recently met on a dating site. As I was describing him, she started asking a lot of questions. Turns out she had gone out with him before. Then, after telling this story to other friends, I found out it's a pretty common thing here. I actually think a couple of friends were talking to the same guy at the same time. I once thought this was a much bigger deal. It's really not.
Long distance relationships are totally manageable
I never knew that you could live in the same city, but have it feel like a long distance relationship. When my fiancé and I were dating, it took over and hour on the train to get to each other. It was a pain in the ass, but we managed. I learned that living in the same city doesn't necessarily mean you can always get to each other exactly when you want to. Sometimes you have to make arrangements, like if there's a hurricane and you can't leave your borough. It happens and it's totally OK.
Dates come in all shapes and sizes
Before moving to NYC, I felt dates were a dinner kind of thing. I often felt if a guy didn't buy me a meal it should mean something. Well, it doesn't really. I've had drink dates. Coffee dates (though I really do think they're lame). Dates in the park. You name it. Dates don't always have to involve dinner or even money and they can be just as fun.
Joining at least one dating site is a must
It's true that NYC is huge, but that doesn't mean you're necessarily going to meet anyone you actually wanted to date. Here, everyone online dates. And, honestly, I found it refreshing. It's something I think anyone, anywhere can embrace. Online dating opens up possibilities to meet people you might not. If nothing else, it just gets you out of the house and having fun (and who doesn't like fun).