10 Reasons Why Dating During the Holidays is Awesome
By: Simone Paget |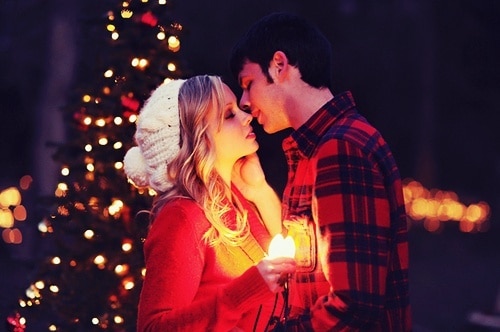 1. It's "peak season" – As I mentioned above, tis' the season for online dating. More than any other time throughout the year, the Holiday season is when you have the most singles online looking for love. With lots of different people to meet and choose from, the likelihood of meeting someone is actually pretty good.
2. There's tons of things to do – From ice-skating and wandering around and looking at all the lights to checking out your local outdoor Christmas market, fun date ideas abound during the Holiday season.
3. It's romantic – Have you ever noticed that everything feels a little bit more special during the holidays? From the lights to the fireplaces aglow, the setting for romance is everywhere – why not take advantage of it?
4. You're looking your best – I don't know about you guys, but with the flurry of holiday parties and get togethers happening around this time of year, I'm way more motivated to get that hair-cut, buy that new lipstick or pick up a new outfit that makes me feel sexy. When you're looking and feeling your best, you feel confident – making dating easier and more fun.
5. Holiday beverages – Whether you're addicted to Pumpkin Spice Lattes or like to make your coffees "Irish" this time of year, there are lots of fun holiday alternatives to the usual "let's grab a coffee or beer" scenarios. Hot chocolate tastes that much sweeter with a fireplace and someone cute by your side.
6. It's a good respite from family time  and holiday obligations – Yes, everyone is super busy this time of year and you likely have a lot of family obligations, however planning a date with someone can actually be a nice break from the holiday madness. So, if you can't handle another moment of Aunt Gladys and her nosy questions and the thought of yet another holiday staff party makes you want to scream, why not plan a date with someone cute? At the very least, it will get you away from the chaos for a few hours.
7. You're naturally more social than usual – You're already hitting the holiday party circuit, smiling and looking gorgeous. Why not use this extra dose of cheer and confidence to your advantage? It's likely other people are feeling the same way. Meet up & let the sparks fly!
8. You never know who you'll meet – Between online dating and all of the different social activities that pop up during December you really never know who you'll meet. Several of my close friends met their long term partners online right before the holidays. In other words, don't knock it until you've tried it. Your holiday wish of meeting someone really special might just come true!
(Photo credit: weheartit.com)