Dating Tips From A Guy!
By: Elizabeth Marie |
Hello loves!
I always like to get lil testosterone up in here, so allow me to introduce Jason. Today, he's sharing what NOT to do on a first date from a guy's perspective. Hint? Keep that cellphone in your purse, ladies! 🙂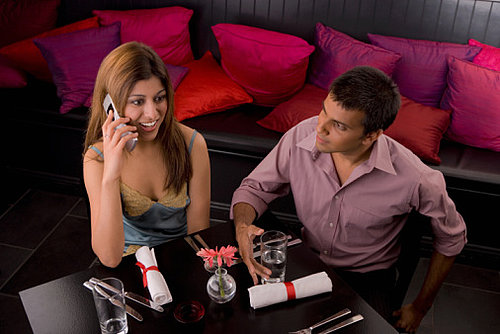 It has come to my attention that some standards are slowly dying, disappearing, and vanishing never to be seen again. Class, and etiquette are both being forgotten, misused, and redefined in to something completely different than what they used to mean. We find ourselves settling and dealing with antics and manners that would have been completely looked down upon in the past. Not if I can help it. It is time we scrub down, clean up, and evolve these abused standards, reintroducing them in to our modern world.
I began my quest to bring light in to the dark by providing three tips for her, on what not to do on a first date and all the other dates that hopefully follow.
1 – Put away that cell phone! This is neither the time or the place to be checking up on text messages, Facebook, or whatever else it is you do on your cell phone. Put it away and refocus your attention on where it should be, most likely at the opposite end of the table where your date is sitting. It's rude, inconsiderate, and will more so than not, send the wrong message to him. The idea here is to make each other comfortable and having your cell phone out will only lead to quite the opposite. Try to detach yourself from your little digital friend because you're on shared time now and if you've made it so far as to meet up for a physical date, then you both deserve each other's uninterrupted and direct attention.
2 – Do not go there just yet. On the first date (especially) and for the dates that follow, try to avoid bringing up any problems be it family issues, financial burdens, or even weird rashes in weird places. Do not mention anything about past boyfriends and any other random guy encounters you may have had. He is not there to hear about your struggles, how much your ex-boyfriend may have broken your heart, or "How this one guy, did this one thing, this one time." You are both probably nervous as it is and overwhelming him and yourself with such discussion will only steer the date towards an awkward atmosphere full of heavy air. Show him that you are emotionally stable, mature, and well healed despite whatever secret scars you may burden. Remember, dating is suppose to be refreshing and fun, so keep it positive!
3 – Eye contact. Do not stare off in to oblivion and seemingly infinite space while trying to maintain a discussion with him. He will most likely feel that he is unattractive, uninteresting, and nonexistent even though he is physically there with you. Try your best to make eye contact with him when you're talking and listening. It shows confidence, self-esteem, and that you are both engaged and engaging in the conversation. All of which are attractive things to present yourself as during your date. Also, there is nothing quite like making eye contact with someone whom you are interested in, so the more, the better.
Everything here is subjective of course. You could argue that you want your cell phone out to send him the wrong message, or that you want to discuss problems immediately as if to put up a wall, and that you look away because he is unattractive, uninteresting, and you wished that he would just vanish and that the date would be over. However, we like to keep things positive around here as dating can be challenging enough as it is already. It's not an exact science, but if you do enjoy his company and everything seems to be in order with him, then these three tips should start you off in the right direction and hopefully on to bigger and better things.