4 Ways To Tell If He's Cohabitation Material
By: Elizabeth Marie |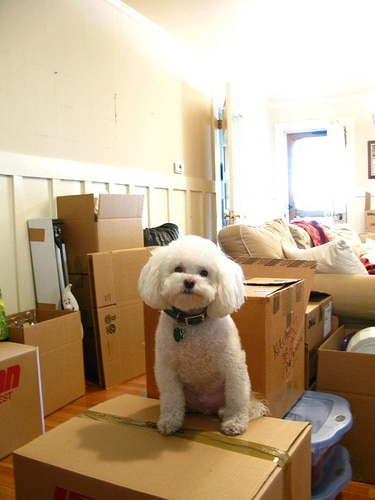 So you've been dating each other for a few months, maybe years now, the dates are exciting and spending time with each other has become the best thing on your social calendar. If you've already swapped keys then maybe you're thinking about moving in together – excitement! But how on earth do you tell if he's ready for that sort of commitment? It may sound like the next logical step to you, but there are signs to watch out for before you have 'the conversation', make sure you check them before asking, just to make sure you know!

You Spend A Lot of Time Together
It might seem like an obvious one, but how much time do you spend together? If the answer is almost every day with hardly any/if any arguments over the small stuff, then you're probably ready to spend a little more time together. What some people can forget when they rush into cohabitation (that's living together FYI), is that you now spend almost ALL your time together, so if either of you needs a bit of time to themselves every now and then, make sure you still get it – whether it's having a bath, spending time with your mates or simply painting your nails and watching your favourite TV show on catch up, it's important to keep your own time sacred when you cohabit together.
He Leaves Things at Your Place
Has he got a toothbrush at your place? A few pairs of boxers, maybe he even has a drawer? Basically watch out for signs that he is getting more comfortable if he leaves things at yours.
He Gets on Well With All Your Friends
Friends and family that is, and you know that you can always go to your network of friends and parents if you need to, because he will understand. It's always important to make sure that your boyfriend gets on well with friends and family, because you don't want it to be awkward for you to spend time with them.
He's More than Comfortable to Spend a Few Days at Yours
If he's happy to stay over a few nights in a row without trips home in between, then you probably already know he's ready to cohabit. Being comfortable at your place, around your friends, your family and in your space is just as important as you being used to his place. It's about give and take when you live in what was formally known as a common law relationship – now known as cohabiting – and if you are both happy to compromise by staying over for a few days in a row then you're on t a winner!
So you've sussed it out, he's either comfortable and ready for 'the talk' or perhaps he needs a little more time to settle in first. What's important to remember however long you've been together is that some people need a little more time than others to make the decision to move in together, you should of course express your feelings, but make sure he ticks the cohabitation material boxes above before you start mentally planning trips to Ikea with him!