20 Ways To Have The Sexiest Summer Yet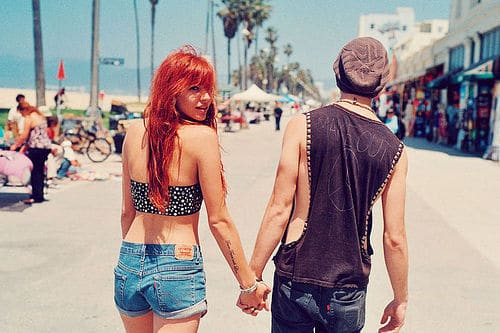 Summer is the perfect time to mix up your usual routine and spice things up! To get you inspired, we've come up with a 20 different things you can do to ensure you have the sexiest summer yet.
1. Make a pact with yourself that you will love your body no matter what. It doesn't matter if you don't have what all the celebrity and fashion magazines would consider a "perfect beach body." Your body is yours & it's sexy just the way it is…embrace it!
2. Get away somewhere. Whether it's a sexy far away location, or just an overnight "stay cation" in your own city, this is the perfect time to expand your horizons and get a change of scenery…and maybe have a steamy vacation fling while you're at it!
3. Try a new kind of exercise. Whether it's cross-fit, barre method, or a sexy pole dancing class – trying something new and fun for summer is a great way to keep fit and feel good while expanding your social (and possibly dating!) circle.
4. Pack a blanket or beach towel in your car. Because you never know when you and your date might want to get it on in the great outdoors.
5. With the help of the person you're dating (or not) make a sexual scavenger list of all the places you'd like to have sex this summer. Have fun crossing them off together!
6. Buy a bathing suit that you actually feel good in. Hate going to the pool or the beach because you hate your suit? Treat yourself to a suit that you actually feel sexy in. There are tons of flattering options for all body types out there right now (hello, vintage inspired swim styles!). If you need help, go to your nearest specialty swimwear store and get fitted.
7. Experiment with pheromones (those natural feel good, attraction hormones). Try a pheromone infused body lotion, body mist or perfume oil…and enjoy attracting the opposite sex.
8. Dress for the weather. This is the perfect time of the year to wear that favourite pair of shorts or slinky sundress. If you've got it, flaunt it!
9. Have sex outside.  Whether it's at the beach, while you're camping or even in the backyard – the weather is perfect for some sexy fun in the great outdoors!
10. Hang out somewhere new. Looking to meet people this summer? Instead of hitting up your usual coffee bar or pub, try that new bar or cafe on the other side of town. You never know who you'll meet on the sun drenched patio!
11. Update your online dating profile for summer. Freshen things up for summer by swapping out that cute photo of you ice skating for a new, season appropriate photo. This is also a good time to update your interests and add in summer appropriate activities like swimming, vacationing, playing frisbee at the beach – anything you enjoy in the warmer months.
12. Go skinny dipping. It's thrilling to do alone, but more fun with two

13. Get out more. The weather is gorgeous so stop hibernating. Go for walks, meet up with friends, window shop around town, go for a run in the park – you never know who you'll meet along the way.
14. Enjoy some summer cocktails – Get in the mood for summer by stocking your fridge with summer cocktail ingredients like rum, vodka, tequila and a variety of fruit juices. A frothy tropical cocktail is a great way to shed some inhibitions and relax after a long day.
15. Chill out in the bedroom. For a tingling good time, take turns rubbing an ice cube on each other's lips and erogenous zones. Still too hot? Try a tingly cooling lube for extra sensation.
16. Try something new with your hair. Remember how hot Beyonce looked in her vacation photos with her natural curls? Put away the blow-dryer, grab some frizz-fighting hair product and go natural this summer. Option #2: stay cool and channel your inner Audrey Hepburn with a top knot or ballerina bun.
17. Make it a pool day. Many hotels and resorts will allow you to use their facilities for a daily fee. Grab a spot by the pool, enjoy some drinks and sneak away for a  secret rendezvous in an abandoned pool cabana.
18.  Pitch a tent – literally. Whether you're camping or just hanging out in your backyard, having sex in a tent is a fun way to get the benefits of outdoor sex with a bit of added privacy.
19. Have a quickie at someone else's house. Whether it's visiting relatives or enjoying a BBQ at a friends place, summer provides ample opportunity to sneak away for a naughty quickie when no one's looking.
20. Turn off the AC. When we sweat we release chemicals that make us even more attractive to each other. An extra sweaty romp on a warm summer night will definitely kick things up a notch. When you're finished, share a refreshing cold shower together.