How to Travel As a New Couple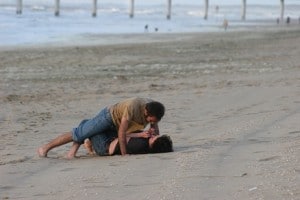 As someone who is part of a fairly new couple, I've had a whole lot of new experiences lately. And one of the biggest has been traveling. We road tripped to the Midwest for Christmas and have made a couple of trips to Atlantic City. I am happy to say that those trips have gone pretty fantastic. Obviously those aren't crazy huge trips (though we have some of those in the works), but, nevertheless, I've learned a couple of things. So, here are a few tips for traveling as a new couple.
Don't be bothered by a few dead silences every once in a while.
There might be a few dead silences and that's OK. Traveling isn't the same as meeting up for dinner on Tuesday or even spending most of the weekend at someone's place. When you've been together every single moment for a few days you're bound to run out of things to talk about.
Share the expenses.
Unless one of you is offering for a special occasion, you both should pay your way. Pick a way that suits you as a couple. Maybe you can buy all the meals and he buys the tickets for the transportation. Maybe you both just pay your half. No matter how you do it, make sure you're both paying your part.
Make sure the destination is something you're both interested in.
This doesn't mean it has to be a dream vacation for both of you, but just make sure you're both excited about your destination. My guy is a huge Atlantic City fan; I had never been there but it was on my list of things to do since moving to New York City. It was a win-win situation for both of us and helped make the trip a total blast.
Also do things on the trip that you're both interested in.
You both might not want to do the exact same things, but that's OK. Maybe one of you loves walking around looking at the random souvenir shops and the other wants to see every tourist attraction known to man. Be sure to compromise so you're both getting the most out of your trip and spending time together.
Bring entertainment for the trip to and from.
Yes, cuddling on the bus or plane is really fun but it's also going to get uncomfortable 30 minutes in. Also keep in mind that you're going to be together a lot over the next few days so having a book, magazine, music, etc. to keep you entertained while en route is always a good thing.
Plan something that fits the stage of the relationship that you're in.
You probably don't want to start with a month long jaunt to the Caribbean if you've only been together a short time. Instead, start with a weekend getaway closer to home or at least something that you can do in a weekend-ish.