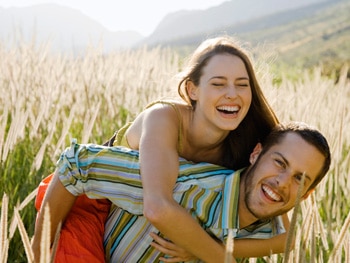 Happy Friday! Enjoy our roundup of the best dating articles we've read this week, and check back Monday for a whole weeks worth of Valentine's Day fun.
1. How To Talk To a Woman Without Being a Creep on Jezebel. If the thought of approaching a woman in public intimidates you, it should-it's not easy. Here are the best practices for hitting on a hot chick that won't result in her running away from you screaming.
2. Online Dating in an Algorithm World on the Huffington Post Style. Love this interview from Julie Spira with Dan Slater, author of Love in the Time Of Algorithms. Who wouldn't want an insider glimpse into the online dating industry?
3. It's Official: Bad Grammar is an Online Dating Don't [INFOGRAPHIC] on eFlirt Expert. If you're one of those people who rarely checks their online dating profiles and messages for grammatical errors, you might want to check this infographic out…and familiarize yourself with spell check.
4. 9 Surprising Facts About Dating In America on Buzzfeed Shift. Which do you find most surprising?
5. Are Strange Men Hitting On You Facebook? on The Gloss. Most women have been lucky enough to receive a random message on FB from a creepy guy, am I right? Here's one way to handle it!
6. 10 Steps To Erasing Your Ex's Digital Footprint on Your Tango. POOF! Here's how to pretend that never happened.
7. 7 Post-Breakup Healing Activities For The First Week on All Women Stalk. The first week after breaking up with someone totally suuuucks, so we are happy to share any tips on getting through it, sanity intact!
8. Why Do Guys Cheat? on Gurl.com. While most people would answer this question with a quick "Guys cheat because they're jerks" things aren't always that cut and dry.  Love this honest answer straight from a guy.
9. 26 Girly Habits Guys Just Don't Understand on Cosmopolitan. This article won me over at "Vases." I mean, have you ever been to guy's house and he actually had a vase? Me neither.
10. Stuff I Wish My Boyfriend Would Wear on the Berry. It's Friday, it's been a long week and sometimes words just aren't necessary. Why don't real guys dress like this? Guys, use this as inspiration, especially for the photos you upload online. Swoon.
Your turn! What are you reading and loving this week?