10 Songs To Blast When You're Going Through a Break-up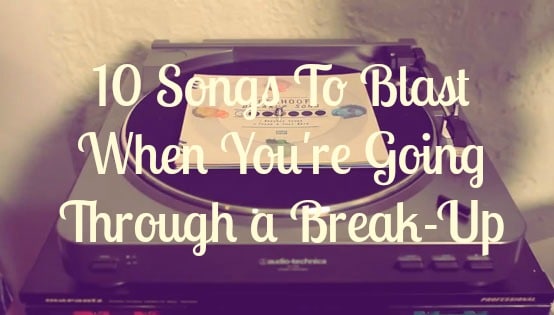 Whenever I've gone through a break-up, I always do two things. 1. EAT ALL MY FEELINGS and 2. jump in my car and drive around town singing along at the top of my lungs to my go-to break-up songs. I don't gravitate towards depressing, sad songs when I'm heartbroken, rather I blast upbeat, empowering and totally catchy jams with lyrics that say all the things that I just can't (but oh, how I wish I could!) While I'm the first to admit that this playlist closely resembles a 13 year old girl's Spotify, don't knock it til you try it.  Insider tip-turn up the volume as loud as you can take it! It totally drowns out the recurring "Why did he leave me?!!!" thoughts in your head, trust me.
Here we go!
1. Irreplaceable-Beyonce
I mean, it's Beyonce, she'll hold your hand through this difficult time. This song will have you telling your ex "To the left, to the left" in no time.
[youtube]https://www.youtube.com/watch?v=2EwViQxSJJQ[/youtube]
2. Cry Me a River-Justin Timberlake
Whenever I hear this, I picture him singing it right to Britney Spears and my 15 year-old self dies a little inside. This is the perfect jam to blast if your ex has wronged you and you are over it.
[youtube]https://www.youtube.com/watch?v=DksSPZTZES0[/youtube]
3. Fighter-Christina Aguilera
This song will always remind me of one particular ex-boyfriend and our exhausting, messy breakup. Whenever I would feel down or weak, wanting to call him SO BADLY, I'd listen to this song and it would remind me that I was so much better off and lame as it sounds, it gave me the strength to put the phone down.
[youtube]https://www.youtube.com/watch?v=PstrAfoMKlc[/youtube]

4. Single Ladies-Beyonce
I almost feel bad for men having to hear women quote this song for the rest of eternity, but I mean seriously dude…if you liked it then you should have put a dang ring on it. This is the perfect jam for your first night out on the town with your girlfriends as a single woman.
[youtube]https://www.youtube.com/watch?v=4m1EFMoRFvY[/youtube]
5. Since You Been Gone-Kelly Clarkson
The perfect breakup anthem. You know that moment after a breakup when you realize that you aren't crying anymore, you aren't really even that sad and that *gasp* you actually like you're moving on? It's a beautiful thing, and Kelly totally gets it.
[youtube]https://www.youtube.com/watch?v=R7UrFYvl5TE[/youtube]
6. We Are Never Getting Back Together-Taylor Swift
When you're ready for your on again, off again relationship to be lights OFF permanently, and when you're sure you're never getting back together (like ever), this is the song for you.
[youtube]https://www.youtube.com/watch?v=WA4iX5D9Z64[/youtube]
7. Where I Stood-Missy Higgins
Being the breakup-er isn't any easier than being the breakup-ee. If anything, it's worse. Breaking someone's heart isn't something that most of us would enjoy doing, and this song captures how it feels when you have to end a relationship with someone you love.
[youtube]https://www.youtube.com/watch?v=PCLERYzJsYA[/youtube]

8. Jar Of Hearts-Christina Perri
When you're in the thick of it and can't seem to get back to a happy place, you might feel like nobody understands. Cheesy as it sounds, this is a song that will get you through those lonely moments. Plus, the lyrics are so awesome you might be tempted to email them to your ex, but you probably shouldn't do that…
[youtube]https://www.youtube.com/watch?v=8v_4O44sfjM[/youtube]
9. Someone Like You-Adele
Breakups don't always have to be full of anger…sometimes it's just sad and melancholy, with a heavy dose of hope for new, lasting love in the future.
[youtube]https://www.youtube.com/watch?v=hLQl3WQQoQ0[/youtube]
10. Survivor-Destiny's Child
While not specifically about a breakup, this girl power song is all about coming out the other side a stronger, happier, better person. Isn't that what we all wish for when going through hard times-especially where matters of the heart of concerned. It's impossible to listen to this song and feel sorry for yourself.
[youtube]https://www.youtube.com/watch?v=Wmc8bQoL-J0[/youtube]
What is your favorite breakup song?