How To Date In Los Angeles Without Going Crazy
By: Elizabeth Marie |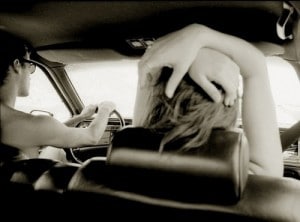 After announcing the exciting launch of our Los Angeles based online dating site, I received some emails from potential members asking questions about dating in L.A. They wanted to know things like how our site is different from the usual online dating suspects, or if we are having a formal launch party (duh, of course!) One question was different, it stopped me in my tracks and really made me wonder…
"Hey Liz, is it possible to date in L.A without going crazy? Because dating in L.A is HARD, and I am *this close* to giving up completely and having a commitment ceremony with my cat. It will be lovely."
Is it possible to date in L.A without going crazy? No.
Is it possible to date anywhere in the world without going crazy? No.
Every time I hear someone say that "dating in LA is hard" my response is always the same. Show me one place in the world where dating is EASY. Where it's always fun, and never frustrating. Where you can count on a 24/7 string of good times, with no broken hearts, cancelled plans or dashed hopes for the future. A place where guys call when they say they will, where women know what they want and communication is a joy and a delight, not a potential relationship killer.
Dating is hard no matter where you live. Sure, the reasons might be different, but searching for your one true love-and meeting quite a few Mr. and Ms. Wrongs along the way-can be a process that at times totally sucks.  Here are a few tricks to dating in L.A.
1. Be specific. L.A is one of the most heavily populated cities in the world, and not only that, but it's a place that the most talented, creative, beautiful and intelligent people tend to want to call home. If you wanted to go out with a different date every day for the rest of your life, you could definitely do that in Los Angeles. Except that, umm…most of us are looking for that ONE person to spend the rest of our lives with, so all of the options can be a tad overwhelming. This is why it's crucial to be specific and selective when online dating in L.A. Know exactly the type of person you're looking for and have a sort of dating tunnel vision. Do not allow yourself to be distracted by all the shiny, sparkly people!
2. Be locally local. L.A isn't one of those cities where you can walk everywhere, and there is a north, south, east and west that are all connected…no way. L.A is annoyingly large and spread out, and considering it can take two to three hours to get across town in peak traffic times, dating someone who doesn't live close-by can be frustrating. Narrow your search when looking for dates by location. Many times people think that the greater the area you check out for dates, the more interesting people you meet. In L.A, it's more like the farther away your date lives, the more time you'll spend sitting in traffic hating your life.
3. Ask yourself if YOU are the problem. Many times when things aren't going quite right in our dating lives we like to point the finger at anything that isn't, ya know, us. Like how you can't find love because you have daddy issues, or work takes up too much of your time, or every guy you meet is a player…or how it's impossible to have success dating simply because you live in L.A. Yes, it's the city's fault that you can't find the man of your dreams-does that really make any sense? Stop pointing the finger and take a long hard look at what negative patterns and dating behaviors you are in control of changing, and get to work. Packing up and moving to a small town in Iowa isn't the answer. Dating bad luck has much less to do with the city you live in than it does with you, no matter what zip code you possess.
What dating challenges are there in the city you live in?
Are you single in Los Angeles? Try LA Dates, and enter code LA50OFF at sign-up to receive 50% off any online dating subscription.