How To Propose To Your Girlfriend
By: Elizabeth Marie |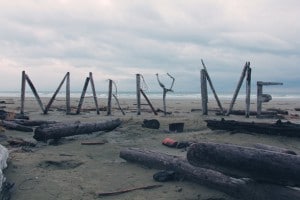 Just about two and a half years ago, I wrote a post on We Love Dates titled: If He's Not Calling, Is He Thinking About Me?. It has since become one of our most popular posts to date and it seems like many women can identify with dating a guy who is challenged in the communication department. I wrote that post about a man I had just begun dating, someone I met online and knew when I saw him in person for the first time that he was someone special.
Turns out, I was right. Three weeks ago, while on a trip to Chicago, the guy that used to have a difficult time even texting me or making lunch plans proposed to me. We are getting married! I sure am glad I didn't kick him to the curb for being slow to text!  He knocked it out of the park with his proposal, and since I know a lot of our male readers might be thinking of popping the question soon, here are a few hints when it comes to asking your girlfriend to marry you. I mean, I said yes-so he must have done something right!
Check out my tips on how to propose to your girlfriend below.
1. Make it personal to you as a couple. My fiancee' proposed in a restaurant we had been dying to try, and as self proclaimed foodies it was perfect…for us, but not for everyone. When you're thinking of proposing, choose a location that is special and meaningful to you and your girlfriend.
2. Do your own thing. Some people have seemed disappointed when they learn that my fiancee' did NOT get down on bended knee when he proposed. I didn't even notice, nor do I care! Sometimes ignoring traditions and doing your own thing is the best way to go. Not only would it have been extremely awkward considering we were sitting in a huge booth in a crowded restaurant, but he knew that I've always thought the whole down on bended knee thing is kind of silly. Stay true to yourself and remember that you don't have to propose the same way everyone else does.
3. Have someone taking photos! My fiancee' knows that I am obsessed with photos and made sure to have the proposal fully documented. It is SO fun to look back at the photos and see the true (SHOCKED) emotion on my face. The moment he proposed is such a blur and I'm forever grateful that we have the photos to tell the story for us.
4. Share the happy news. One of the best parts about the night we got engaged was calling my parents, sister and best friends immediately. Though we were across the country at the time, it was exciting to share the news with our inner circle. The people who love you will be so happy and excited for you, so make sure to allow time in your plans to get in touch with family and friends…if she says "yes", of course!
5. Speak from the heart. Truth be told, I can barely remember what my fiancee' said during the proposal just because I felt like I might pass out and couldn't believe it was really happening! However, there are certain things he said that I will never forget, and since he isn't a cheesy, romantic type of guy usually, he definitely infused his speech with some of the inappropriate humor that made me fall in love with him in the first place. Put yourself out there a little bit-you're proposing marriage, this isn't the time to hold back!
6. Make sure you're ready. Romance and photos and locations aside, it doesn't matter HOW you propose as much as it matters that you're ready to do it. Are you proposing for the right reasons or are you doing it to appease your girlfriend or because you've been together for two years and you think it's time? The only timeline you should be worrying about is yours, so if it feels right after two weeks or twelve years, it's time to ask! Although come on dude…don't make her wait for twelve years! 🙂
Guys-Have you ever thought about how you'd propose to a woman?
Ladies-What is your dream proposal like?