Online Dating Basics For Men: Preparing For Battle
By: Elizabeth Marie |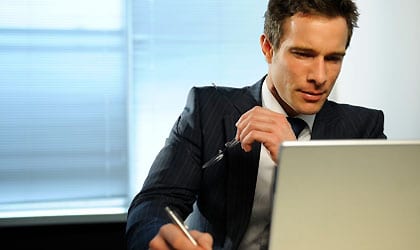 We've all seen the commercials and they make it sound so easy. Sign up, take a personality test, and you'll be matched to the perfect woman without ever having to leave the comfort of home. Your perfect match. The one that has been alluding you no matter how many bars and speed dating events you go to.
Make no mistake. Online dating is a war zone and it takes specialized tactics to achieve your objectives. Let's be honest here, you're looking for a hot girl with a great personality, right? Newsflash: so is every other guy out there. If you want a real chance at meeting the girl of your dreams online, you have to stand out from the crowd in all the right ways.
Language
A picture may be worth a thousand words (we'll get to that in a minute) but the words on your profile are incredibly important. The goal of your profile is to capture her interest and leave her wanting to learn more. Let me clarify: make yourself desirable by sharing good characteristics and being thorough enough that she has a sense of who you are and makes her want to know more. The mademan manual recommends that you stick to the following four topics: career, education, hobbies, and interests. The bottom line is that you don't want to write an autobiography that rivals the word count of "War and Peace" or you won't have anything to talk about if you go out with her.
Grammar matters. You're telling a story about your life and personality here (notice proper use of "you're" and "your") and small errors can be interpreted in big ways. Conversational language is different than written language so proofread mercilessly. Better yet, have a trusted friend proofread for you and tell you how they interpret your words to make sure your intentions are reading accurately.
Your profile is about YOU. Don't waste space and energy on silly clichés like "YOLO!" (You only live once) or make awkward excuses for why you're using online dating sites. There's no reason to plant doubt in her mind that you're a good catch. Got it?
Be honest if you have a major potential deal-breaker on the table. Do you have kids? Okay, say that, but maybe (no, definitely) leave your crazy ex out of it for now. Are you only considering a mate with the same religious beliefs? Say that, but in an honest and positive way without dwelling on it.
Here's an example: "I'm proud to be Lutheran and I'm active in my church. I'm looking for a partner I can share this with." This works for almost anything that could be a deal-breaker.
Pictures
And now some thoughts on pictures. This is a very important part of your online profile. While a well-crafted and well-written bio will capture her interest, she might not even get the chance to read it if you plaster your profile with the wrong kind of photos that scare her away.
Self-portraits are lame. I don't want to see your messy bedroom or your bathroom in the background. Get a friend to help you (you have friends, right?)
I don't care how good you look, if you have to crop other people out of the picture don't use it! Especially if someone's arm or hair are visible in the frame. It's awkward and raises questions, like "hmmm, is that his ex?"
Everyone is on this site to find a date, so a picture of you that shows YOU is important. No beaches, sunsets, pet kittens or substitute images. Even if they show what's in your soul (because that's a total cop-out.)
Keep your shirt on. And it had better not be a shirt with a creepy slogan. Put your best foot forward, figuratively and literally. If you're just looking to hook-up try posting that shirtless snapshot on craigslist (and, ewww, I hope you're not doing that).
Good luck out there soldiers! Win their hearts with your witty and thoughtful profile and perfect pictures. You're welcome (because we know you had the good manners to say "thank you" on the other side of the internet).