Yep, He Wants To Change You and More Great Male Survey Results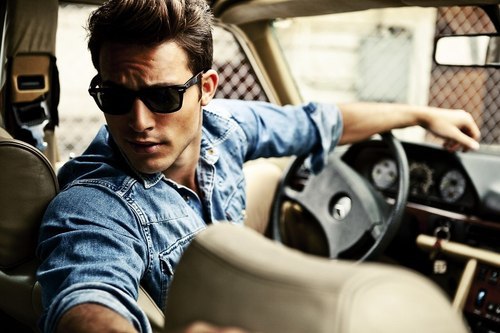 Does the British male mind never cease to intrigue…and confuse you? Fear not! Our friends over at AskMen.com have just released the results of their 2013 Ask Men's Great Male Survey – a report polling over 70,000 men on everything from dating to technology, from celebrities to business, finally revealing the reasons why modern British guys do what they do. Let's break down their dating category results, shall we?
For starters, if you're wondering whether or not a guy is scoping out your online presence before asking you out, the answer is most likely a resounding YES. The survey found that 81% use Facebook, Google and other social media to 'pre-stalk' prospective partners. Yikes. This might be a good time to tighten up those privacy settings of yours or at the very least remove the less than flattering photos from your drunken college days.  It's also a good idea to Google yourself from time to time, just to see what pops up. While it's true that a guy won't truly get to know you until you're face to face, he'll still be gathering lots of preconceived notions about you based on your social profiles, so make sure they are portraying you in a somewhat flattering light.
Another interesting survey finding is that 28% of UK men say they wouldn't change a thing about their current partner. My initial response was something along the lines of wow, that's pretty low, but then, reality. British guys don't have a problem with honesty, apparently and women should appreciate that. Can you really and truly say that there is absolutely nothing you would change about the man in your life? I've never been as in love as I am now, but just between you and I-my fiance' could use a lesson in communication and a shave wouldn't hurt either. But that's the thing, right? Nobody is perfect, we're all critical, but we love each other anyway. Chances are that for every one thing he wants to change about you, there are ten more that he wouldn't change for the world.
A few other note-worthy dating results:
29% of UK men consider a pre-nup important.
26% of UK men would cheat if they could get away with it (meaning, of course, 74% wouldn't).
Only 7% of UK men say online dating is their preferred route to approaching a woman they want to sleep with, and 84% said their last courtship was played out in real life rather than online.
43% of UK men are dissatisfied with their sex life.
29% of men compare the size of their penis to others online, while 9% ask their partner how they compare to their previous partners.
43% of UK men say the man should always pay on a date.
42% of UK men have not had a relationship with a colleague but would if the opportunity arose.
27% of UK men wouldn't bother pursuing a woman who isn't a potential wife.
Which survey result surprised you the most?
---
---
---