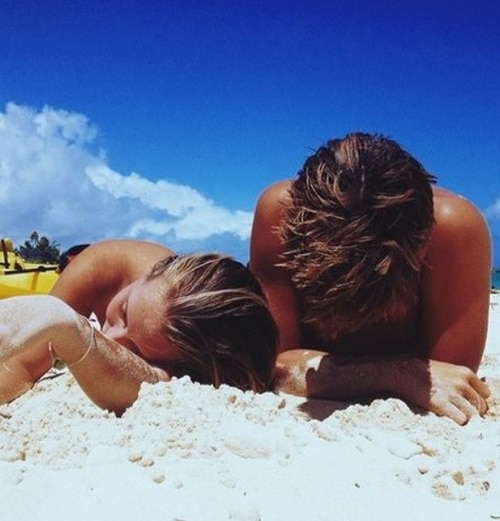 Happy Friday! We're shaking things up around here, so instead of weekly link-up to our favorite dating articles, we'll be showcasing the best dating articles from around the web once a month! We're kicking things off today with the best dating articles we've read in June! Make sure to leave any articles we may have missed in the comments below, and have a great weekend.
1. The 25 poor souls who sent these hilarious, depressing and offensive text messages just might end up forever alone. (Buzzfeed)
2. What's your sign? Dating expert Patti Stanger gives her sign-by-sign astrology guide to dating. (Glamour)
3. Do you have profiles on multiple online dating sites and apps? Most people do, it's nothing to be ashamed or upset about! (Nerve)
4. Disney princes are the original dream men, but which Disney Prince is right for you? Decisions, decisions…this quiz will help you narrow it down! (PopSugar Love)
5. Summer is officially here and that means it's time to take your dates outside! One of the best outdoor date ideas is a romantic picnic. (Refinery29)
6. Are you planning an adult sleepover? Our friends at No Strings Dating have put together a "Sexy Sleepover Kit" to ensure you don't forget anything! (NoStringsDating)
7. These are the super creepy and annoying things men do that ultimately scare women away. (Huffington Post UK Lifestyle)
8. Online dating can be a huge time suck, so we love these tips on how to make the process more efficient and less frustrating. (Crush)
9. Love isn't easy, but it certainly shouldn't be detrimental to your health. Here are the 4 warning signs that you are putting yourself at risk when dating. (Patti Knows)
10. Here are 20 signs the person you're dating is planning on sticking around for LIFE! Aw! (Cosmopolitan UK)
11. There are TED talks on just about any topic these days-including dating! These are 8 of the best dating themed TED talks. (DatingAdvice.com)
12. We challenge you to try out one of these fun summer first date ideas this weekend! (CybeDatingExpert)
13. This one, subtle flirting move works 99% of the time-sign us up! (Glamour)
14. We couldn't stop laughing-look at what happens when a guy texts all 32 of his Tinder messages at once. Can you say FAIL? (Cosmopolitan)
15. There is no better time to be single than in the summer-less clothes, more vacations, gorgeous weather and more! (The Date Report)
16. Fighting is normal (and necessary!) in a relationship, don't be scared to disagree! However, how you fight is more important than if you fight. Here are great tips on fighting the healthy way. (Patti Knows)
17. We love these "alternative" date ideas…especially the 'Tour De Food'- Yum! (Ask Men UK)
18. But what do his texts mean?! Here's a handy guide to decoding a guy's text messages. (Marie Claire)
19. Listen up, ladies-These are the top 10 things men look for in a significant other. (Ask Men)
20. The most qualified people to dispense love advice are definitely a couple who have been married for 75 years! Here is their timeless advice. (YourTango)
21. 6 dating experts reveal their top tips. (Social Catfish)
What is the best dating article you've read lately?
Image via weheartit.