"Help! My Family and Friends Hate My Boyfriend"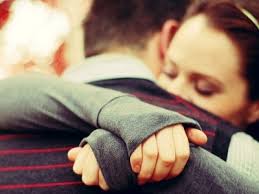 I recently got an email from a reader who would like to remain nameless, asking for advice. She's been dating a guy for about a year and unfortunately, her friends and family are not his biggest fans. In fact, she went as far as to tell me that they hate him, and that while it's hard for her to deal with all year long, it's especially difficult for her during the holiday season, since he's not welcome at any of the fun events her family and friends have planned, leaving her between a rock and a hard spot. So, what should you do if your family and friends hate your boyfriend?

1. Ask them why…and then listen.
Calmly sit down with a few trusted family members or friends and ask them why they dislike your boyfriend so strongly. Instead of immediately getting defensive when you hear what they have to say, really try to listen. Remember that your family and friends are the people who love you the most in the world and that they ultimately want you to be happy-there isn't any reason for them to collectively dislike someone you're dating for no reason at all. Is anything they are saying valid? Are these things you've thought about yourself-and if not, should you? Being defensive will only prevent real, true dialogue from happening so that you can move on in one way or another.
2. State your case.
You're an adult and technically, you don't need mommy and daddy's permission to date someone, nor does your BFF have to give you her stamp of approval…but gosh, it really makes things easier when everyone can get along, at least a little bit! Explain to your friends and family why you are dating this person, what you love about him and how your relationship is healthy, fulfilling and something you don't want to let go. Perhaps they aren't aware of the great things he does when they aren't around, or didn't realize how strong your feelings are. Breaking it down for them might make them more receptive to him, and could potentially be the catalyst to everyone being able to co-exist peacefully.

3. Consider your motives.
Sometimes, when we feel like everyone is ganging up on the person we are dating, it makes us want to defend them even more and to stick by their side even if they really don't deserve it. Make sure that you aren't staying in the relationship simply to prove to your family and friends how happy you are, and consequently how wrong they are. Nobody will laugh at you and say "I told you so" if you let go of your pride and let go of the loser.

4. If it's true love, stick with it.
The only people who know for certain what is going on in a relationship are the two people who are in it. If you are truly, madly, deeply in love with a guy, it really doesn't matter what your family and friends have to say about it or him. Follow your heart and use your mind, but don't let your inner circle dictate who you date. If you have considered everything they have to say, but feel confident that you are really in love, your family and friends will hopefully recognize that your happiness is the most important thing, and if they don't, at least you know you've followed your heart.

5. Go slow.
During the holidays especially, take things slow. Don't expect your parents to invite your boyfriend on a week-long vacation if they can't stand him…why don't you start with a simple dinner together first? Allow relationships between your boyfriend and your family and friends to develop naturally, and don't place expectations on either side. It won't be picture perfect, but nothing in life really ever is, is it?
6. Take time for yourself.
Dating someone whom your family and friends hate is exhausting. You constantly feel torn in two directions and it's frustrating being unable to please everyone. It's important to take time for yourself-go to the gym, read a book, ignore your phone for a while and sleep in-anything that makes you feel relaxed and happy. Don't worry about stepping away from the drama for a bit, no doubt it will be there when you get back…but at least you'll be a bit more well equipped to handle it.
Have you ever dated someone your family hated?