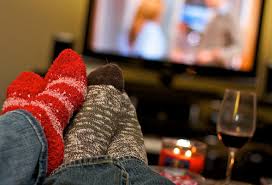 Happy Friday, friends! As it's the weekend before Halloween, we bet you've got some fun things planned and hopefully you're able to squeeze in a date night or two! For your reading pleasure, here is our weekly round up of the best dating articles we've read this week. Make sure to share your favorites below in the comments and have a wonderful weekend!
1. Sure, some might say that when you know, you know, but we have to believe that there is a more scientific way to know if you've found the one. Turns out, there are some ways to know that you've found your soulmate that go deeper than just a feeling. (Female First UK)
2. Confession time! I'm a married woman and I still Google my exes. Cat is out of the bag with this one! I don't know why, I just find it so fascinating to know how they are doing-hopefully good! Anyway, turns out googling your exes is actually quite common-and normal. (Howaboutwe)
3. Text messages are a great way to communicate, but there is one huge problem that pops up from time to time…our old friend auto-correct. Here are ten of the worst text messages we've seen. (Huff Post Style)
4. Halloween is my favorite holiday, but it's definitely not the most romantic. However, dating tips can come from the most surprising sources, which is why dating advice from your favorite witches might be just what you need to read today. (Mashable)
5. Are you stuck in a dating rut? Dinner and a movie has it's place, but if you're looking for a few new date ideas check out this list of fifteen romantic date ideas you should try this weekend! (Cosmopolitan)
6. Phone sex, while weird and awkward from time to time, can also be really sexy…if you know what you're doing! Before you press "call", read up on some steamy phone sex tips. (Betty Confidential)
7. It's Friday…but is it going to be your lucky night? Our pals at eFlirt Expert have shared our "Is It Your Lucky Night Quiz" and we'd love for you to take it and share your answers below! Fingers crossed that you're getting lucky, of course.
8. Talking about money is never fun, but it is a necessary evil if you want to build a lasting, secure relationship with someone. We love these tips on how to prevent money matters from breaking up your romance. (eHarmony)
9. For the most part, I like to think that people are generally honest when it comes to Facebook…I hope. However, there are always bad apples on every social media network. Here are 5 common lies that men tell on Facebook…have you spotted these recently? (Your Tango)
10. We happen to LOVE online dating (DUH) and know it works. And now a new study is proving us right! 23% of people who meet online marry their partners, reveals a new study from the Pew Research Center. Lets get that number to climb! (Jezebel)
What is the best dating article you've read this week?